LSU Football Schedule 2012: Game-by-Game Analysis and Predictions for the Tigers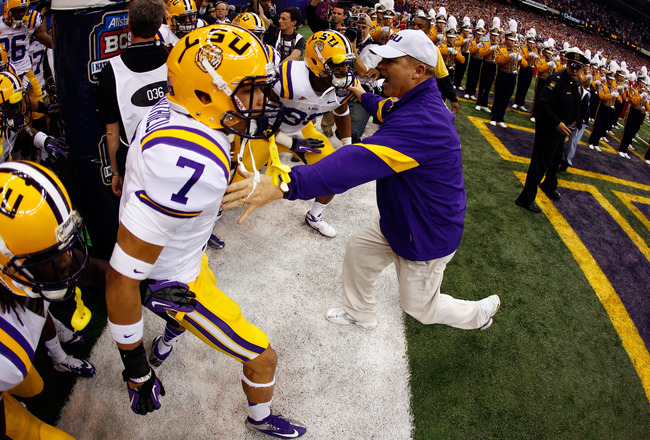 Chris Graythen/Getty Images
The LSU Tigers may still be disappointed about losing the BCS National Championship in a very sloppy game, but it's time to put that behind them. Spring ball is kicking off, and before you know it, another great season of college football will be staring at us in the face.
The Tigers do have a lot of questions to answer on both sides of the ball, but they are returning a combined 11 starters and will still be one of the more talented teams in the country. This will be a motivated team heading into next year, and they will have something to prove.
We may be six months away from the next college football season, but here are the early predictions for the Tigers schedule.
Vs. North Texas, September 1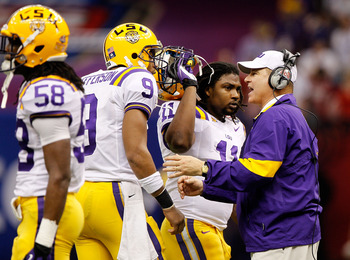 Chris Graythen/Getty Images
North Texas lost seven games last season in the Sun Belt conference. Does anybody really believe that they'll be able to win in Tiger Stadium against LSU? No? I didn't think so either.
LSU wins: 49-6
Vs. Washington, September 8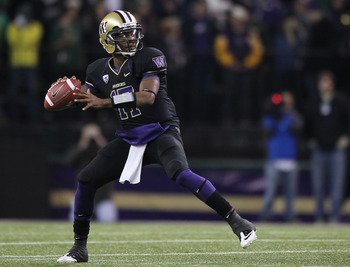 Otto Greule Jr/Getty Images
Now, this game, on paper at least, could be very exciting. Washington does have a great quarterback in Keith Price and an offense that averaged over 33 points per game. But then I see that the Huskies defense also allowed 36 points per contest, and they're the ones that are traveling across the country to play this game.
LSU wins: 38-21
Vs. Idaho, September 15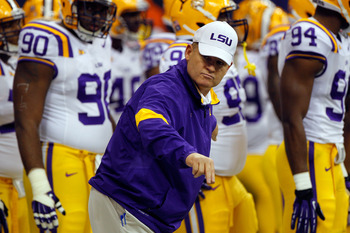 Chris Graythen/Getty Images
Idaho went 2-10 last year in the WAC. I'm going out on a limb here and predicting that the Tigers will jump out to a 3-0 start.
LSU wins: 51-10
At Auburn, September 22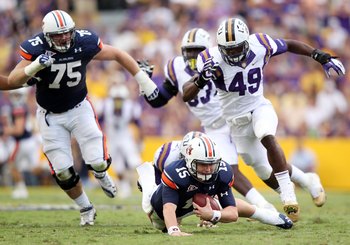 Jamie Squire/Getty Images
My opinion on this game will change back and forth considering we are still six months away from actual kickoff. But if I had to pick right now, I'd go with the Auburn Tigers.
LSU has lost a total of 14 starters from a year ago, including two of their starting quarterbacks. I'm not sure how this team will look, and I'll take the team that has remained intact and is at home. Call me crazy if you'd like, but the Tigers have lost five of the last six games in Auburn.
Auburn wins: 17-10
Vs. Towson, September 29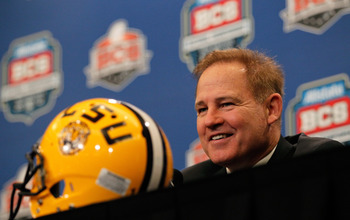 Kevin C. Cox/Getty Images
The only thing these two teams have in common is the fact that they're both called the Tigers. Other than that, these two teams couldn't be more different.
LSU wins: 52-7
At Florida, October 6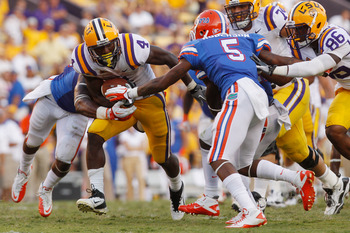 Chris Graythen/Getty Images
This is a tricky game because I'm not sure what Gators team we're going to get next year. It could be the team that struggles again, or it could be the team that actually plays to their potential and competes in the conference.
This game could really go either way, but until I see what Florida team shows up, I'll go with the Tigers in a nail-biter.
LSU wins: 24-21
Vs. South Carolina, October 13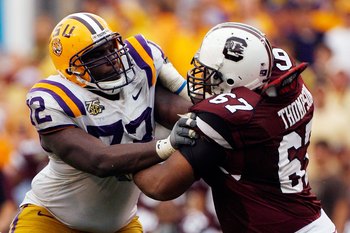 Chris Graythen/Getty Images
South Carolina is a sleeper to win this conference next season. They have a great defense, solid quarterback and are likely getting a healthy Marcus Lattimore back at running back.
I would go with the Gamecocks if this was being played in South Carolina, but it's not. LSU is 16-2 against the Gamecocks, and I think they'll continue that dominance.
LSU wins: 17-10
At Texas A&M, October 20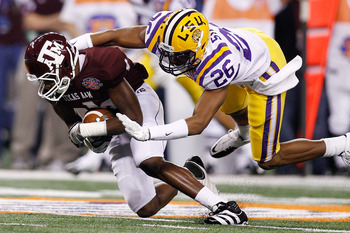 Chris Graythen/Getty Images
An old rivalry is renewed, as the Aggies are officially a member of the SEC. Texas A&M is a team that will be highly competitive in a year or two, but a whole new coaching staff and trying to replace a quarterback may year one a little difficult.
I'll go with the Tigers on the road in a tough environment.
LSU wins: 34-28
Vs. Alabama, October 3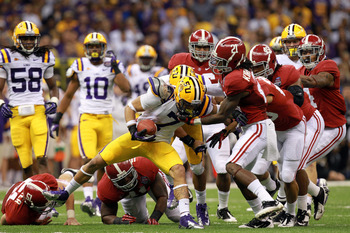 Ronald Martinez/Getty Images
This is the rematch that many people will be waiting to see, and hopefully it's better than the previous two matchups that took place last season.
Both teams have lost several key players on both sides of the ball, but I think LSU losing both of its starting quarterbacks will be the key to this game. A.J. McCarron really showed he is growing before our eyes and is beginning to make more and more players. The question at the quarterback position is the main reason I'm going with Alabama.
Of course, this could change by the time November arrives.
Alabama wins: 24-17
Vs. Mississippi State, November 10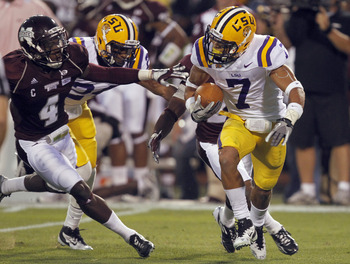 Butch Dill/Getty Images
The last time the Bulldogs won in Louisiana was in 1991, and the last time they beat the Tigers at all was in 1999. Expect the home team to add another victory to the winning streak, especially with Mississippi State losing their starting quarterback and workhorse running back.
LSU wins: 42-17
Vs. Ole Miss, Novmber 17
Joe Murphy/Getty Images
Not many teams are more of a mess than the Rebels right now, and they're a team that simply doesn't have enough talent on either side of the ball to compete with the Tigers.
Last year's meeting was a 52-3 victory; you can expect something similar to that again this season.
LSU wins: 48-10
At Arkansas, November 24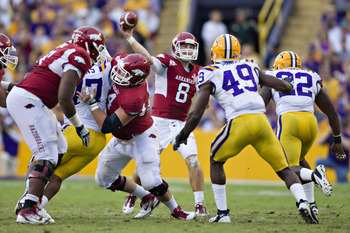 Wesley Hitt/Getty Images
LSU really destroyed the Razorbacks last season, but that was in Louisiana and Arkansas didn't have running back Knile Davis by their side. This time, Davis will be on the field, and the game is in Arkansas—a place where the Tigers have lost five of their last seven meetings.
I expect LSU to keep things close, but great offenses will score points and the Razorbacks are talented enough to win this conference.
Arkansas wins: 32-21

Randy Chambers is a B/R featured columnist that covers college football and the NFL. You can contact him @Randy_Chambers or Randy.Chambers7@yahoo.com.
Keep Reading

LSU Football: Like this team?