Daytona 500 Winner: Matt Kenseth Can Thank Teammate Greg Biffle For Victory
February 29, 2012

Jared C. Tilton/Getty Images
I'm not here to take anything away from the memorable performance of the 2012 Daytona 500 winner Matt Kenseth…but he needs to use his $1.4M prize money to buy Greg Biffle some sort of luxury car for his assist.
In what was certainly one of the weirdest races in the 54-year history of the "Great American Race," Kenseth held a car length lead over Biffle and a hard charging Dale Earnhardt Jr. as only one lap remained.
Earnhardt Jr. was right on the bumper of Biffle trying to get around him. Biffle wasn't having any of it as he mirrored any move Junior tried to make essentially boxing him out.
Then as the three cars hit the stretch run Earnhardt Jr. was able to break free of Biffle and zoom past him. Luckily for Kenseth, there wasn't enough time left as he sped by the finish line for the narrow victory as Junior passed Biffle to finish second.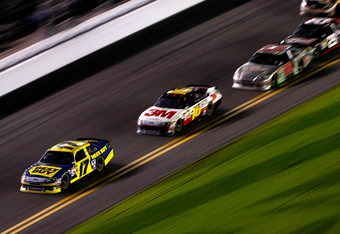 Jonathan Ferrey/Getty Images
It was a great finish and you wonder why Biffle helped out another racer with so much money on the line. Then you realize the answer was very simple: Kenseth and Biffle are Roush Fenway Racing teammates.
It's weird to think about this considering there is only one racer per car, but that's how it works in 2012 and I don't like it.
It should have been Biffle looking to pass Kenseth. He shouldn't have had to play second-fiddle to ensure at least somebody from his team won. It made the final lap feel like a 2-on-1 scenario and that's not how NASCAR should be.
Officials need to get rid of these loyalties and let the best man win.
Kenseth will ultimately be overshadowed by the Sunday rainout, a second lap wreck that ruined Danica Patrick's NASCAR debut and the 10-minute fire on the track caused from a jet fuel explosion resulting in a two-hour delay, but I'll remember it for an exciting finish that wasn't a fair fight.
Credit Biffle for being a loyal member of the Roush team, but isn't there a small part of him that wishes he had the opportunity to win the biggest race of the year and land the incredible pay day? Kenseth has now won the event twice while Biffle is still searching for his first win.
What an odd weekend/Monday for the world of NASCAR.