Daytona 500 2012 Start Time: With Rain Looming Expect Delayed Start Again
February 27, 2012

Tom Pennington/Getty Images
For those of you who are patiently waiting for the start of the 2012 Daytona 500, you'll have to wait a bit longer as it's still raining and the race should get pushed back again.
Rain has ruined a number of sporting events in the past; however, a rain storm has never canceled an event as big as this. Rain showers were off and on yesterday as NASCAR officials tried to fit the race in on the original date. 
However, whenever the rain would come to a halt it would only be a small window of opportunity for officials to dry the track and get the race started. 
According to The Huffington Post: 
The track takes about two and a half hours to dry, and the race usually takes four hours. So officials are doing the math while keeping an eye on the radar. No Daytona 500 has ever been postponed.

"We are equipped," Helton said. "The Daytona International Speedway has every drying piece of machinery they got across the country here today, because we know that the fans at home and the fans here in Daytona want to see the race run. We do, too. The sooner, the better."
With the weather not improving from yesterday to today, it looks like the race could be pushed back even longer. 
The weather forecast for Daytona looks like an 80 percent chance of rain from 10 AM till the projected start time of Noon. From there, the weather clears up—if you want to call it that—at 1 PM, only to spike back up to an 80 percent chance of rain again an hour later. 
From there, the clouds should finally break at 4PM, and the track crew should have a chance to get the track dry enough to run NASCAR's biggest race of the year.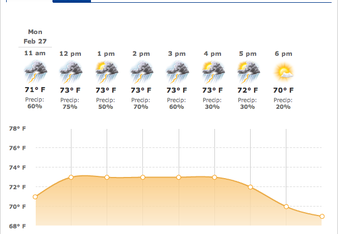 So with the rain looming around until then, what does that mean for fans who have been waiting for the race?
According to CFNews13.com, it could mean that the Daytona 500 is ran under the lights in prime time. 
This was confirmed in a tweet from Dan Wetzel of Yahoo! Sports saying the race will start at 7PM on FOX.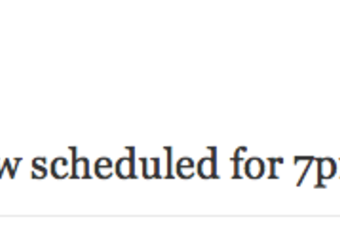 The Daytona 500 at Noon today will not happen. You can go about your day today, as the rain will keep this race from happening till later on. However, those of you who love "House" or "Alcatraz" you may be disappointed tonight when you see Danica Patrick and Tony Stewart instead of Hugh Laurie and Sarah Jones.