Alshon Jeffery Combine: Weight Loss Doesn't Mean All Questions Are Answered
February 25, 2012

Mike Ehrmann/Getty Images
In the weeks leading up to the NFL scouting combine, one of the chief fears was that South Carolina wide receiver Alshon Jeffery was going to show up looking like the Stay Puft Marshmallow Man. Or, even worse, Mike Williams circa 2007.
But nope. Matt Bowen of the National Football Post had the scoop: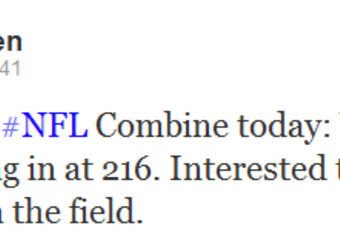 This is a pretty significant weight loss. Jeffery is listed at 229 pounds on South Carolina's Web site, but Joe Person of the Charlotte Observer noted that Jeffery admitted to playing at 230 this past season. So he's lost 13-14 pounds, maybe more.
Good for him. He heard the criticism, he heard the concerns and he responded by getting off his duff and losing some weight. 
But Jeffery is not out of the woods yet. We know he's lighter, but we don't yet know if he's fast, strong or explosive.
Speed is the biggest question concerning Jeffery. Even at 216 pounds, he's a big dude for a wide receiver, as he stands tall at 6'3". He's by no means a speed demon, though, as he got by mainly by beating tough coverage on jump balls at South Carolina. 
Mike Mayock of the NFL Network was Jeffery's most vocal critic.
"Alshon Jeffery does not separate," said Mayock earlier this month, via Pro Football Talk. "What those guys run [at the combine] is important. He needs to run somewhere in those mid-4.5s."
If Jeffery does run in the 4.5s, he will have told scouts a lot of things. Most importantly, that he's not as fat and slow as his reputation suggests, and that he does indeed have the speed to get behind the defense at the next level. He will therefore be a legit deep threat.
If Jeffery runs slower than that, his stock could go into a free-fall. He'll be a wide receiver with the speed of a tight end, which is a bit of a problem. Lest you think Jeffery could be easily converted into a tight end, that's far, far easier said than done.
If Jeffery does run well, he's going to go in the first round, maybe as high as the top half. He certainly won't fall out of the first altogether, anyway.
If Jeffery doesn't run well, he may have to wait a long time before his name is called in the draft.