Rafael Nadal: Where Does He Rank Among the All-Time Tennis Greats?
February 24, 2012

Julian Finney/Getty Images
Rafael Nadal's place in tennis history defies conventional greatness. He is a left-handed, one-dimensional fighter, apprenticed to master clay surfaces. His playing style is not artistic to many tennis purists who would rather eulogize a multi-talented champion.
Nadal is similar to compatriot artist Joan Miró, who often displayed contempt for traditional painting methods. Miró despised Pablo Picasso's work and popularity and declared "an assassination of painting" to overturn established methods. "I will break their guitar," he challenged.
Nadal's defiance of style is a reply to Roger Federer's smooth dominance. Nadal is a limited server who rarely finishes points at the net. He persists in playing long points from behind the baseline to bludgeon an opponent with his whirling forehand and heavy topspin. "I will break their will," he seems to express.

Master of Clay
In 2005, 18-year-old Nadal stormed into Roland Garros with a sleeveless, olive green shirt, white pirate pants and swashbuckling bravado. In the semifinals versus the mighty Federer, Nadal's winning strategy was to pin him deep behind his ad box and feed his backhand a steady diet of high topspin. Seven years later, it's still Nadal's primary strategy and has proven impregnable on Europe's clay.
Clay-court specialists are rarely as dominant on other surfaces. In recent decades, Sergi Bruguera, Thomas Muster and Gustavo Kuerten won French Open titles, but were unable to threaten on grass or hard courts.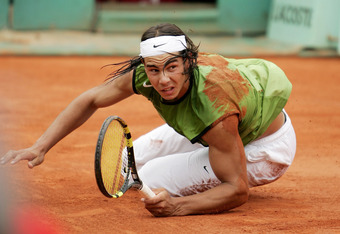 Clive Mason/Getty Images
The next level of player features Grand Slam winners on other surfaces who also were great enough to win on clay. Rod Laver, Ivan Lendl, Mats Wilander, Jim Courier, Andre Agassi and Federer are notable.
There are only two undisputed masters of clay. Bjorn Borg and Rafael Nadal each won an astounding six French Open titles—double the total from Lendl, Wilander and Kuerten.
Borg and Nadal were great enough to win Slams on other surfaces, but their immortality and statistics will be broadcast every May-June on TV's coverage of the French Open. Roland Garros should erect statues of Borg and Nadal, and Court Philippe Chatrier should rename some of its decorum after these two idols.

Jack of All Surfaces
Most clay-court champions are resigned to accept that their talents are only suited for clay. They are all but allergic to grass and shun hard courts where big servers, flatter forehands and shin splints can blow away even the most courageous of clay kickers.
Nadal loses a few technical advantages on clay, but has been determined to win Grand Slams on all surfaces. His courage and belief have propelled him to work hard, make adjustments and evolve as a champion on other surfaces.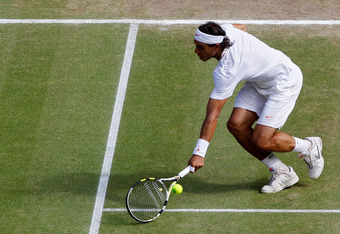 Pool/Getty Images
From 2006-2008, Nadal improved from Wimbledon finalist to winning his epic match and dethroning five-time champion, Federer.
Only a handful of modern champions have ever held both of Europe's Grand Slams: Laver, Jan Kodeš, Borg, Agassi, Federer and Nadal. After adding the 2010 Wimbledon title, Nadal joined Borg again as the only other Open-Era player to twice win the French and Wimbledon titles in the same year.
Hard courts have neutralized Nadal somewhat; he is 32-4 in clay-court championships but only 11-14 on hard courts. He won the Aussie Open in 2009 and the U.S. Open in 2010 by making some adjustments to his game. Gene Garber of ESPN detailed Nadal's adjustments: He used a more continental grip to flatten and speed up his serve; he stepped closer to the baseline, and he improved his slice backhand.
Nadal will never be perceived as truly dominant on hard courts or grass like Pete Sampras or Federer, but he has maximized his style of play and abilities to now be considered a well-rounded champion.
Take away all of his French Open titles, and he still holds four Slams on the other surfaces. This would still place him in the relative company of Boris Becker, Stefan Edberg and Courier, but below Jimmy Connors, John McEnroe and Agassi.
Consider that Nadal is the only player to win three Grand Slams on three different surfaces in the same year.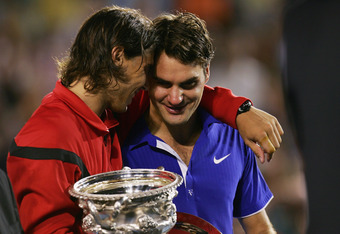 Scott Barbour/Getty Images

An Original Masterpiece
Nadal hustles after each ball as if it were match point. His footwork is fast but most importantly can turn a desperate scramble into an offensive advantage. He can invent seemingly impossible angles to pass aggressive opponents and torment their patience.
Between points, he takes a siesta to towel off, like the interim between boxing rounds. To many tennis fans, his game is beautiful but infuriating.
Nobody has ever played tennis like Nadal. There will be no duplicate.
Only four other legends can be considered candidates for the greatest of all time (GOAT):
Most experts and fans would tap Federer as the favorite. He has served up unprecedented dominance in a four-year span that might not be approached. He has the all-court tools and creative shot-making, strong serve and capable net game. He has won Grand Slams on all surfaces.
Sampras' 14 titles were accomplished against a deep field of champions during his playing career. He is the king of Wimbledon and won seven hard-court Slams, but never won the French Open.
Borg has his aforementioned range of clay-court dominance coupled with five Wimbledon titles. The argument for GOAT dies with his failures to win the U.S. Open. Like Federer, he fits the profile as an all-tool player.
Laver proved his greatness in winning all four Slams, but not on all surfaces. The case can be made for his aggressive style from baseline to net. His historic seasons of 1962 and 1969 are enough for some to call him the GOAT.
So Nadal has joined this exclusive group of tennis masters with a unique canvas of his own credentials. Unlike the other four, he does not have an overpowering serve or forehand, but is able to stymie his opponents' strengths and attack with single-minded persistence and heavy topspin.
His unconventional attacking defense, mastery of clay and multi-surface evolution make him no less than one of the five greatest players who ever lived.
If you had to bet your life on one match, not knowing the surface or opponent, who would you select?

A Few More Portraits for the Gallery?
Nadal's ascent to be the GOAT has hit a wall. Most of this is the emergence of Novak Djokovic, who is quickly making his own case for history and is currently the most dominant player in the game. (Novak's résumé is more incomplete at this time, but another year like 2011 will launch him into the top ten.)
Nadal, at age 25, still has plenty of game and time enough to run off a couple more great seasons, but will need to turn the tables on Djokovic and win at least four more Slams to be considered the GOAT. Nadal needs another Aussie and U.S. Open, possibly another Wimbledon and needs to continue winning another French Open or two.
With increased competition and diminishing opportunities, the odds are stacked against Nadal.
But I wouldn't bet against him—not until they force him off Roland Garros, fighting to play just one more time.