Super Bowl 2012: Bradying Blows Tebowing Away
February 7, 2012

We were exposed to "Tebowing" this season when Tim Tebow took our collective consciousness by storm and proceeded to kneel and pray to God every time he scored a touchdown.
Well, I got news for y'all.
"Bradying" is 10 times better.
If you're a New England Patriots fan, you hate it. If you're the rest of America, you love it.
As we all know by now, Tom Brady's Patriots lost to the New York Giants in the Super Bowl for the second time in four years on Sunday.
As pics flooded in of the Patriots' defeat, one Brady pose in particular struck a chord with America. In the pic, Brady is seen sitting down on the field with his head bowed, almost as if all hope has deflated.
Football fans ran with it (per Local 10 Miami).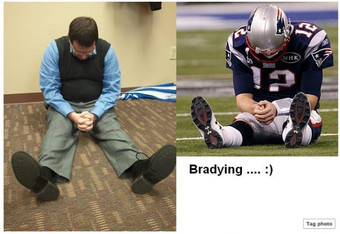 You could also expect New York Jets fans to get in on the action. After all, they've practically hated Brady for years, especially this year when their team didn't make the postseason while Brady made it to the Super Bowl. Some would call this jealousy. After the way Mark Sanchez played this season, I would tend to agree.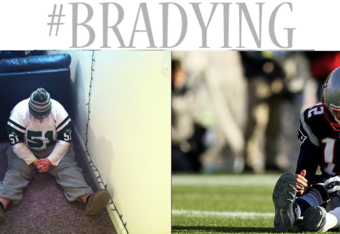 The great thing about Bradying, much like Tebowing or planking, is that you can do it at any place, any time.
You can Brady in the office: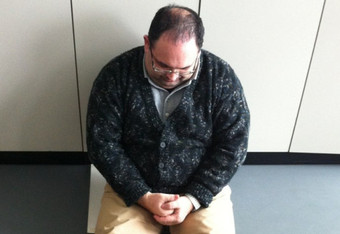 You can Brady at home: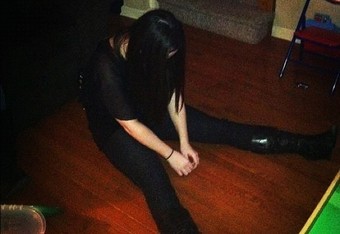 You can Brady next to your dog: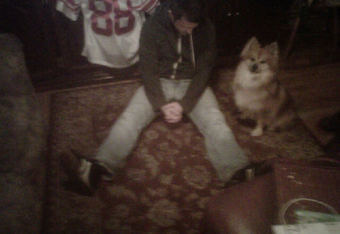 You can Brady next to a brick wall: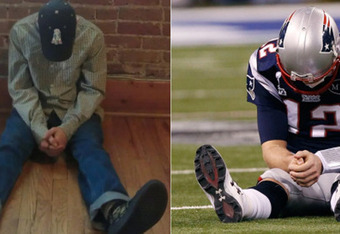 Kind of like a Dr. Seuss riddle.
There's always been something about Brady that got under people's collective skin. It may be the aforementioned jealousy. It may be the fact that he's way too calm and cool to be on this planet. And it may be people trying anything they can to rattle one of the great quarterbacks in NFL history.
Well, if Bradying doesn't faze Mr. Tom Brady, nothing will.
My hope is that every one of Brady's opponents from here on out "Bradys" as part of their pregame pep talk.
Some photos courtesy of Boxden.