Top 5 Sprint Cup Drivers with Something to Prove in 2012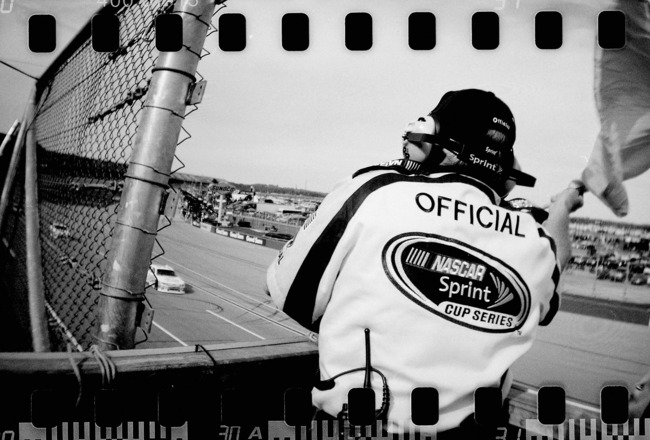 As the green flag is about to wave on the 2012 season, which drivers need to prove the most?
Mario Tama/Getty Images
As of February 6, 2012, there are 37 full-time teams, (39 if we include the unknown Red Bull team) and 11 part-time teams. So all together there's a list of 50 teams and driver combinations that I could choose from.
But which of those 50 teams and driver combinations have the most to prove in 2012? Well that will be depicted in this article coming up.
First of course, we get two honorable mentions:
Kasey Kahne, No. 5 Farmer's Insurance Chevrolet
Kasey's long anticipated move to Hendrick Motorsports is finally coming to fruition in 2012. Kahne signed here in the summer of 2010 while still a member of Richard Petty Motorsports. Then he moved on to Red Bull Racing in 2011, and won the second to last race of the season at Phoenix.
What Kahne needs to prove is simple: Moving Mark Martin out of this seat and inserting yourself was the right move for Hendrick Motorsports' future.
Prediction: I think Kahne will absolutely live up to expectations. He and Kenny Francis, as tough as it may be to believe, are the second longest driver/crew chief combination in the sport right now, and will prove they belong. This team is strong and powerful, and will definitely be a contender for the chase, as well as my pick to win the 54th running of the Daytona 500. What a debut that would be.
Mark Martin/Michael Waltrip, No. 55 Aaron's Dream Machine Toyota
Now on to the man who Kahne replaced. Mark Martin. Martin enters 2012 with a new team for the first time in three years, and Michael Waltrip, his counterpart for seven races, will drive the most races he's ran in two years.
As Mark limits his schedule to 24 races, the now 53-year-old driver, will try and put Michael Waltrip Racing back in victory lane for the first time since Chicagoland in 2010.
Meanwhile, while he's taking the other 12 races off, team owner, and two time Daytona 500 winner, Michael Waltrip will step in for what is now looking like 7-9 races. Who knows? It could be all 12. Michael, who turns 48 in April, hasn't had a top-5 finish since a rain shortened 2nd place finish at Loudon in 2008. Before that we'd have to go back to his DEI days in 2005!
So it's been 7 years since Michael's had a fully finished top-5. Clearly, Aaron's didn't choose Waltrip because they think he can get the job done. Let's hope they didn't sign Mark Martin for the same thing.
What this team needs to prove: Very simple. Firing David Reutimann was the right move, and bringing in a driver combo that together reach over a century in age, was the right move. Also, MWR needs to prove that they are even a team that can win. Reutimann had 2 wins in his tenure here, and no one else has even been close, is Mark Martin going to make that much of a difference?
Prediction: This team will run a little better than they did in 2011, but will wind up about 23-25th in owner's points. Reutimann finished 27th last year. If Mark Martin has 7 top-5's it will be erased by 7 crashes by Michael Waltrip. Michael will weigh this team down more than ppl know, and Aaron's may be regretting their decision, especially if people don't laugh at their commercials.
5. Danica Patrick; No. 10 GoDaddy.com Chevrolet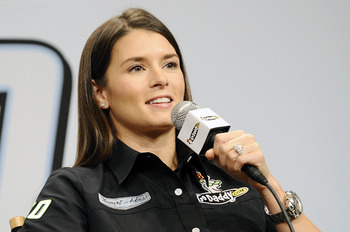 Danica Patrick, driver of the #10 Stewart-Haas Racing/Tommy Baldwin Chevrolet
Jared C. Tilton/Getty Images
If you read my honorable mentions you realized that I picked a driver combination in the No. 55 car at MWR. However, I won't do the same here. Here's why.
Anyone who thinks that Danica Patrick will be driving the same Tommy Baldwin Racing Chevrolet that David Reutimann will be driving, are probably the same people who think Danica will visit victory lane in 2012.
Danica will be driving the No. 10 Stewart-Haas Racing Chevrolet. Let's get that straight.
OK, and what she needs to prove is very simple: that she belongs. That the hype is worth it. That this media frenzy that she seems to embrace is all because she's going to perform well on the track.
Prediction: David Reutimann's 10 worst races in his No. 26 in a TBR Chevy will still be better than her 10. In 25 Nationwide races, she has one, just one top-five finish.
In an IRL career that spans over seven seasons and 115 races, she has one win! People. Let's be honest here, she's being rushed to Cup. Remember Jacques Villeneuve, Patrick Carpentier, Sam Hornish, Jr., Scott Pruett?? All rushed to Cup and couldn't make the transition.
And remember when Tony Stewart was upset with David Gilliland and said, "Well you win one Busch race, and you're a Cup driver now..." Well, you win one IRL race and you're a Cup driver now Danica. Prove you belong.
Danica will do OK. She will steadily improve. She'll finish in the top-15 in Nationwide points, and have a couple of top-25 finishes in the Cup. And I'm being VERY gracious. To those of you who think she'll win in Cup races in 2012, you will be extremely disappointed.
4. Paul Menard; No. 27 Menard's Chevrolet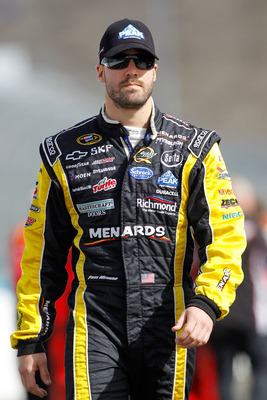 Paul Menard, driver of the #27 Menards Chevrolet for Richard Childress Racing
Todd Warshaw/Getty Images
Paul Menard is the first of two Richard Childress Racing drivers on this list.
He proved me wrong last year, sort of. I said he wouldn't win. I was wrong. But I also said that he would fall off towards the end of the season.
Once again, he did just that. Menard is the guy that cools off when Tony Stewart heats up. After his win in the Brickyard 400, he finished in the top-10 only twice in the remaining 16 races, and no higher than ninth.
What he needs to prove: He needs to prove me wrong. Don't fall off at the end of the season. Prove that your skill, not your daddy's big money sponsorship, earned you the ride at RCR.
Prediction: Menard will wind up right around where he did in 2011. The kid has improved since his days at Dale Earnhardt, Inc. but not by much. Remember, the race he won was a fuel mileage win. He's done improving and this is the driver Paul Menard is, and maybe he'll prove that his daddy's big money sponsor only earned 90 percent of the RCR ride and that his skill was the other 10 percent.
3. Bobby Labonte; No. 47 Kingsford/Bush's Baked Beans Toyota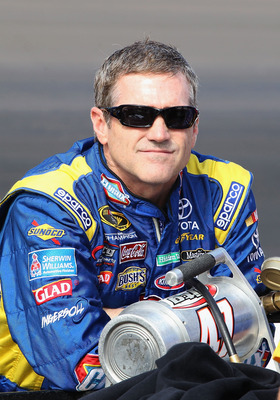 Bobby Labonte, driver of the #47 JTG/Daugherty Racing Toyota
Christian Petersen/Getty Images
Next on this list is the 2000 series champion Bobby Labonte, and I will try not to let the fan in me get in the way of an honest article, but with a guy this professional, it may be hard.
But honestly, Bobby Labonte had the most disappointing 2011 season in the garage area. After signing on with this team, expectations from everyone were high that Labonte would bring this team to a place they had never been in their short existence.
And they were right, he did—but in the wrong direction. Now, was it totally on Bobby Labonte's shoulders? Honestly, I can't say no.
Bobby will turn 48 in May, and as a person who says age doesn't matter in this sport, I'm going to stick to my guns, but it certainly doesn't help my cause with my favorite driver finishing 29th in points.
But 2012 could be better for Labonte. The team has relieved 2011 crew chief Frankie Kerr of his duties, and have moved him to shop foreman. They've hired former RCR lifer Todd Berrier to be the crew chief in 2012.
Berrier has an unbelievable track record: Eight Cup wins, six Nationwide wins, and 20 truck wins in his career, which blows Kerr's resume right out of the water.
The JTG/Daugherty team has also broken its association with Michael Waltrip Racing, and has moved into its own facility. Will this help? We'll see. Like team co-owner Brad Daugherty said, "...couldn't get any worse."
What this team needs to prove is several things: That the move from the Nationwide Series in 2008 wasn't a hoax, and that they can actually do this in Cup.
Also, Bobby Labonte needs to prove that at 48-years-old, and now nine years removed from his last victory, that he can still be a significant force as a driver in this series, like this writer wants so badly.
Prediction: This team will improve. I always say the further away you can get from MWR the better, and they've gotten further away. This team will improve, but the engine package which is a TRD/TRT mixture may be a huge issue, or perhaps it could be good that no one uses the same engines as them.
I think a good place for JTG/Daugherty and Labonte to end up is right around 24th. They could end up shocking us and coming up with a top-20 finish, but I'm not going to put that out there entirely. Gaining five spots in the points from 2011 is a good start, and if they can get a second car in 2013, I think they can improve more, and anyone who knows me, knows that I sure hope so.
2. Jeff Burton; No. 31 Caterpillar Chevrolet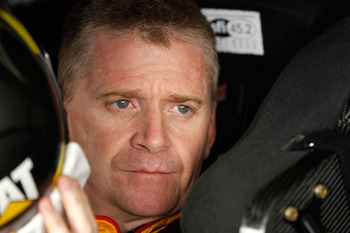 "The Mayor" Jeff Burton, driver of the #31 Caterpillar Chevrolet for Richard Childress Racing
Todd Warshaw/Getty Images
No. 2 and No. 3 on this list are probably two of the top-five nicest guys in the garage area. Too bad I can't say that about the No. 1 driver on this list.
Jeff Burton, or "The Mayor," as he's affectionately known, comes in at No. 2. Why? I'll give you two good reasons: Austin and Ty Dillon, team owner Richard Childress' two grandsons.
Austin, the defending truck series champion, will be driving in the Nationwide Series in 2012, and some Cup races. Ty will be driving in the truck series full time in 2012, replacing his older brother. If Austin gets to Cup in 2013 like everyone expects, that's four cars for RCR. That's NASCAR's limit. So who gets replaced when Ty's ready? My guess is Jeff Burton.
Burton has just re-signed with RCR through the 2014 season. He will turn 45 in June. He'll be 47 when his contract expires. This is Jeff Burton's last big shot at a winner if he doesn't have a great three years.
I know, I may be a bit hard on Burton, but I've put the biased opinions aside here. Burton's a super good dude, but he's really struggled these last two years. Can he get back to stardom? He's done it before.
Todd Berrier has moved on as you've previously read, and Drew Blickensderfer comes over from Roush Fenway to be his crew chief. Other than that, things are basically the same for Burton.
He stated in preseason testing that he's getting back to helping with the chassis and he thinks that will help his season. All I have to say is: Jeff, it better.
With 21 wins, he's right on the cusp of being a Hall of Fame driver. A nice three more years for Jeff Burton would put him in.
What he needs to prove: Very simply, that he's not done. RCR is an organization that can compete for the championship, year in and year out. Teammate Kevin Harvick has no problem doing that, and neither should Burton.
Prediction: I thought 2010 was going to be a breakout year for Burton and I was wrong, but I'm not ready to totally give up on him. Will it be the 1999 Jeff Burton? No. Those days are long gone. But can he still make the chase? Yes.
I think he'll compete for the chase in 2012, maybe even make it. If he does, he's not going to finish any higher than 10th, but that's not a bad start for a guy who finished 20th in the standings last year.
1. Kurt Busch; No. 51 Security Benefits/Thank a Teacher Chevrolet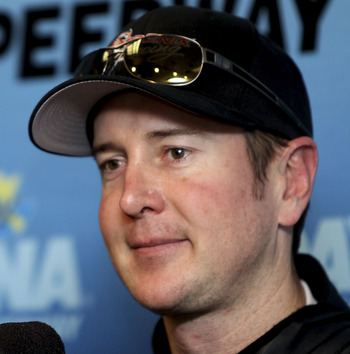 Kurt Busch, driver of the #51 Security Benefits/Thank a Teacher Chevrolet for Phoenix Racing
Jerry Markland/Getty Images
Kurt Busch is No. 1 on this list, and rightfully so.
Here's a guy who had everything a race car driver could want. He drove for the richest car owner in all of NASCAR, Roger Penske, and he was the flagship team on the two-car organization.
He had a big sponsor in Shell/Pennzoil and Penske Racing seemed to be turning a corner and headed for great success in 2012.
Then the old Kurt Busch came out. At the final race in Homestead-Miami Speedway, he mouthed off to ESPN reporter Dr. Jerry Punch, and flipped off a NASCAR official, all of were caught on tape.
It took several weeks, but then an article was published saying that Kurt could be losing his ride. I was shocked, and honestly did not believe that Kurt would lose his ride.
But he did. He and Roger Penske "mutually parted ways." Believe what you want, but he was fired. Crew chief Steve Addington left even before Kurt was canned, and he seemed unhappy throughout. Could Kurt have been hard on him all year? I think so.
Anyway. Kurt has moved on to Phoenix Racing in 2012. Phoenix has been in the Sprint Cup Series since 1990. Team owner James Finch has been known for hiring and firing drivers on just a whim. Over his 21 years in Cup he's had 25 drivers in 115 races, and he's won one time with Brad Keselowski in 2009.
Kurt is known for having a hostile personality, and so is Finch. He's hired and fired Mike Bliss three different times, including 2011, where he fired Landon Cassill, hired Mike Bliss and after one race, rehired Cassill and fired Bliss again. Also, Bill Elliott was slated to run 20 races for the team, and only ran the first four before being fired as well.
This is either going to be a match made in heaven, or an absolute disaster. Kurt will not dominate in this car. They will run well and maybe squeak out a win, but they will not make the chase.
If Kurt thought he was running poorly for Penske, he's going to go crazy at Phoenix Racing.
What this team needs to prove: Kurt needs to show that he can calm down and actually be a person. He's been a jerk and almost didn't get this ride. He needs to put his extremely large ego at rest and just drive this race car to the best of his ability. If he can do that and squeak out a victory, Kurt can prove that he's mature, and move on to something better in 2013.
Prediction: This is going to end badly. Kurt seems all happy and refreshed now, but that's not going to last long. This is going to last about 20-25 weeks before it all blows up. Kurt will sit out the rest of the season after that, just driving his brother's Nationwide car and KBM will move to Cup with Kurt in 2013 after no one will give him a chance.
Kurt Busch has the most to prove in 2012. Jack Roush fired him in 2005, and Penske fired him in 2011. He didn't learn from Roush, why would he learn from this one?
Keep Reading