Washington Football Recruiting: Where Did the Elite 11 Quarterbacks Sign?
February 5, 2012

Otto Greule Jr/Getty Images
In July, Pepperdine University was the site for the prestigious Elite 11 camp. The Malibu setting with the Pacific Ocean in the background featured 24 seniors-to-be instructed by 2001 Super Bowl winning quarterback Trent Dilfer.
With the 2012 national signing day now in the past, this article will break down which universities signed Elite 11 campers, how recruiting services ranked the quarterbacks at the end of their respective seasons and the significance of attending the Elite 11 camp for prospective college quarterbacks.
The camp has been a stepping stone for many high school quarterbacks on their way to college fame and NFL stardom. The previous attendees include Matt Leinart (2000), Kyle Orton (2000), Vince Young (2001), Mark Sanchez (2004), Josh Freeman (2005), Matthew Stafford (2005 MVP), Ryan Mallett (2006), Tim Tebow (2006), Andrew Luck (2007), Landry Jones (2007) and Aaron Murray (2008).
When a quarterback performs well at the Elite 11 camp, not only do college coaches like University of Washington head coach Steve Sarkisian notice and sign two of the prospects, but so do NFL scouts.
Dilfer proudly let it be known that of the 32 starting quarterbacks set to start for their respective NFL teams before the 2011 season, 22 of them attended this camp.
The camp continues to turnout top performers. Four of the top 12 picks in the 2011 NFL draft competed at Elite 11 camps, including former Huskies quarterback Jake Locker, Cam Newton of the Panthers, Blaine Gabbert of the Jaguars and Christian Ponder of the Vikings.
With so much attention paid to this particular camp, one can see how fierce the competition is among the players to win top honors.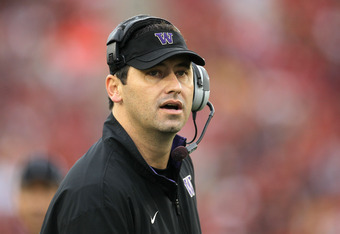 Stephen Dunn/Getty Images
When the 2011 Elite 11 camp was finished, three players shared MVP honors—Jameis Winston from Hueytown, AL, Neal Burcham from Greenbrier, AR and Tanner Magnum from Eagle, ID.
The next eight quarterbacks were ranked in the following order:
Jeff

Lindquist

, Mercer Island, WA
Chad

Voytik

, Cleveland, TN
Zach Kline,

Danville

, CA
Shane

Dillion

, El

Cajon

, CA
Chad Kelly, Buffalo, NY
Zeke Pike, Fort Mitchell, KY
Bart Houston, Concord, CA
Austin Appleby, North Canton, OH
The camp counselors, composed primarily of college quarterbacks, awarded the campers with their own set of awards, some in jest the rest on pure talent.
The counselors selected Magnum, Winston and Burcham in their top five performers, along with Gunner Kiel and Patton Robinette.
Honors bestowed to attendees included:
Connor Brewer – The best in any system
Travis Wilson – The quickest release
Zach Kline – The strongest arm
Tanner Magnum – The most accurate

Cyler

Miles – The most athletic
Grant Roach – The most

coachable

Jameis

Winston – The Best deep ball
Jake

Rodrigues

– The best footwork
Preston Dewey – The best touch
Tyler O'Connor – The most poised
Nick Patti – The Doug

Flutie

Award
Gunner Kiel – Tightest shirt
Chad Kelly – Needs to learn "no comment" Award
The start of each player's college career has been mapped out. What happens from here is up to the individual players.
Athletic ability can only take a player so far in college. Which player will benefit the most from hard work, determination, great coaching and a little bit of luck?
Who will we see excel at the next level?
Here is an alphabetical listing of the 2011 Elite 11 quarterback camp finalists.
Player, High School, Height, Weight, Scout.com Ranking, College
Austin Appleby, North Canton, Ohio, 6'4", 215 pounds, 3-star, No. 62, Purdue
Connor Brewer, Scottsdale, AZ, 6'2", 190 pounds, 4-star, No. 11, Texas
*Neal Burcham, Greenbrier, AR, 6'3", 190 pounds, 2-star, No. 86, SMU
Tyler Cameron, Jupiter, FL, 6'3", 215 pounds, 3-star, No. 53, Wake Forest
Preston Dewey, Austin, TX, 6'3", 200 pounds, 3-star, No. 65, Miami
Shane Dillon, El Cajon, CA, 6'5", 185 pounds, 3-star, No. 28, Colorado
Bart Houston, Concord, CA, 6'3", 210 pounds, 4-star, No. 7, Wisconsin
Chad Kelly, Buffalo, NY, 6'2", 200 pounds, 3-star, No. 20, Clemson
Gunner Kiel, Columbus, IN, 6'4", 220 pounds, 5-star, No. 1, Notre Dame
Zach Kline, Danville, CA, 6'2", 205 pounds, 4-star, No. 4, California
Jeff Lindquist, Mercer Island, WA, 6'3", 225 pounds, 4-star, No. 8, Washington
*Tanner Mangum, Eagle, Idaho, 6'2", 195 pounds, 4-star, No. 15, BYU
Tyler Matthews, McPherson, KS, 6'2", 195 pounds, 3-star, No. 34, TCU
Cyler Miles, Denver, CO, 6'4", 220 pounds, 4-star, No. 13, Washington
Tyler O'Connor, Lima, OH, 6'2", 205 pounds, 3-star, No. 23, Michigan State
Nick Patti, Orlando, FL, 5'10", 195 pounds, 3-star, No. 39, Boise State
Zeke Pike, Fort Mitchell, KY, 6'5", 230 pounds, 4-star, No. 16, Auburn
Patton Robinette, Maryville, TN, 6'4", 190 pounds, 3-star, No. 38, Vanderbilt
Jake Rodrigues, Rocklin, CA, 6'3", 215 pounds, 4-star, No. 17, Oregon
Grant Rohach, Moorpark, CA, 6'2", 185 pounds, 3-star, No. 74, Iowa State
Patrick Towles, Fort Thomas, KY, 6'5", 225 pounds, 3-star, No. 33, Kentucky
Chad Voytik, Cleveland, TN, 6'1", 195 pounds, 4-star, No. 12, Pittsburgh
Travis Wilson, San Clemente, CA, 6'6", 215 pounds, 3-star, No. 27, Utah
*Jameis Winston, Hueytown, AL, 6'4", 200 pounds, 5-star, No. 2, Florida State
*Denotes Elite 11 MVP Award
All rankings are per Scout.com
Patton Robinette is the only player to switch his verbal commitment after the camp. He switched from North Carolina to Vanderbilt.
Gunner Kiel, Neal Burcham, Tyler Cameron, Chad Kelly and Chad Voytik were not verbally committed at the time of the camp.