Arsenal FC: 7 Reasons Gunners Will Finish in Top 4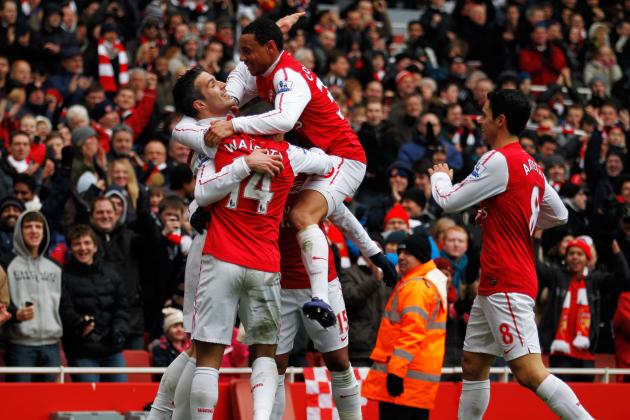 Paul Gilham/Getty Images

After Arsenal's dominating 7-1 victory over Blackburn Rovers this morning, fans have reason to be excited. They sit only two points behind their London rivals Chelsea and seem to finally be clicking.
Although they are not where they need to be yet, a victory like this brings back memories of the Arsenal of old. If they continue to play like they did today, there is a very good chance they can claim a top-four finish this season in the English premier League.
Chelsea and Manchester United face off tomorrow in what is a huge game for both sides. For Arsenal fans, even it may seem sickening, cheering for a Red Devils win will greatly benefit their team. If the Gunners continue to play well over the next couple months, their fans will be witnessing Champions League football come next season.
Both Arsenal and Chelsea have challenging games down the stretch, so no real team has the advantage there. The key will be which team can put together a solid stretch of wins. For Arsenal, they must earn three points whenever they play a team in the bottom half of the league table. Stumbling and earning only a draw could prove to be costly in this intense race.
The pressure on both these clubs is enormous. Fans expect both teams to be competing in the Champions League next season; however, it is looking like only one of them will have that privilege.
Here are seven reasons why Arsenal will finish in the top four when the season is complete:
Begin Slideshow

»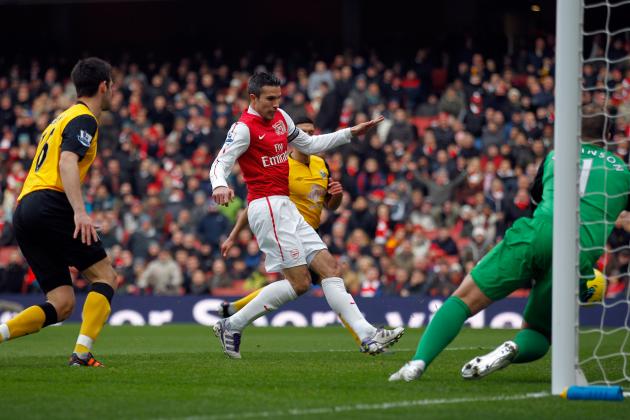 Paul Gilham/Getty Images

RVP has been on a tear this season, no better exemplified than by today's hat-trick vs. Blackburn Rovers. He currently leads the English Premier League scoring race with 19 goals, four more than Demba Ba of Newcastle United.
His ability to avoid injury this season has provided a sigh of relief to Gunners fans. If he can continue his scoring pace down the stretch of the campaign, Arsenal have a great shot at a top-four finish. Van Persie has certainly been the top man at the Emirates this season.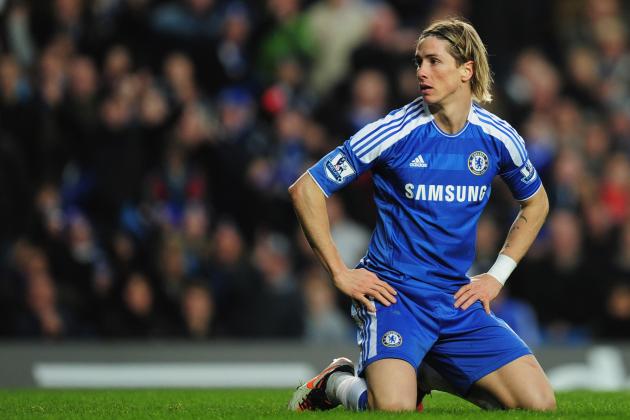 Jamie McDonald/Getty Images

Don't look now Chelsea fans, but Arsenal are only two points back of their London rivals. The gap has been slowly closing with neither team able to put an impressive string of victories together.
Another London rival, Tottenham Hotspur, are nine points clear of Arsenal. The two sides face off at the Emirates on February 26. This game, depending on the result, may launch one team into a winning streak, and the other into a funk. This matchup will be one of the most important games for Arsene Wenger to the gain back fans' respect.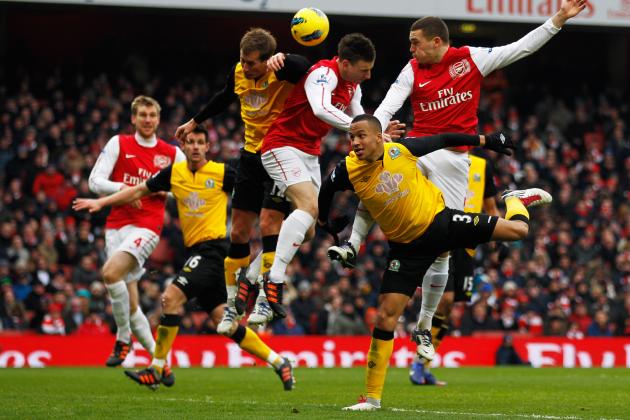 Paul Gilham/Getty Images

Arsenal's final game of the season goes May 13 vs. West Bromwich Albion. They still have 14 matches to play in the English Premier League this season. We have witnessed incredible finishes before for the title, for relegation survival and for the final coveted Champions League berth.
Fourteen games are easily enough to create momentum, especially with eight of those games being played at the Emirates in front of their home supporters. The Gunners have certainly had a long campaign with dramatic wins and heart-crushing losses, but they must remain motivated and keep the thought of playing in next year's European competition in the back of their minds.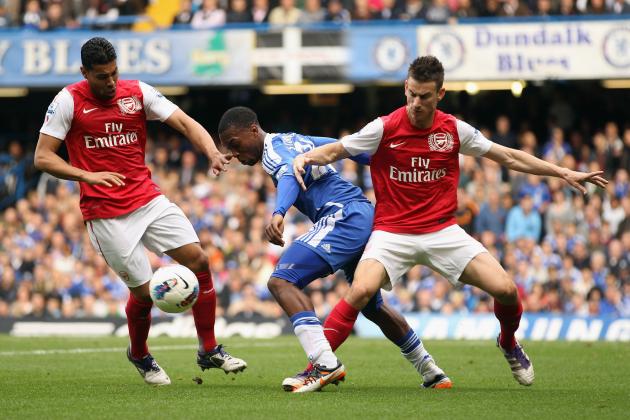 Ian Walton/Getty Images

This matchup between the two London rivals will prove to be the most important game for the Gunners this season. This match may very well decide the final Champions League berth coming out of England.
Fortunately for Arsenal, this game will be played at the Emirates. After this tilt, Arsenal will have only three games left in the season, and those are all winnable games.
If they are able to move ahead of Chelsea, the fate of their season may be completely in their hands. This will provide another epic chapter in the London rivalry.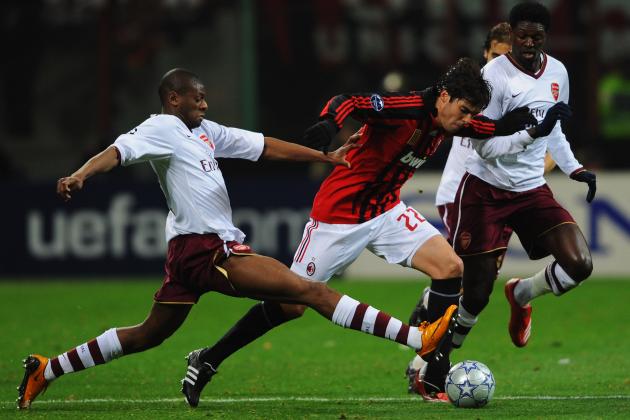 Shaun Botterill/Getty Images

With two games against AC Milan over the next month, they must raise their level of play in order to compete against the Italian giants. If they play down to the level of their subpar English competition, as they have done far too often this season, they will get blown away by the Azzurri over the two legs.
Although AC Milan are tough competition, Arsenal can use these two games to up their level of play at home in England against what will be comparatively easier competition. They must carry over not only their strategy, but also their intensity and emotion. Even if they do not advance in Europe, their matchup against AC Milan will benefit them over the next few months.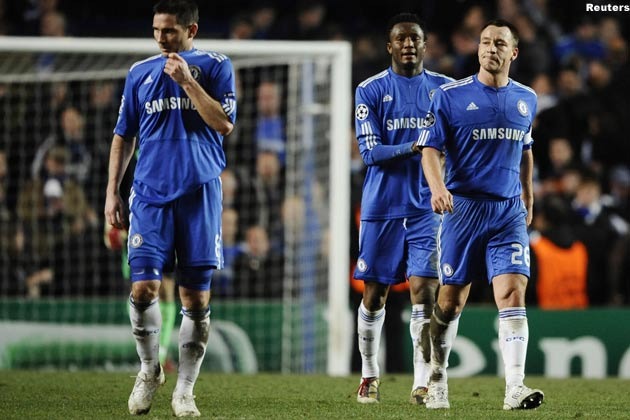 Most of this list has been comprised of Arsenal's attributes, but it is also important to look at the team they are chasing for that fourth spot in the standings. Chelsea have been playing nowhere near their potential and seem to be faltering at the perfect time for Arsenal to take advantage of.
Chelsea have scored just 13 goals over their past 10 games in all competition, and that includes a 4-0 win over Portsmouth in the FA Cup. Their strikers have simply not been getting the job done at Stamford Bridge, which is music to Gunners fans.
If they continue to struggle and keep mounting pressure on themselves, Arsenal are in a great place to overtake them in the league table.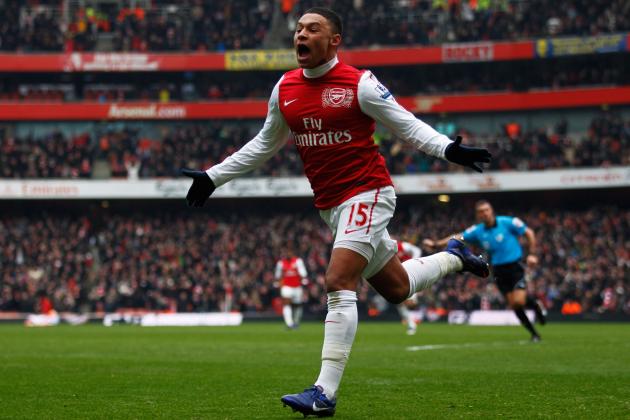 Paul Gilham/Getty Images

The 18-year-old English winger finally netted his first, and then second, goal in the English Premier League. With an impressive showing against Manchester United a couple weeks ago, he has shown he is willing to step up against big teams and not let the pressure get to him. He is looking to be the next young superstar at the Emirates.
His promising start has provided inspiration within the club, and Wenger must give the youngster a chance to continue to prove his worth on the pitch. If he can maintain his impressive start, he will add yet another dimension to Arsenal's potent attack.
Furthermore, if Oxlade-Chamberlain can continue to surprise with his high level of play over the course of the next three months, it will only increase Arsenal's chances of grabbing the coveted fourth-place spot.