What's New and Now: The Coolest Viral Sports Videos of the Week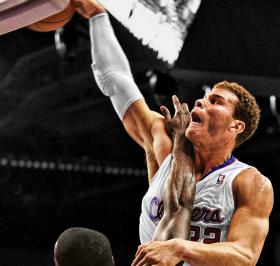 The internet is a wonderful place. Every day new videos pop up for our amusement, from adorable cats to huge fails to funny music videos.
The sports world is no different. We get a ton of great videos on a daily basis, and who doesn't like to be the one to show off those videos to your friends and be the first one to know about these things?
So if you want to be up on what's new and now, check out the coolest viral sports videos of the week.
Begin Slideshow

»
There are so many things to love about this video in just seven seconds.
The lack of contrition from the player and, of course, the complete lack of reaction from the coach.
Does he get hit with sticks like that often? Does he expect that kind of thing? I need more backstory.
You have to feel for this poor kid. He catches the ball and is surprised by how open he is and quickly takes advantage of the opportunity to put his team ahead by three.
Only, it's the wrong basket and he actually just put his team down by one. Maybe he hadn't played all game. Maybe he was just a really good free throw shooter that they put in who hadn't actually been paying much attention to what basket they were shooting on.
Or maybe he's just a stupid kid. It is a high school game after all. High schoolers are kind of idiots.
This is pretty much the dunk of the young season.
Don't tell me it wasn't a dunk because he didn't touch the rim. Are you stupid? In what context is throwing the ball forcefully through the basket from above not a dunk?
I'm getting upset just thinking about people saying this wasn't a dunk. When you can do something like this, you can call it whatever you want.
Let's just enjoy it for the ridiculous play that it was.
This looks like a movie, doesn't it? There's no way some kid could be that much bigger than everyone else on the court.
And while he may not be the most coordinated person on earth, he's coordinated enough to dominate this game. And good luck trying to shoot a layup against him.
I don't even need to watch the big guy. It's way more fun to look at the little hobbits all running around him, just trying to play the same game. It's insane.
Now this is impressive. The kid goes from a crouching position, not even expecting the ball to come near him, to making a crazy catch in a moment's notice.
My favorite part about this is how the crowd reacts. They immediately recognize how awesome that play was and give him a round of applause while the actual tennis match continues.
Those are good fans right there.
Hey, Dodgeball is technically a sport, so this totally qualifies.
If you haven't seen 90 seconds of people getting hit in the movie Dodgeball, then you're missing out.
If you have seen it, just watch it again. It's only 90 seconds and it's awesome.
You're welcome.
Let me tell you what. If I was playing in a game and I looked over at my son and saw him chanting in favor of the team I was playing against, I would feel like I may have failed a bit as a parent.
"Dad, you're totally my idol. As long as you're not playing LeBron. Or Dwayne Wade." I mean, I could see this if his dad played for the Raptors or something, but in a game like this, that's just unacceptable.
Fast forward to the 26 second mark.
This is either the luckiest goal or all time, the most skilled goal of all time, or (most likely) a combination of both.
There's no way somebody could replicate this. It's incredible.
And, if I may, the crowd wasn't cheering nearly enough. That's the sound they should make when somebody scores, not when somebody scores on a freaking running scorpion kick goal from three miles out.