Arsenal Transfer Rumours: 10 Cheap Summer Signings for the Gunners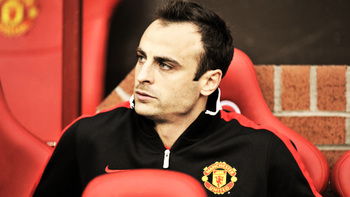 Arsène Wenger's frugalness in the transfer market will continue to cost Arsenal.
Arsenal chief executive Ivan Gazidis defended the club's economically efficient transfer policy:
Yes, we can't afford to spend £50-70 million on an individual player. But, we're proud of the way we do things, and we're proud of the results that we're able to produce from that.
6 years and counting without a trophy—that's nothing to be proud of.
If you want to dream big, then manage Arsenal on Football Manager and sign Mats Hummels, Eden Hazard and Stevan Jovetić.
If you want to live in reality, then this is the article for you, because it will be in line with Wenger's stinginess by forecasting 10 potentially cheap summer signings.
Chelsea: Salomon Kalou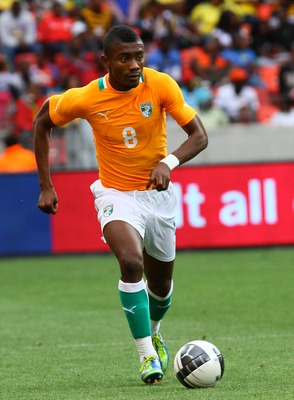 Gallo Images/Getty Images
Salomon Kalou's performances in the Africa Cup of Nations stand in stark contrast to his anemic performances for Chelsea.
The reason why he's been so disappointing for Chelsea is because management sees him as a squad player as opposed to a star player. Kalou is likely to run down his contract and seek a fresh start.
It was Arsène Wenger who gave Thierry Henry, the over-hyped expensive Juventus flop, a chance to redeem his reputation.
Dennis Bergkamp was seen as damaged goods by Inter Milan, yet Wenger persisted with the Dutchman.
To A.C. Milan, Patrick Vieira was just a squad filler, but Wenger saw world class potential.
If there's anyone that can turn Kalou's career around, it's Wenger.
Bayer Leverkusen: Tranquillo Barnetta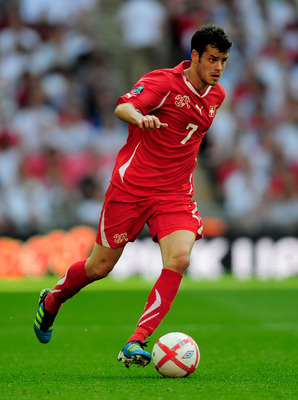 Jamie McDonald/Getty Images
Tranquillo Barnetta hasn't played a game since June last year due to knee surgery.
Provided he doesn't sign a contract extension at Bayer Leverkusen, he'll leave on a Bosman, which is where Arsenal must take advantage.
Barnetta is proven quality and England found that out when he scored two free kicks. However, it remains to be seen if he is the same player after such a long injury layoff.
Blackburn Rovers: Junior Hoilett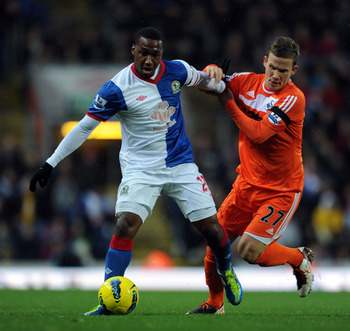 Chris Brunskill/Getty Images
Junior Hoilett has been one of the most dynamic wingers in the Premier League.
The fact that Blackburn Rovers did not cash in on Hoilett during the January transfer window proves how inept their management is.
Hoilett coming for free will be a transfer steal.
Inter Milan: Cristian Chivu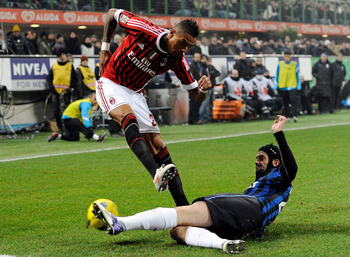 Claudio Villa/Getty Images
Cristian Chivu is out of contract at seasons end and would be an invaluable back-up defender.
He can play across the backline and will be a top notch professional.
The question will be: Does he want to be a squad player at Arsenal? Probably not.
Auxerre: Dennis Oliech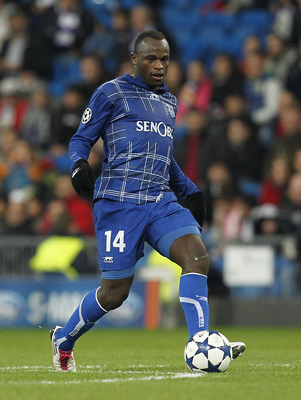 Angel Martinez/Getty Images
Eight goals and five assists in 17 games—if there is one thing Dennis Oliech can do, it's producing the end product.
That being said, he only completes 68 percent of his passes, an indication of his gun-slinging mentality.
Arsenal as a team complete 84 percent of their passes, so Oliech needs to ensure he makes better decisions when distributing.
Sochaux: Ryad Boudebouz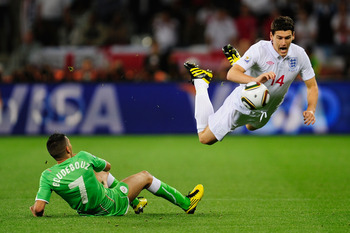 Jamie McDonald/Getty Images
Ryad Boudebouz probably should stick to his step-overs as opposed to tackling. The Algerian is a competent dribbler, but not as effective as someone like Eden Hazard.
Hazard would be the dream Arsenal footballer, but alas, he's too expensive.
Thus, a cheaper alternative would be Boudebouz.
Everton: Royston Drenthe (on Loan from Real Madrid)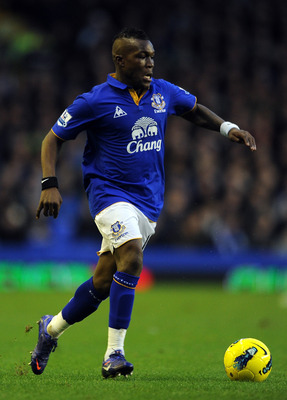 Chris Brunskill/Getty Images
Real Madrid don't want Royston Drenthe and Drenthe probably doesn't want to stay in Everton.
Drenthe is one of the most explosive footballers in the world, but is he just a poorer version of Theo Walcott?
Bolton Wanderers: Jussi Jääskeläinen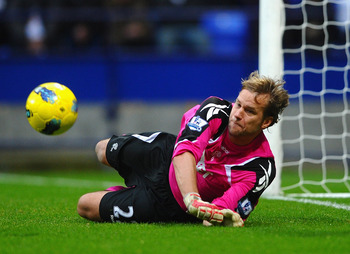 Laurence Griffiths/Getty Images
Unless Łukasz Fabiański wants to continue warming the benches, he'll be gone in the summer.
After Fabiański runs down his contract, Arsenal will need a back-up goalkeeper.
Jussi Jääskeläinen could be that man and he'd come for free, especially with Bolton Wanderers set for relegation.
The alternative would be to promote Damián Martínez into the senior squad, but it would be more beneficial for the young Argentine to be playing as opposed to sitting and watching.
Porto: Cristian Rodríguez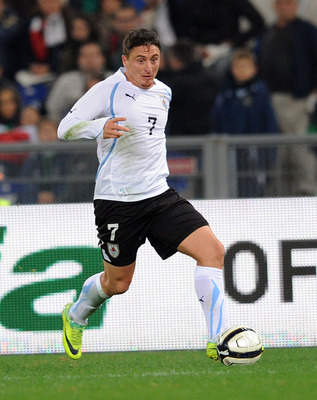 Giuseppe Bellini/Getty Images
The fact that an unpolished Djalma has started more games than Cristian Rodríguez shows how out of favour the talented Uruguayan is with Vítor Pereira.
On his good days, Rodríguez is one of the most trickiest footballers to deal with.
He'd fill the vacancy left by Andrey Arshavin, who is certain to leave in the summer.
Dimitar Berbatov
It makes no sense as to why Arsène Wenger does not provide a strike partner for Robin van Persie.
He's the best forward in the league and opposing teams know that if they stop him, they stop Arsenal.
There's a reason why some people comment that Arsenal field van Persie and 10 others.
Just imagine Dimitar Berbatov playing right behind van Persie.
Assuming the Dutchman stays fit, how many goals would he score? 40?
This could potentially be a 50-60 goal partnership.
What makes this deal even sweeter is that Arsenal can pry Berbatov away from Manchester United for free.
Manchester United are blindly trusting that they'll somehow convince him to sign a contract extension, even though they've humiliated him throughout the season by not consistently starting him.
Find out which EPL Footballers Will Definitely Transfer This Summer.
Follow me @ http://twitter.com/allanjiangLIVE.
Keep Reading

Arsenal: Like this team?