Cubs vs. Cardinals Position Comparison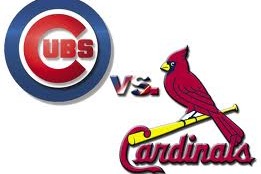 While this is one of baseball's greater rivalries, there has not been much competition the past few years. Will the Cubs close the gap on the Cardinals' dominance anytime soon? I will look at a position by position breakdown of the two teams entering the 2012 season and see what each team has to look forward to.
Begin Slideshow

»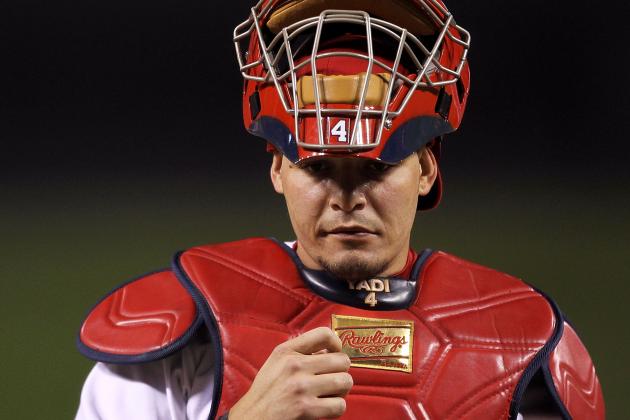 Ezra Shaw/Getty Images

Catcher
Geovany Soto vs. Yadier Molina
Molina
Yadier Molina has long been one of, if not the best, defensive catchers in the game. Last year, he turned in a magnificent offensive performance, hitting over .300 for only the second time in his 8 year career, and reaching double digits in homeruns for the first time.
Soto
Soto appears to be on the every other year track: if you look at his career numbers, he follows each solid offensive year with a very subpar one.
If that holds true, the Cubs' backstop is in for a good campaign in 2012. Despite his occasional offensive struggles, Soto's defense has been vastly underrated. He led all national league catchers in throwing out would be base-stealers in 2011.
Advantage: Yadier Molina- Cardinals
This is only a slight advantage, as it has yet to be seen that Molina can continue his offensive output from last season. If Soto returns to another 20 homerun season with a decent on-base percentage, this could easily change.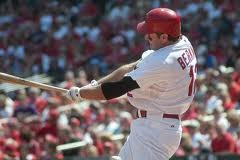 1st Base
Bryan LaHair vs. Lance Berkman
Berkman
Lance Berkman has been an extremely productive hitter throughout his entire career. However, his numbers had begun to tail off a bit before exploding to the tune of .301/.412/.547 in his first season in a redbird uniform.
Without Albert Pujols being in the Cardinals lineup, it may be a little tougher sledding for the Big Puma, but I see no reason to not expect another terrific season from the 6 time All-Star.
LaHair
Many people are not excited by a 29 year old first basemen just now getting his first extended chance at starting in the big leagues.
LaHair has been classified by fans as a "4A" hitter, a dreadful label that describes prospects that put up great numbers in the minors only to struggle when they get to the show. Do not count Cubs' President of Baseball Operations Theo Epstein as one of that group. Epstein said, 'I don't believe in 4A players. Guys who can hit will hit when they're given a chance."
LaHair put up astronomical numbers last year at AAA Iowa, where he was named the Pacific Coast League player of the year. It is his time to try and use that same power for the Cubs.
Advantage: Lance Berkman- Cardinals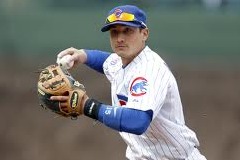 Darwin Barney vs. Daniel Descalso
Descalso
I am listing Descalso because I am not sure who will win the position battle in spring training with Tyler Greene, who may be making the transition from shortstop to second base.
Descalso does not do anything at a high level and will likely be the weakest member of the Cardinals' every day lineup.
Barney
Cubs' fans fell in love with Darwin Barney last season as he trailed only Freddie Freeman among National League rookies in hits.
Fans always love the little guys who play with heart and hustle. While I am among the group of people that appreciate great effort, I do not share the same enthusiasm about Barney.
He was near the bottom of the league in walks per plate appearance and really struggled down the stretch. I think Barney brings some decent things to a ballclub but only if used as a utility infielder.
Advantage: Darwin Barney- Cubs
While they appear to be similar players, I give the slight edge to Barney because he is a better contact hitter and defender at this point in his career with Descalso playing mostly third base last season in David Freese's absence.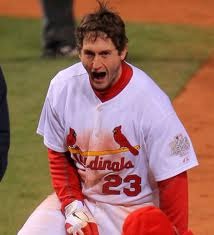 Ian Stewart vs. David Freese
Freese
World Series MVP, David Freese, has been very productive in his short Major League career: when he can stay on the field. He has had problems with his ankle a couple times now, and unluckily took a pitch off his left hand last season, causing him to miss roughly two months.
Freese showed flashes of improved power last season and that continued into the playoffs. Freese has a chance to potentially be the National League All-Star starter at the hot corner in the near future if he can avoid injuries and a 3rd arrest (we will not go into this here).
Stewart
It is difficult to get excited about dealing for a player that hit just .156 in the majors last season with 0 homeruns. This is supposed to be a power hitting third basemen.
However, Ian Stewart is exactly the kind of player that Theo Epstein was looking for this season: someone coming off of a down year that has had success before and could possibly produce highly again in the future.
In his only two full seasons with the Rockies, Stewart hit 25 and 18 long balls. He is a well above average defender too. The Cubs hope the former first round draft pick has a change of luck to go with the change of scenery.
Advantage: David Freese- Cardinals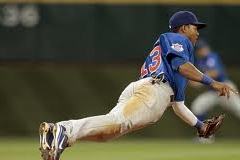 Starlin Castro vs. Rafael Furcal
Furcal
Rafael Furcal was one of the most talented shortstop in the game while in his prime. Injuries have helped to derail the career of the 34 year old.
The Cardinals thought he had enough left in the tank to trade for the former Rookie of the Year for the stretch run last season. He responded by regaining some of the power that many thought he had lost with the Dodgers.
Range factor stats will show that Furcal has not lost much defensively as he remains in the top five in the league in this category, one that he has always excelled at.
Castro
Not many people have had seasons like Starlin Castro did last year as a 21 year old. The kid can flat out hit. He makes good contact, knows how to adjust, and has a great approach at the plate. He led all national league players in hits.
However, there are some obvious flaws in the young shortstop's game. While leading the league in hits, he also was at the top of the list in outs recorded. This tells us that while he puts the ball in play a lot, he is not taking enough walks.
It has been well documented how much he has struggled on defense as well. He has a knack to make the highlight reel plays and lose focus on the routine ones.
Castro is the cornerstone of the Cubs' franchise and an exciting player to watch, but he still has work to do.
Advantage: Starlin Castro- Cubs
I am unconvinced that Furcal can ever produce at a high level again offensively and Starlin is one of the game's rising stars.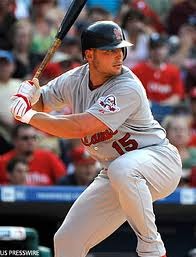 Alfonso Soriano vs. Matt Holliday
Holliday
Holliday struggled with injuries in 2011, but that did not stop him from putting up a very Holliday-like season.
He has been the model of consistency throughout his 8 seasons, never hitting below .290 in a season. There is a lot of analysis I could do of Holliday, but all that it would tell me is that he has always been and will continue to be a fantastic major league hitter.
Soriano
At this point in his career, you know exactly what Alfonso Soriano is going to give you. He still has above average power and will likely lead the Cubs in long balls (and strikeouts) this year if he happens to still be around by opening day.
He is no longer the threat to steal that he once was, and his average has hovered between .240 and .280 his last four seasons with the Cubs.
There is no need for me to pound on Soriano for his lack of production for the amount of money that he has given Chicago, it has been well documented.
Advantage: Matt Holliday- Cardinals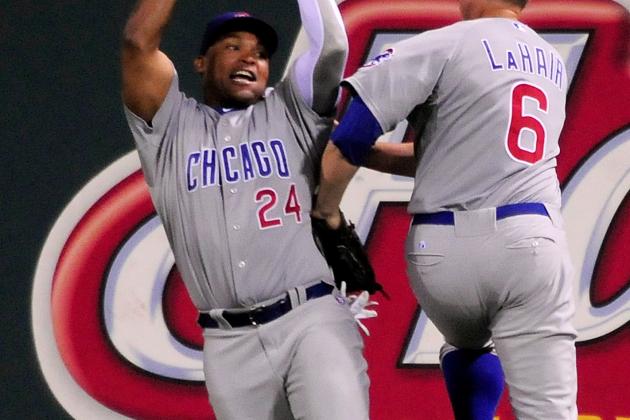 Jeff Curry/Getty Images

Marlon Byrd vs. Jon Jay
Jay
Jay can play every outfield position and is a very useful player to have on your team. He has shown flashes of being a good hitter, and his stat lines actually match Marlon Byrd's pretty closely.
Jay is only 26 and still possesses a little bit of upside, but my guess is that his career will continue mostly along the path that it has so far.
He can hit for a fairly high average and may hit 10-15 bombs per season but not much more.
Cardinals' GM John Mozeliak looks to Jay to be the starting center fielder in 2012 as spending some time as a platoon player last year.
Jay, a left-handed hitting player) has shown the ability to hit left handed pitching (.296) just as well as righties (.298) in his career.
Byrd
Byrd has become a fan favorite due to the way he plays the game and lives his life. He always has a smile on, which has most likely been tough after back to back 5th place finishes.
At age 34, Byrd can do some things well, but for the most part is average in nearly every aspect of his game. He could be a nice piece in the outfield for a contender, and with Brett Jackson waiting in the wings (or even the possible signing of Yoennis Cespedes), Byrd may not be roaming center field at Wrigley in 2012.
If he is a Cub, he will continue to work hard, hit right around .280, and hit his 10 homeruns, while playing adequate defense.
Advantage: Marlon Byrd- Cubs
If I had to choose who had the advantage going forward I would take Jay, but I think Byrd is slightly more polished right now. This was the closest position battle in my opinion.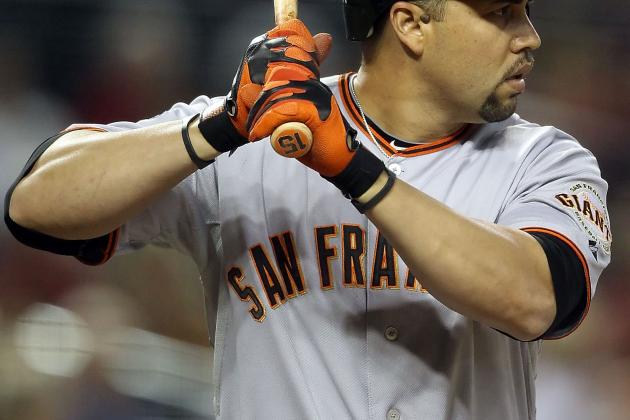 Christian Petersen/Getty Images

David DeJesus vs. Carlos Beltran
Beltran
Carlos Beltran is a six time All-Star, three time Gold Glove winner, and a two time Silver Slugger winner. Despite the accolades, it had begun to look as if the 34 year old was on the back 9 of his career.
This was before Beltran had a nice bounce-back season for the Mets and Giants in 2011. It appears he still has a lot left in the tank offensively, especially when it comes to hitting for average and posting a high OBP. His power has declined slightly, but he is effective overall.
Beltran has lost most of his range that made him one of the best center fielders of the game due to nagging injuries during his years in New York and caused a necessary shift to right field.
Beltran should help the Cardinals lineup cope with the loss of Pujols.
DeJesus
David DeJesus fits the mold of the "Cubs Way" that Theo Epstein has mentioned several times. He is a gritty player that was nominated for the "Heart and Hustle Award" in 2008. DeJesus also has some talent to go with the effort.
He is among the best fielders in the majors and has been among the league leaders in fielding percentage and range factor at all three outfield positions. DeJesus had a 241 game errorless streak entering last season.
For much of his career he has been an average hitter with stretches where he looked to be really solid. If he can return to hitting near .300 and hit 10-15 homeruns, the Cubs will have a great value deal at 2 years and $10 million.
Advantage: Carlos Beltran- Cardinals
This one was not as big of an advantage as it seems on paper. Beltran is an All-Star level talent, but DeJesus is a great role player and defender that I think will have a season much like he did in Kansas City in 2008.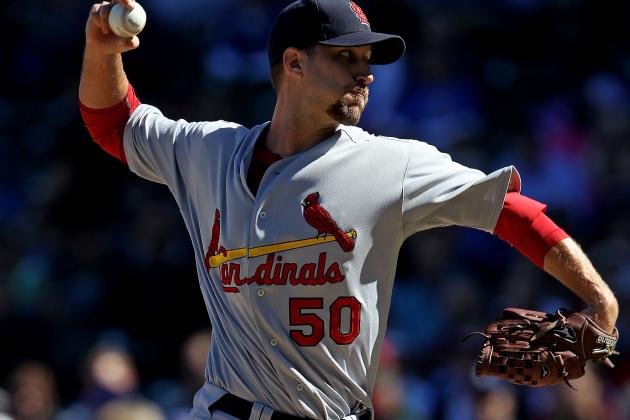 Jonathan Daniel/Getty Images

Matt Garza, Ryan Dempster, Paul Maholm, Travis Wood, Chris Volstad
vs.
Chris Carpenter, Adam Wainwright, Jaime Garcia, Kyle Lohse, Jake Westbrook
I am not going to go into the complete breakdown of each starting pitcher.
The Cardinals have three front of the rotation pitchers in Carpenter, Wainwright, and Garcia. All three are capable of dominating a lineup on any given day.
Wainwright missed the entire 2011 season, but the way Tommy John surgery has gone in recent years, I would expect him to return to the same form he showed in 2010.
Either Westbrook or Lohse could possibly move to the rotation if all of the rumors involving Roy Oswalt come to fruition.
The Cubs have a much improved rotation in terms of depth and innings eaters, but it has yet to be seen whether or not they can produce at a high enough level to get over having an offense without much power.
Matt Garza has the talent and stuff to be an All-Star, but he may not even be in the Windy City come opening day with all of the rumors swirling around him.
Ryan Dempster is coming off of his worst year as a Cub, and they need him to be a number two type starter in order to be anywhere near contention.
Maholm had a very nice year in Pittsburgh last year, despite his unlucky 6-14 record.
Wood and Volstad are still young enough that there is some upside and room for improvement on what have been average careers for them so far.
Advantage: Cardinals
The bullpens are far from figured out at this point of the offseason. I will only speculate on what I think will be the way the "pen" looks for each team to begin the year.
Cardinals:
Closer- Jason Motte
Lefties- Mark Rzepcynski, J.C. Romero
Righties- Fernando Salas, Lance Lynn, Mitchell Boggs, Kyle McClellan
Other considerations- Eduardo Sanchez
Cubs:
Closer- Carlos Marmol
Lefties- James Russell, Trever Miller
Righties- Kerry Wood, Jeff Samardzija, Manny Corpas, Randy Wells
Other considerations- Andy Sonnanstine, Jeff Beliveau, Scott Maine, John Gaub, Chris Carpenter, Rafael Dolis, Lendy Castillo
Advantage: Cubs
Even though they lost shutdown lefty, Sean Marshall, the Cubs have a solid mix of experience and youth with talent.
Marmol can be one of the most dominating pitchers in the game when he is right, Kerry Wood is still going strong, and Jeff Samardzija really came into his own last season.
The Cubs do have a challenge in deciding who will be their twelve pitchers at the beginning of the season, with Theo and Jed stockpiling arms right now.
I do not think the Cardinals will have a bad bullpen by any means; it just does not seem as intimidating as Chicago's on paper.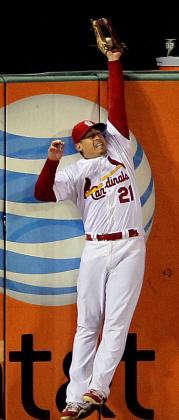 Doug Pensinger/Getty Images

Cardinals: Skip Schumaker, Allen Craig, Tyler Greene, Tony Cruz, Matt Carpenter
Cubs: Reed Johnson, Jeff Baker, Blake DeWitt, Tony Campana, Jason Jaramillo
Neither bench provides much of an offensive lift, but both have nice defensive pieces.
However, I think the Cardinals have the slight edge here because of the versatility of their subs. Allen Craig had a terrific postseason and has shown he has some hitting abilities.
Reed Johnson hit .309 with 5 HR last season while playing all three outfield positions at a high level. Tony Campana may be the fastest player in the National League that no one knows about, but his inability to get on base hinders his chances of showing off the wheels.

Advantage: Cardinals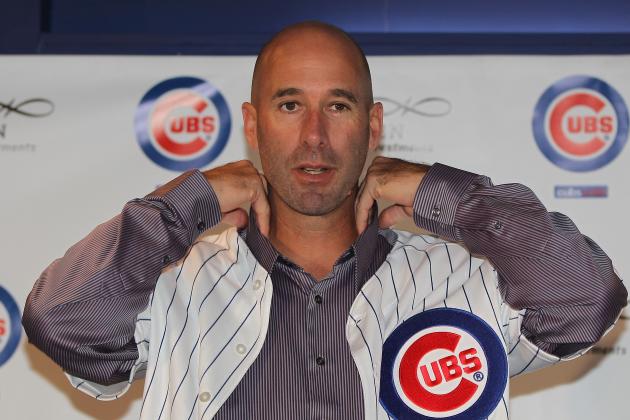 Jonathan Daniel/Getty Images

Dale Sveum vs. Mike Matheny
Matheny
Former Cardinals catcher Mike Matheny will have his first managerial job at any level in the upcoming season and will be the youngest skipper in the majors.
It was an interesting hire for John Mozeliak after long time coach Tony La Russa retired, but we will see how it pans out in a few months.
Sveum
Sveum has been a successful manager, third-base coach, and hitting coach at both the Major and Minor League levels.
Baseball America named him the Top Managerial Prospect in 2003, and while it has taken awhile to get his first full time managerial gig at the big league level, Cubs players and management are excited nonetheless.
Advantage: Dale Sveum- Cubs
This is based almost solely on the fact that we know nothing about Mike Matheny at this time.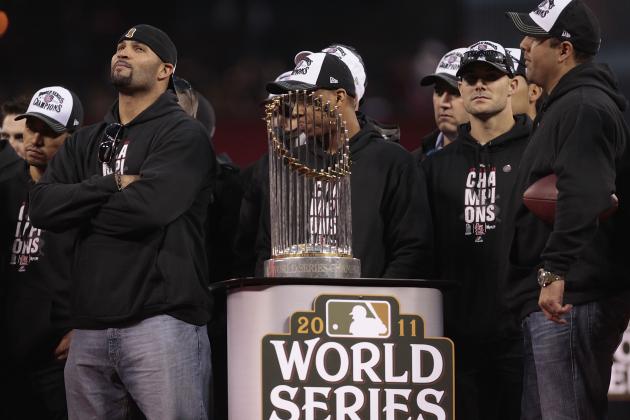 Whitney Curtis/Getty Images

Final Score:
Cubs- 5 Cardinals-7
The winner of the position by position breakdown does not necessarily translate into wins on the field as intangibles and effort are not taken into account, but as of right now it looks like the Cardinals overall lineup is primed to be the better of the two rivals for 2012.
This is to be expected for the defending World Series Champions who feel like they can compete for a title again in the coming year, while the Cubs are in rebuilding mode under their new regime.