Australian Open 2012 Results: 6 Biggest Shockers of This Year's Tournament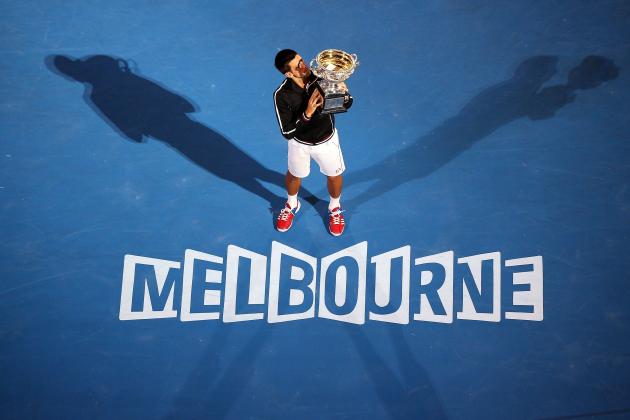 Cameron Spencer/Getty Images

The 2012 Australian Open was undoubtedly an up-and-down, emotional roller coaster for fans and players alike.
Between 27 five-set matches, late-night duels lasting well into the morning, a classic sequence of racket destruction, a final for the ages and a final not for the ages, the 2012 Australian Open set a high standard for the rest of 2012.
While many patterns and trends held constant such as a Nadal-Djokovic final for the third straight Grand Slam, Nadal taking out Federer for what seems like the 100th straight time in a Grand Slam and Federer reaching the quarterfinals of a major, not everything went as planned.
In this article, I will feature six of the biggest shocks that occurred at the 2012 Australian Open.
Please feel free to add your own in the comment area.
Begin Slideshow

»
While neither the matchup nor the result was shocking, the dramatic and unpredictable fashion in which the 2012 men's final was carried out would not have been believable in a fictional story.
After surprisingly grasping the opening set which Nadal only succeeded in doing two out of the six times he faced Djokovic in 2011, the Spaniard was unable to preserve his lead and dropped the following two sets.
In an epic fourth set in which Nadal prevented the Serb from taking a lead to serve out the match three different times at 3-4 0-40, Nadal managed to take the set into a tiebreaker. If Nadal wasn't already leaning off the cliff far enough, he went down 3-5 in the tiebreak and was two points from defeat .
In a turnaround uncharacteristic of their last six meetings, Nadal stormed back to win the fourth set 7-5 in the breaker.
In the fifth set, Nadal seemed to have the match in his control going up a break at 4-2 but was unable to consolidate the break as he was immediately broken back.
Eventually, as many expected, Djokovic was able to close the match out following his break at 6-5 in the fifth.
For a best of five-set match, four hours is long and five hours is venturing into uncharted waters, but six hours is just unheard of. The sheer amount of grit and determination from both guys was absolutely remarkable. I have never seen two players as spent following a match as Djokovic and Nadal were.
Besides the Federer-Nadal Wimbledon final in 2008, this was undeniably the best match I have ever witnessed.
If you were trying to find a match to place in a thesaurus next to the Djokovic-Nadal final, the 2012 women's final would be an excellent choice as an antonym.
The women's final between Victoria Azarenka and Maria Sharapova was poised as a superb final pairing on paper. But once they hit the court, it was the equivalent of expecting a new car and receiving a pair of tube socks. All expectations failed.
Coming into the match, both women knew that not only was an Australian Open crown up for grabs but so was the No. 1 ranking. Apparently, Maria Sharapova did not receive this memo.
After breaking Sharapova to take a 5-3 lead in the opening set, the now World No.1 took a complete strangle hold of this match not dropping another game en route to her maiden Grand Slam title.
Maria Sharapova did not even come close to concocting a remote opportunity to obtain an advantage in this match. For someone who had contested in five previous Grand Slam finals, the Russian appeared to be out of sorts and was simply outplayed by Azarenka from the opening ball.
This defeat has to come as particularly difficult to swallow for Sharapova considering that she had been taken out by Petra Kvitova in the 2011 Wimbledon Final and thus has lost twice in a row to Grand Slam final rookies.
After finishing within the top eight in the ATP rankings at the end of 2011, Mardy Fish's 2012 has much promise.
This potential for success will have to wait for now after Fish crashed out in the opening round of the Australian Open to Colombia's Alejandro Falla in straight sets.
Having beaten Falla in three of their previous four meetings, Fish was the clear favorite coming in. As is often said, you can throw out all statistics once you step onto the court.
Fish did not represent the caliber of play stemming from one of the highest-ranked male players in the entire world. His footwork was lacking, ground strokes out of sync and mentally was unstrung from the onset.
Fish will hope to erase all thoughts of his failures down under as he seeks to replicate the form that carried him through 2011.
This may not have been the most shocking part of the 2012 Australian Open, but from a hometown perspective, it certainly represented the nadir in Aussie sentiment throughout the fortnight.
Coming in as the latest first-time Grand Slam winner on the women's side, a title down under was undoubtedly in the mind of Sam Stosur.
Unfortunately, historic and unbreakable patterns caught up to the even-keeled Aussie No. 1 from Brisbane. Stosur went without even claiming a set, collapsing mightily to Sorona Cirstea in straight sets.
Stosur has only advanced past the fourth round of the Australian Open twice before and her past woes appeared to haunt her this time around.
The weight of expectation seemed too much for Stosur. Holding the hopes of a nation on her racket, Stosur has yet to perform up to her capability in Melbourne.
Stosur should be pleased to leave behind her home nation so she can look forward to revitalizing what has been a sour start to 2012.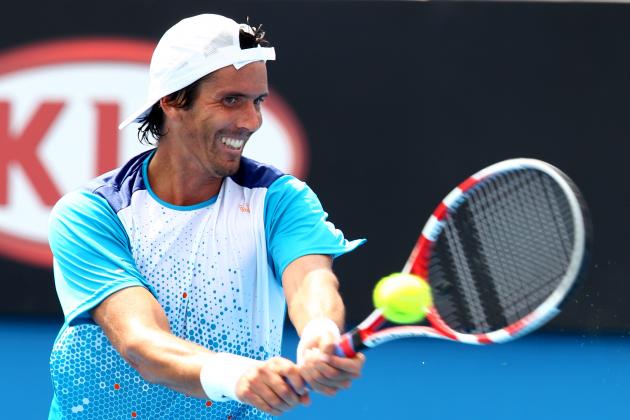 Mark Dadswell/Getty Images

I am sure if people had to guess what match had the longest set of the 2012 Australian Open, they would be quick to guess Nadal v. Djokovic and I wouldn't blame them.
One would expect a match that lasted seven minutes under six hours to easily have the longest set.
But if you go all the way back to the opening round, you will discover that the longest set took place in a match between American Michael Russel and Argentine Juan Ignacio Chela. The set, lasting five minutes longer than 1 hour 28 minute fourth set epic between Nadal and Djokovic involved several games that stretched over five deuces.
Chela eventually took the set in a tiebreaker and the match in straight sets.
In a completely unforeseen outburst, Marcos Baghdatis smashed four rackets in the span of a single minute in his second-round match against Stanislas Wawrinka.
Baghdatis is usually very composed and respectful on the court especially following the match where he usually hugs every opponent that he loses to.
In this match, one can only assume that the Cypriot woke up on the wrong side of the bed.