Australian Open 2012: Serena Williams and Women's Stars Destined to Fail in 2012
January 29, 2012

Robert Prezioso/Getty Images
As the first Grand Slam of the calender year, the Australian Open is a pivotal moment during the season.
Success can catapult players to months of good performances, while failure can set the stage for a disappointing season to come.
Several women—most notably Victoria Azarenka—started off 2012 with a bang. But unfortunately for the following ladies, it looks like the new year will be unkind.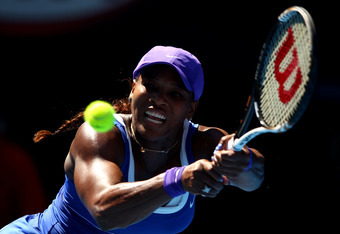 Clive Brunskill/Getty Images
Serena Williams was looking rejuvenated as she ripped through her competition in the early rounds at this year's Aussie Open.
Williams brought back memories of her glory days by cruising to straight set victories over Tamira Paszek, Barbora Zahlavova-Strycova and Greta Arn.
However, the nostalgia was lost when she laid an egg in the fourth round, falling to 56th-ranked Ekaterina Makarova. Losing her first Australian Open match in three years was bad enough, but the way Serena lost was particularly damning.
It was shocking to watch Williams, who is known for her determination and fighting spirit, fall 2-6, 3-6 to Makarova.
Williams wasn't herself in Melbourne, and if she doesn't fix something fast, she's in for a rocky 2012.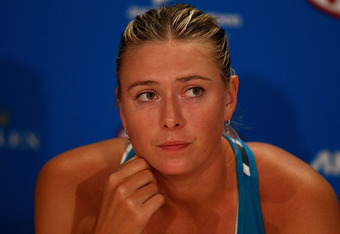 Ryan Pierse/Getty Images
Sharapova was having a promising tournament until her disastrous meeting with Azarenka in the finals.
Azarenka completely dominated Sharapova, defeating her 6-3, 6-0. For Azarenka, it was the professional breakthrough that she had been looking for. For Sharapova, it was a demoralizing loss and a disappointing end to what looked like her return to glory.
Sharapova is still one of the best women's players in the world, and she has three more majors and the Olympics to look forward to in 2012.
However, that doesn't ease the pain of her Aussie Open loss. She hasn't won a major since 2008, and at 24 years old, her best years are already in the rear view mirror.
Sharapova might have blown her best chance at relevancy in 2012.
Kim Clijsters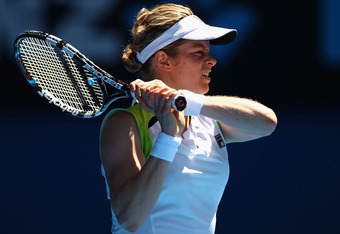 Clive Brunskill/Getty Images
Clijsters had some inspiring moments in the tournament, upsetting fifth-ranked Li Na in the fourth round and top-seeded Caroline Wozniacki in the quarterfinals.
Like Sharapova, she too fell to the eventual champ Azarenka.
Considering that she was ranked 14th in the world coming in, this was a great tournament for Clijsters. However, it was probably her best chance at winning a Grand Slam in 2012.
She's never won Wimbledon or the French Open, and with Azarenka playing her brains out, her chances of adding a fourth US Open title aren't looking too great.
As she proved against Li Na, you can never count Clijsters out of a match. Unfortunately, I don't think the 28-year-old can string together enough quality performances to win a major tournament this season.