Australian Open 2012 Finals: Cheer for Nadal, Especially If You're a Federer Fan
January 29, 2012

Pool/Getty Images
Roger Federer lost in the semifinals of the Australian Open to Rafael Nadal. Now that Federer's run has ended, many of his fans have decided to cheer for Novak Djokovic to earn a win over Nadal to avenge his loss.
That's silly.
I mean, I suppose it's a good idea if you're a fan of the status quo. While the top three have shifted a bit in the last couple of years, the top four players in men's tennis have been pretty stagnant. A lot of people would swear by that predictability too, as most consider it a fairly sound bet that Djokovic will beat Nadal, yet again, in the final, and few people were surprised when Rafa put up another win against Federer.
Then again, these are probably the same people who predicted that Djokovic would beat Andy Murray in straight sets. Whoops.
It's true that there is a definite separation between the top four and the rest of the players on the ATP, but tennis fans seem to have lost sight of that truism that fans of team sports (and especially Packers fans, such as myself) know all too well: any given team, or player, can win in any given game.
A surging player can down an opponent that has consistently beaten him. A man with a reinvigorated game, like Murray, can start talking about that elusive Slam title. And Rafa can really make a case that he's better than Federer by doing what Fed just can't seem to—refusing to let his opponent into his head—and beating world No. 1 Djokovic in the Aussie Open finals.
So, tonight, I'm cheering against the status quo. I want Nadal to shake things up a bit, just like Murray nearly did two nights ago.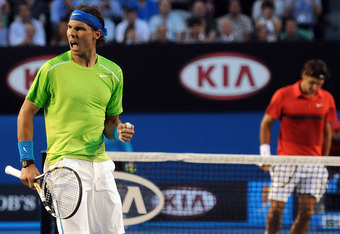 Pool/Getty Images
Still, why would a loyal Fed fan want his archrival to get yet another Open title?
The better question—why wouldn't he?
With the men's rankings in the position they are currently, which is likely how they will look for the foreseeable future and especially if Novak wins, Federer will have to play Nadal in the semifinals every time. Granted, Nadal could lose earlier in the tournament, but you really can't count on that in order to win a Slam. This doesn't bode well for Roger, because it seems that Nadal is the one player he just can't beat.
If, instead, a rising Nadal can beat Djokovic in the Australian finals, en route to a probable victory in the French Open, he could start to make a move on that No. 1 spot. This would put Federer against Djokovic in the semis, which helps him greatly because he matches up much better against him than Nadal.
In the meantime, Nadal would have to contend with Murray, who might have enough in the tank to beat him—at any rate, it's a much better chance than Nadal getting ousted earlier. In this seeding matchup, Federer has a pretty good chance of getting to at least two of the four finals, and Nadal would probably only get to three or fewer.
At this point, with Nos. 3 and 4 moving up on Nos. 1 and 2, there would at least be some parity among the top four, which could make things interesting and may even allow for a new entrant.
Of course, none of that may happen by a Nadal victory in the finals, but isn't it a lot better than cheering for the same old stagnant matchups? I'd like to think so.