Australian Open 2012 TV Schedule: Nadal vs. Djokovic Must-Watch for Sports Fans
January 29, 2012

Clive Brunskill/Getty Images
No matter if you're a casual sports fan, or a fan of one sport and one sport only—the 2012 Australian Open finals matchup between Rafael Nadal and Novak Djokovic is a must-watch.
I must be kidding, right? There's no way your true American, blue-collared, NFL-obsessed football fan is going to care about the Australian Open, right?
You don't tailgate in tennis, do you? Is it fun to go to the bar and watch tennis? Like it or not, these are the things that sports fans like to do, especially in America.
Is there any reason for the casual sports fan to tune in to this match?
Hypothetically, the answer to that is going to be no.
Most American sports fans don't have tennis on their radar. The thing is, it should be, and there's no better time to start watching than now.
This matchup between Djokovic and Nadal is must-see television, and only a very ignorant person would disagree.
It's every sports fans dream to watch the two very best at a specific thing matching up to see who indeed will go home as a champion.
Isn't this what detractors of college football's BCS bowl system want? Isn't this why people tune in to the Final Four and championship games, isn't this why the Super Bowl is pretty much a national holiday?
The answer to that is an emphatic yes. We want to see the best play the best.
There is no better in the world than Nadal and Djokovic, and their battles are going to rage on for years to come.
They both possess the skills, talent and moxie that only the all-time greats can have, and we are lucky enough to watch them go head-to-head.
This is like watching Michael Jordan and Kobe Bryant play one-on-one, or pinning Babe Ruth and Albert Pujols against each other in a home run derby.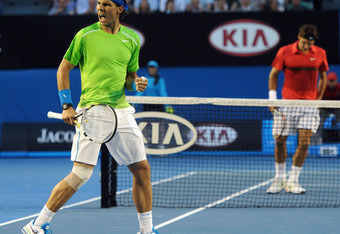 Pool/Getty Images
The best part about Nadal and Djokovic is we don't have to play the "what if" game, though, because they are both playing in the here and now.
Every sports fan wants great rivalries, intense games and classic moments. This matchup between Nadal and Djokovic is guaranteed to bring all of those elements and more.
This is must-watch television, folks.
Get out of your comfort zones and and smell the roses—this is the real deal.