Murray State Basketball: 3 Reasons Why the Racers Could Be a Cinderella in March
January 28, 2012

Andy Lyons/Getty Images
How about those Murray State Racers?
Projected by many to not even win the Ohio Valley Conference, the Racers are sitting pretty at 20-0, remaining as the only undefeated team in Division 1 College Basketball.
With the success Murray State has been having this season, many are wondering if they are a legitimate contender to go deep in the NCAA Tournament.
Whether you want to admit it or not, they are.
Here are three big reasons why the Racers have been getting it done and why their 20-0 record as of today is only the beginning.
The Talent
Murray State simply has an under appreciated amount of talent on their squad.
Isaiah Canaan, who turned down offers from SEC schools to play for the Racers, has emerged as the leader on the court for Murray State.  The junior guard from Biloxi, Mississippi leads the team with 18.7 points per game.
Senior guard Donte Poole has also put up big numbers with 14.6 points per game.  At a height of 6'7'', senior forward Ivan Aska leads the team in rebounds with 6.0 per game.
With numerous players putting up solid statistics, Murray State has proved with the talent they have, they are a contender, regardless of the competition played.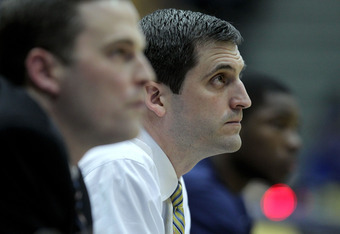 Andy Lyons/Getty Images
The Coaching
What first-year blues?
Steve Prohm served as an assistant coach at Murray State for five seasons from 2006-2011.  And now, in only his first season as head coach for the Racers, Prohm has the Racers looking at a potential undefeated record.
For any coach to be 20-0 during the season is impressive.  For a first year head coach, it is downright crazy.
Prohm's upbeat play, leadership and intensity, most notably shown here, means that the Racers are in good hands for as long as he stays.
With the success Prohm has had this season, however, bigger programs could be keeping their eye on the very near future.
The Competition
Okay let's be real.  Murray State plays in the Ohio Valley Conference, not the Big Ten or the SEC.  Additionally of the eight Ohio Valley Conference games Murray State has played so far this season, only two have been against teams with winning records.
However, Murray State has definitely proved they can beat respectable opponents, most notably Murray State's victory at then No. 20 Memphis 76-72 in December.  The Racers also have a solid 75-58 victory over Dayton, and a 90-81 2OT victory over Southern Mississippi.
Of Murray State's eight remaining non-conference games, none should pose a real treat, which in reverse means that none of these games are solid resume boosters.  The Racers do however have an ESPN BracketBuster game in mid-January.  A win there will help improve Murray State's seed in the NCAA Tournament.
Simply put, despite a weak conference slate, the Racers have already proved just enough to be a solid contender to make some noise in March.
Running the table should put the Racers in contention for a six seed or better.  Even if Murray State drops a regular season game or does not win the Ohio Valley Conference Tournament, the Racers should still have a strong enough resume to make the NCAA Tournament.