Australian Open 2012: Andy Murray and Caroline Wozniacki Prove Beyond Overrated
January 28, 2012

Clive Brunskill/Getty Images
Top-ranked tennis stars Andy Murray and Caroline Wozniacki were once again disappointing on the sport's grandest stage at Australian Open 2012 in Melbourne this January.
Murray fought hard against men's No. 1 Novak Djokovic in the semifinal on Friday, but he failed to close yet again and dropped the final two sets to lose in heartbreaking fashion. The loss is a microcosm of Murray's career—over-hyped, close, but never quite enough.

"Yeah, it was tough at the end 'cause, you know, obviously you come back, then you get close to breaking, but a different player, a different attitude to this time last year. I'm proud of the way I fought," Murray told ESPN.com.
Murray has made three Grand Slam Finals during his tennis career but lost all three, including the previous two Aussie Open Finals to Djokovic in 2011 and Roger Federer in 2010. The Scottish sensation has developed quite a following among tennis fans, but has hardly earned it.
It's not too late for Murray, 24, to turn things around. His health is sturdy and he can no doubt play with the best of them, but in order to be ranked fourth in the world, he needs to win something significant. Murray is fast becoming a professional bridesmaid.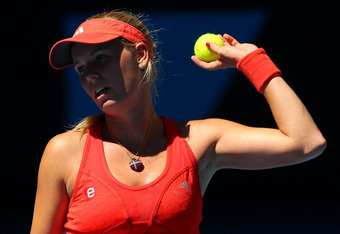 Lucas Dawson/Getty Images
For Wozniacki, the underwhelming performance in a pressure-packed match is nothing new either. She spent 67 weeks at No. 1 on the women's side yet never won a Grand Slam, or even made a Slam Final. She finally lost the top-ranking after falling to Kim Clijsters in the quarterfinals earlier this week. Aussie Open champion Victoria Azarenka now boasts that honor.

"You know, I will get it back eventually, so I'm not worried, critics talk to me like I'm finishing my career and I only have one year left and time is running out. The fact is I still have quite a few good years in front of me," Wozniacki told ESPN.com.
Even more disappointing, Wozniacki bowed out in straight sets to the veteran. That being said, it's no wonder why the 21-year-old has only made it to one Slam final in her entire career. She lacks the experience to break through the later stages of a major tournament.
Like Murray, though, she is still young and has some time to develop a killer instinct and a tougher mental state for main stage tennis, but she can ill afford anymore upsetting disappointments like this past one Down Under.
Despite being considered two of the top tennis players in the world, Wozniacki and Murray are a combined 0-45 at major tournaments. One does not get much more overrated than that.