Oakland Raiders: Items on New Head Coach Dennis Allen's to-Do List
January 27, 2012

Getty Images/Getty Images
On Tuesday, the Oakland Raiders announced that they had come to an agreement to hire Dennis Allen as their next head coach. After weeks of interviews and candidates, speculation and hearsay, the Raiders named the former defensive coordinator of the Denver Broncos as Oakland's seventh head coach in the past 10 years, replacing the departed Hue Jackson.
The Raiders have yet to officially introduce Allen; however, according to CSNBayArea.com, both sides have asserted the hiring is being finalized—some contract formalities are being ironed out.
Allen must surely be excited about his first head coaching opportunity, and at 39, he continues Oakland's tradition of employing the youngest head coach in the league. Allen can continue to ride this high for a short while, but soon, he'll realize the daunting duty at hand and get down to business.
Becoming the new captain of the notorious Oakland Raiders ship, while prestigious, has lofty expectations. It's a job that is both demanding and commanding—one that can make and/or break a young man. So while Allen is verifying the crossing of t's, dotting of i's and placing of decimal points in his contract, he must by now importantly be aware at the magnitude of his upcoming new title.
After all, a franchise that has had nine consecutive non-winning seasons, coming off one of the more disappointing finishes in team history, needs more than a boost to the roster and coaching staff. Additionally, a boost of confidence is required as Oakland moves forward toward the goal of returning to the playoffs. There is a swarm of difficult tasks Allen needs to address this offseason, including coaching personnel, player personnel and scheming, but also team morale, discipline and camaraderie.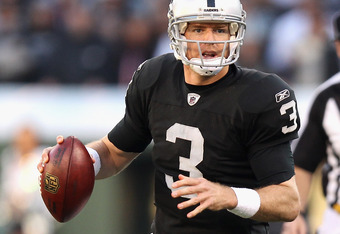 Ezra Shaw/Getty Images
Items to address on Allen's to-do list: 
Is Carson Palmer the Quarterback of the Future?
Yes, it'd be nice to determine the members of his coaching staff in hopes of evaluating players for this spring NFL draft and aligning philosophies with personnel. But what is subliminally more important is figuring out if Carson Palmer is to be the Raiders quarterback for next season and beyond. Palmer, remember, was escorted into Oakland by Jackson, his former mentor with the Cincinnati Bengals.
Since Jackson is the one who put all of Oakland's eggs into the postseason basket by acquiring Palmer, one wonders moving forward if Palmer still is indeed suited to be the Raiders quarterback. Without Jackson, his most staunch supporter, Palmer's 16 interceptions in nine-plus games seem moot. Moreover, the eight-year veteran could not generate enough wins down the stretch to sneak Oakland into the playoffs.
All this interestingly should prompt Allen to wonder if Palmer is the right man to helm the offense. Once Allen determines if Palmer is or is not, then he will be able to bring in (or keep) the right coordinators to game plan around Palmer for a full, healthy season.
New Offensive, Defensive and Special Teams Coordinators
General manager Reggie McKenzie has stated that Allen will be allowed to pick his own coaching staff. This is a good thing because it's important to acknowledge that the important coaches from last season's team clearly need to be replaced. Starting on offense, Oakland can rid themselves of offensive coordinator Al Saunders.
Though Oakland finished third in the AFC in total yards, they were only seventh in the conference in points scored. The Raiders were extremely hot and cold throughout the season, unable to establish consistency scoring the ball. Much of that dearth can be attributed to a multitude of injuries to key offensive performers, including quarterback Jason Campbell, for the team's final 10 games. But somehow, Saunders was unable to corral Palmer, who flopped during the remainder of the season.
Blame can't be exactly placed on Saunders per se; however, his playbook is mostly of the West Coast offense structure. But if Palmer is to remain as the starting quarterback in 2012, Allen might have to adjust the offensive in order to comply with Palmer's strengths.
Palmer's affinity for elongated passes doesn't mesh well with the more controlled style that worked so well with Campbell under center. In fact, Saunders' variation is renown for not being a downfield offense. Which means it's not suited for Oakland's sprinting wide receivers Darrius Heyward-Bey and Jacoby Ford. Moreover, it's not suited for Palmer.
The focus of the coaching staff, however, will be on defensive coordinator Chuck Bresnahan and special teams coach John Fassel. Both should be replaced as soon as possible.
The Raiders defense was painful to watch in 2012, ranking 29th in total yards and points allowed and first in ulcers induced. The Raiders' weekly tendency to give up fourth-quarter leads and long scoring drives make it easy to pinpoint Bresnahan as the problem—they owned the third-worst mark in the league in allowing 8.4 points per fourth quarter.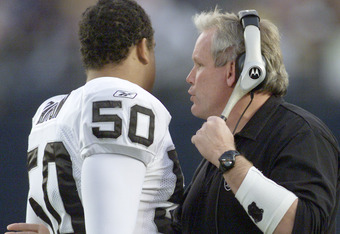 Stephen Dunn/Getty Images
With Allen being a defensive specialist, it's likely that Bresnahan will be on his way out of Oakland. It doesn't make sense to keep Bresnahan as the defensive coordinator if Allen is the one who will be mapping out all of the defensive schemes and play-calling.
In terms of special teams play, there was very little special about the coverage units under Fassel. In a full-on excavation of the coaching staff, Allen needs to find a way to complement his Pro Bowl place kicker, Sebastian Janikowski, and punter, Shane Lechler. Having the best kickers in the conference does the team no good if the coverage team finishes last in opponents' punt return average and 27th in opponents' kick return average.
In the end, Allen will likely get rid of Bresnahan and Fassel, but he should also consider replacing Saunders as well.
McFadden and Bush? McFadden or Bush?
Another item that fell under the radar toward the end of last season was the status of running back Darren McFadden. Though nobody doubts for a second the talent of McFadden, his delicate health is a cause of concern, as he has missed time in each of his four seasons in the NFL. Most disappointing was how McFadden was unable to return to action for the last nine games of 2012, as each passing week, his foot did not improve.
Thankfully, the Raiders had Michael Bush as their backup. Though not as dynamic or breathtaking as McFadden, he has proved to be sturdier and healthy during his four-year tenure in the league. While it's certainly nice to have both McFadden and Bush in the backfield complementing one another with their thunder-and-lightning combination, one wonders if Oakland can afford to keep them both, particularly Bush, who has proven he is capable of being an every-down back. As an unrestricted free agent, will he want to return to Oakland as a backup?
Allen must determine if it's possible to keep Bush, either by placing him with the franchise tag or somehow signing him long-term. With McFadden's fragility, it'd be nice to have Bush as an insurance policy. But the Raiders wouldn't be able to keep both happy and would have to consider trading McFadden altogether. 
Instill Team Discipline
The Raiders led the league in penalties—again—setting NFL records in the process for both total infractions and penalty yardage. No matter who the head coach has been, no matter who the players are, Oakland commits penalties in abundance. In the past nine seasons, they have led the league four times (2003, 2005, 2010, 2011). Can Allen really be the one stop this trend?
It's possible that Allen can instill in his players a sense of discipline and intelligence, but Oakland is a different brand of football. Players who become Raiders are meant to be rebellious, tough-minded, over-aggressive and uncontrolled. Will Allen be able to pacify a strong-personality defense that features varlets like Richard Seymour, Kameron Wimbley and Rolando McClain?
Time will tell. But needless to say, team discipline is of the utmost importance in reshaping the culture of the Raiders locker room. If he is able to do what no other head coach has done since Jon Gruden's departure in 2002, then Allen's already ahead of the curve.
If not, however, Allen will have a long, arduous season and beyond. That's why he should cherish these few moments of sanity before being introduced as the Raiders head coach—they might be the only ones he has left for a long while.

Follow me on Twitter: @nathanieljue