Australian Open 2012: Top 10 Women's Matches of the Tournament
Maria Sharapova is into the final.
Ryan Pierse/Getty Images
The Final looks to be a fantastic match-up between a surging Victoria Azarenka and resurgent Maria Sharapova. But we're not there yet. For this list, we're drawing from the balance of the tournament for the top 10.
To start the tournament six women were eligible to take over as No.1: current world No. 1 Caroline Wozniaki, reigning Wimbledon champion Petra Kvitova, world No. 3 Azarenka; three-time major champion Sharapova, reigning US Open champion Sam Stosur, and dark horse Agnieszka Radwanska. Serena Williams is not a part of this list. Neither is Kim Clijsters.
So with this list in mind, let's select the tournament's standout matches.
10. Agnieszka Radwanska vs. Bethanie Mattek-Sands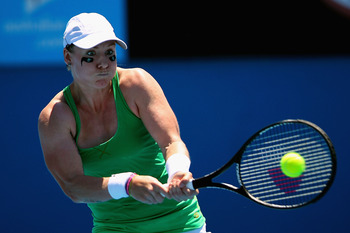 Bethanie Mattek-Sands
Mark Kolbe/Getty Images
Of the best matches played by unseeded players, this is a standout.
One of the best matches Bethanie Mattek-Sands has ever played. She had Agnieszka on the ropes for a set and a half before she seemed to injure her thigh and let Radwanska back into the match.
The disappointing thing, for a player on the short list to potentially take over as No. 1, was how Angieszka could find no answer to Mattek-Sands's strategy of drawing her forward with a drop shot and then lobbing over her head, or firing a winner into the open court.
For a while, Mattek-Sands demonstrated complete mastery over this potential No. 1.
9. Sam Stosur vs. Sorana Cirstea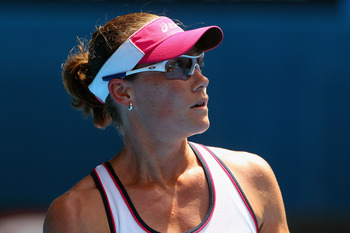 Sam Stosur
Cameron Spencer/Getty Images
A standout match from another unseeded player, Cirstea took it to the reigning US Open champion.
Cross one off of our list.
8. Kim Clijsters vs. Maria Koehler
Kim Clijsters stretched along the forehand side.
Lucas Dawson/Getty Images
Clijsters was not on the list to take over the world No. 1, and she looked very rusty in this standout match played by another of the unseeded contestants.
Maria Jaoa Koehler played lights out tennis against the former No.1 player in the first set. Clijsters' ground-strokes seemed to lack power, being largely outplayed as Koehler raced to a lead in the tie-break. It looked like Clijsters was going to be the first high ranking seed to exit the tournament.
But Koehler couldn't handle the moment and her game collapsed in the second set after losing the first.
Of all the top seeds, Clijsters' performance seemed the worst.
7. Ekaterina Makarova vs. Serena Williams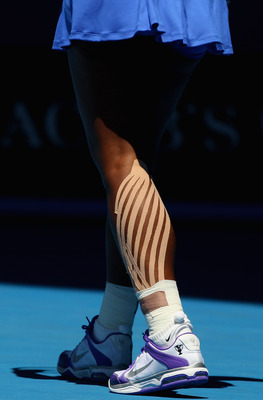 Serena Williams
Lucas Dawson/Getty Images
In yet another stand out match by an unseeded player, Ekaterina Makarova took down a lackluster Serena Williams in the quarterfinals. Serena had looked lackluster before, but here Makarova was too fast for Williams to pin against the baseline with power. Makarova took control of most of the rallies and instead had Williams on the ropes, or on the ground (literally).
6. Victoria Azarenka vs. Heather Watson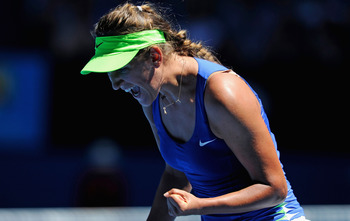 Victoria Azarenka
Pool/Getty Images
Heather Watson, another unseeded player is the British No. 1.
She won only one game.
Azarenka's movement on court was outstanding, her ground-strokes like lightning. A beautiful display of quality tennis.
5. Kim Clijsters vs. Li Na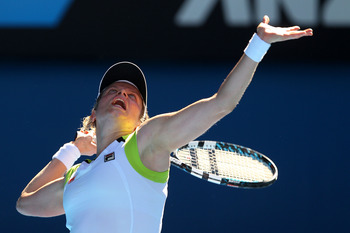 Kim Clijsters
Cameron Spencer/Getty Images
We saw in the early rounds that Clijsters looked rusty. In the quarterfinal her form rounded into tournament shape. After having lost the first set, Clijsters fought her way into a second set tie-break and found herself facing four match points. With the benefit of an excellent and well-timed lob, Clijsters fought her way into a third set, whereupon Li's game collapsed.
4. Victoria Azarenka vs. Agnieszka Radwanska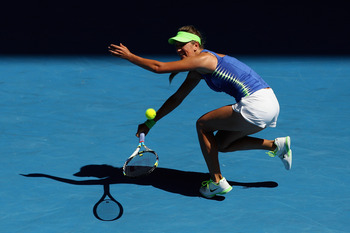 Victoria Azarenka
Lucas Dawson/Getty Images
A match-up between two of the six contenders for world No. 1.
I presented how Radwanska looked rusty, and Azarenka appeared to be in the best form of the tournament.
By the time this quarterfinal match took place, Radwanska's form was much better, and she began to challenge by retrieving every ball, and performing amazing gets that drew errors from the previously pristine Azarenka. She didn't play aggressive tennis on every point, but rumors that she possessed the talent to take over at No. 1 looked realistic. The first set tie-break was a war of two accurate and wicked forehands and Radwanska walked away with the first set.
But an inexplicable collapse in the second set let Azarenka back into the match, and by the third set Azarenka's greater experience and poise got her through.
3. Kim Clijsters vs. Caroline Wozniacki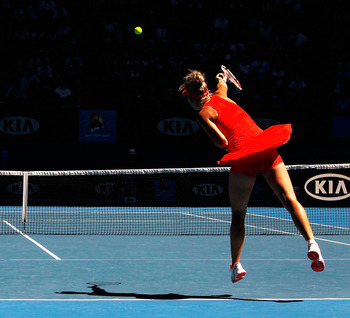 Caroline Wozniaki
Pool/Getty Images
This quarterfinal featured the premier contender for the world No. 1 title, since she is current holder of that distinction. Clijsters was not on the list, ranked No. 11 upon entering the tournament. Caroline Wozniacki played well through the tournament to this point, never really being pushed. This match represented the first time a quality opponent crouched across the net.
Clijsters overpowered Wozniacki on almost every shot, stretching the Dane out wide to open the court and arrowing winners on the next point. As good as Wozniacki is at retrieving, she was outmatched in this intriguing match-up.
2. Victoria Azarenka vs. Kim Clijsters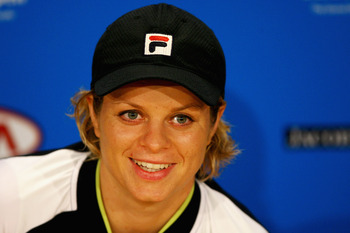 Kim Clijsters is done.
Robert Prezioso/Getty Images
This is one of the few truly stand-out matches on the women's side of the tournament.
Both players seemed to be match tough, so where to draw the difference? Clijsters is a pro, a stoic juggernaut. Azarenka has a reputation for choking, for getting emotional. Clijsters is an Aussie favorite, Azarenka the most obnoxious shrieker of them all—so the crowd was decidedly in Clijster's corner.
Like the first men's semifinal, this match had ebbs and flows. Twice Clijsters seized control of the match, in commanding style, and seemed poised to shut Azarenka down.
But Azarenka's lightning forehand didn't break down. Unlike Wozniacki, who couldn't generate any momentum against the physically not 100 percent Clijsters (ankle), Azarenka finally closed it out and proved for the first time, in my eyes, that she is finally mentally tough enough to be a big-match player.
1. Maria Sharapova vs. Petra Kvitova
Petra Kvitova, Wimbledon champion
Ryan Pierse/Getty Images
On paper, Kvitova should have won this match. She has the bigger forehand. She has a booming serve. She has Grand Slam experience. Sharapova is returning from a potentially career-ending shoulder surgery. She was lucky to get by Sabine Lisciki in the previous round. But that's why they play the match.
In the first set, Kvitova showed match nerves, pulling inexplicable forehand shanks, and other unforced errors. Sharapova, relatively fresh at this point in the match, pressed her advantage.
The second set saw Kvitova start to settle down, get her winners inside the court, and let Maria double fault several key games to her. (Sharapova ended up with ten double faults for the match).
The third set seemed an inspiring demonstration of the will to win. Sharapova continued to double fault (five in the third set), but otherwise played aggressively, kept her champions' poise, and ultimately wore down Kvitova. It was a show of grit, patience, and a champion's mind inside a body that is not what it once was.
If Sharapova goes on to win the title, it will be one of the most compelling returns to the game in tennis history.
Keep Reading