UConn Huskies: NCAA Continuing to Make Life Miserable for Boatright and Team
January 26, 2012

Jim Rogash/Getty Images
The Connecticut Huskies have lost five times this season. Each time, the loss has come from a team they were supposed to beat.
Three times they lost without a player, that in only a few games in his freshman season has been compared by his Hall of Fame coach to the player whose footsteps he follows in—Kemba Walker.
That player is Ryan Boatright, a freshman from Aurora, Illinois and the son of a single mother raising four kids outside of Chicago. Boatright was Mr. Basketball in Illinois during his senior year of high school. He was also one of the most exciting players in the Class of 2011.
When he's on the court, his energy motivates his teammates and gets the crowd fired up. His feisty demeanor and ability have been responded to with incredible love from the UConn faithful.
Following his home debut, Boatright had been the player chosen to be interviewed by UConn sideline reporter Emily Noonan, who normally speaks to the star of the game. Throughout the interview, his responses were drowned out by the sound of the students yelling: "Ryan Boatright!"
The praise is well earned. Shooting 48 percent from the field, 47 percent from three-point range and averaging 10 points and 3.5 assists per game in a three-guard lineup will normally make you pretty popular.
The problem is Boatright has only played 10 of UConn's 19 games.
Why is this?
Boatright is the target of an NCAA investigation—one many thought had been done and dusted several months ago.
Boatright missed the first six games of the 2011-12 season. At first UConn, coming off of a season where punishments were handed out for the infamous recruiting scandal revolving around Nate Miles, was simply being compliant with the NCAA—while they investigated the claims.
In the end, Boatright had been suspended for a total of six games because his mother had accepted a handout from long-time friend Reggie Rose (who has had run-ins with the NCAA before) in order to be able to afford an expensive plane ticket. So that she could fly to Connecticut to see the school her son would be furthering his education and basketball career at.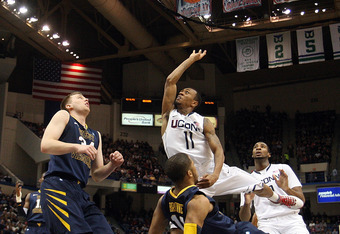 Jim Rogash/Getty Images
What a horrible thing right?
It's one thing if a UConn booster or an agent is providing the money for this sort of thing, then I would understand where the NCAA is coming from. But this was a friend that Boatright's mother had known for a long time who was just trying to be a human being. Humans are compassionate and are willing to help their friends. It is interesting that being human is a crime in the eyes of the NCAA.
Another thing to consider is that the allegations were coming from a jealous ex-boyfriend of Boatright's mother. This man, a convicted felon, saw Boatright take the money for the ticket. When the relationship went south, he vowed to make things miserable for the family.
But that situation seemed to be in the past. Boatright came back for the Battle Four Atlantis Consolation Game, following the loss to Central Florida. He was a big part of UConn overtaking Florida State.
After that, UConn was much better with Boatright on the floor. Numbers provided by the UConn blog make a strong argument for UConn being better with Boatright eligible and on the floor. Despite a bad week in New Jersey, which has been a mean place to all UConn sports this year, the Huskies have looked better with Boatright.
But then came the trip to Notre Dame. Boatright had reason to be excited. South Bend was the closest to home he would play all season and he had 400—yes 400—family and friends making the nearly three-hour trip.
The night before the game, Calhoun calls Boatright in to talk to him. It turned out that more allegations had been made against him and UConn. With the requirement to comply with the NCAA, he needed to sit him out until further notice. The young freshman cried in his coach's arms before a tearful phone call to his mother to break the news.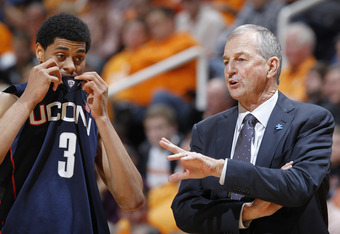 Joe Robbins/Getty Images
Boatright has now missed three more games. The first, UConn were able to find some energy in the second half and hang on to beat the Irish. This was followed by a three-point loss to Cincinnati. I had the pleasure of speaking directly to ESPN's Andy Katz after the game and he agreed that with Boatright in the lineup—UConn is a completely different team. Anyone would agree with that.
Calhoun was forced to ask the likes of Andre Drummond, Alex Oriakhi and Tyler Olander to defend the perimeter—taking them away from the hoop and leaving UConn vulnerable.
Tennessee was an ugly game, but again, UConn struggled to defend the perimeter with big men and they were extremely vulnerable. The offense could get nothing going, but they were clearly missing a spark.
So UConn clearly has struggled without Boatright, a player that could have easily been considered for Big East Rookie of the Year and who could have gotten UConn a bit closer to the top of the Big East, all because the NCAA are investigating the finances of his family.
They don't believe that family friends wanted to make sure that the Boatright's were able to have a good Christmas and thus donated some money to the family. The NCAA thinks that agents are pouring money into the Boatright's account for a future star.
Let's rewind the clocks a bit though. Everyone remembers the 2010 college football season. Like Tim Tebow was the story of the NFL in 2011, Cam Newton was the talk of college football in 2010. The Auburn quarterback ran and passed his way to a Heisman Trophy and a national championship.
However, during the entire season there was a bit of scandal around him as Mississippi State boosters revealed that during their recruitment of the former Florida quarterback (no longer at Florida because of an arrest for stealing a laptop), his father Cecil had said that it would take between $100,000-$180,000 to recruit his son. Cecil Newton was "pimping" his son to schools.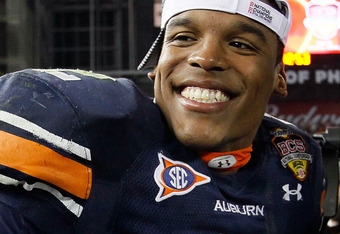 Kevin C. Cox/Getty Images
Newton was declared ineligible on November 30, 2010, but Auburn argued that the booster from MSU in question could not be considered an agent. The NCAA agreed and reinstated him.
So Reggie Rose, a man just trying to be a friend to a long-time friend, is an agent just because he's trying to help a friend?
Yet there's nothing wrong with Newton's father shopping him around?
That seems a bit ridiculous.
Should I remind everyone again that the NCAA is also going on the word of a convicted felon and are unable to believe that friends are just trying to help a struggling family get by?
The mood around the UConn basketball team has been plagued since the second wave of the Boatright scandal. Tweets from students and fans, even players at times, have called for the freedom of Ryan Boatright. Now the movement is taking to Facebook, as a group was created on Wednesday to show support for UConn's star freshman.
The ridiculousness of the NCAA's antics is showing once again. This issue, which shouldn't really have been an issue in the first place, had been taken care of months ago. Now, the NCAA sees the Boatright family as crooked and living off of money from agents.
This second investigation hasn't even garnered a decision yet. According to Katz, Boatright has even met with the NCAA. But UConn is forced to keep him out.
It is on the verge of obnoxious. No, it exceeds obnoxious.
Follow Tim on Twitter @TimFontenault