Novak Djokovic: Andy Murray Won't Get His Revenge vs. Djoker
January 26, 2012

Mark Kolbe/Getty Images
It didn't take long for it to become apparent that Novak Djokovic was on his way to doing something special at last year's Australian Open.
He dispatched the competition with ease, even defeating then-No. 2 Roger Federer in straight sets in the semifinals.
In the final, poor Andy Murray was overmatched. Djoker dispatched him in straight sets too, and then proceeded to have one of the greatest years in tennis history.
Murray has a chance to get his revenge this year, as he and Djokovic are slated to square off in the semifinals. All he has to do is play the match of his life, and then he might have a chance at upsetting the top-ranked Djoker.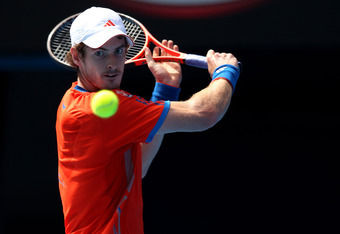 Quinn Rooney/Getty Images
Murray should not be underestimated. He got off to a rocky start at Melbourne when he dropped his very first set of the tournament against Ryan Harrison, but he hasn't lost one since. He's bested all challengers, and he's done so in impressive fashion.
There are two things that stick out about Murray so far in this tournament. The first is that he is showing his opponents absolutely no mercy. He's making them work hard for every point they get, and he's not letting them use their strengths. In addition, Murray is fitter than we've ever seen him. Nobody has been able to wear him out.
So Djoker better be ready for a fight. Murray's going to give him one.
He won't win, though.
After spending all of 2011 praising him, you're seeing a lot of tennis pundits looking for excuses to break Djokovic down this year. This has generally consisted of nitpicking his play at the Open, but now, some are choosing to make something of the breathing problems Djokovic experienced in the quarterfinals against David Ferrer.
But nobody should fool themselves into thinking Djokovic is struggling at Melbourne. He has also only lost one set, and he was even able to fight through his breathing problems to beat Ferrer in straight sets.
All nitpicky complaints aside, Djokovic has been at his typical best down under. He's the No. 1 player in the world, and he's played like the No. 1 player in the world.
We're going to be reminded of just how good Djoker is when he proceeds to bring Murray back down to earth in the semifinals. Murray has gotten this far by bullying and outlasting his opponents, but he's going to be able to do neither against Djoker. Just like he did in last year's final, he'll put Murray on the defensive right away, and Murray will spend the rest of the match merely trying to be competitive.
It will be a good match. In fact, I'll wager that it's going to be more hotly contested and more competitive than last year's final, which got away from Murray in a hurry. He's going to be much tougher to put away this time around.
But he will be put away eventually. Count on it.
Prediction: Djokovic in four.