Australian Open: Nishikori vs. Ferrer Semifinal Not out of the Question
January 24, 2012

Lucas Dawson/Getty Images
With a mouthwatering semifinal match between Roger Federer and Rafael Nadal already confirmed, it is easy to be lured by thoughts of a prospective top-four showdown. But is it too soon?
Hoping to pull those thoughts back into the present are two very eager competitors in the shape of Japan's new hero, Kei Nishikori, and the occasionally superhuman David Ferrer. In Nishikori's path stands the in-form Andy Murray and in Ferrer's, the world No. 1 Novak Djokovic.
The first to have a go at shattering the Australian Open organiser's dreams will be rising star, Kei Nishikori. Nishikori, the first Japanese player to reach the Australian Open quarterfinals in 80 years, will take on Andy Murray in the first of the day's mens' quarterfinals in Rod Laver Arena.
Nishikori will be looking to prove that his shock victory over Jo-Wilfried Tsonga was not a one-off. The 22-year-old, ranked 26th in the world, has so far battled through two five-set matches to get to the quarterfinal stage and looks to be in dangerous form.
Nishikori has taken his celebrity status in Japan to new levels by advancing this far in the draw, and he is sure to have a whole country behind him when he takes on the Scot on Wednesday.
The 5'10" Nishikori has shown that the smaller man still has a place in the modern game, impressing with a powerful first serve and a dangerous backhand. His greatest asset, however, is his movement.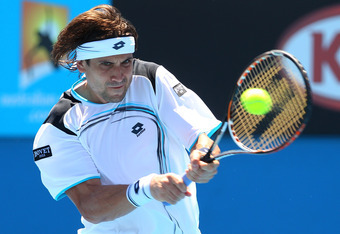 Cameron Spencer/Getty Images
"It's tough to play against him because he runs a lot and everything's coming back," said Tsonga after his gruelling fourth-round encounter with Nishikori.
Although he will be facing a much fresher opponent, Nishikori has already shown that he can bounce back from tough matches. After his third-round win against Julien Benneteau, Nishikori looked to be struggling physically yet was able to return for the fourth round and win a five-set match against Tsonga in three hours and 30 minutes.
"I have seen him in the gym a lot, especially in Brisbane over the last few weeks," said Murray in a pre-match press conference. " I think he has got himself in better shape, he is doing well."
David Ferrer will also be looking to cause an upset in the first evening match of Wednesday's schedule. He faces the seemingly unstoppable Novak Djokovic for the first time since the Barclay's ATP World Tour Championship.
On that occasion, the Spaniard got the better of a jaded Djokovic in straight sets. Although Djokovic appears to be back at full fitness, the loss will be fresh in the Serb's memory—something that may play a part in the present match.
The head-to-head statistics will also give the Spaniard hope. Out of the 11 times the two have played, Ferrer has managed to claim five victories—an indication that the dogged Spaniard's game troubles the defending champion.
Ferrer will have also been encouraged by Djokovic losing a set in his fourth-round match against Lleyton Hewitt. If Ferrer gets his teeth into the match, it could be very tough night indeed for Djokovic.
Although there are two clear favourites for the the remaining semifinal spots, Nishikori and Ferrer will certainly not be pushed aside easily.