NHL All-Star Game 2012: Unheralded Players That'll Make a Name for Themselves
January 23, 2012

Christian Petersen/Getty Images
While everyone that makes the NHL All-Star Game is given at least a shred of credit by actually being invited, there are stars on the roster that are very obscure to the casual fan.
Three of those vague players will become household names with star performances at the 2012 event and catapult themselves into the mainstream NHL lexicon.
Each of the following players has performed amazingly so far this regular season, which should translate into superiority during an All-Star Game that stresses little-to-no defense.
Brian Elliott, G, St. Louis Blues
Despite coming to earth a bit over the last 30 days, St. Louis Blues goalie Brian Elliott is showing just how dominant he can be with the defensive unit in front of him.
This is Elliott's first season in St. Louis after being misused by the Ottawa Senators and having a cup of coffee in Colorado. In 21 games started this season, Elliott is 15-5 with a ridiculously low goals against average of 1.68 and an equally impressive .937 save percentage.
While Elliott will be overshadowed by the bigger name goalies in attendance, he is by far the best this season and will show that when he stone walls the best in the world on All-Star Sunday.
Alex Edler, D, Vancouver Canucks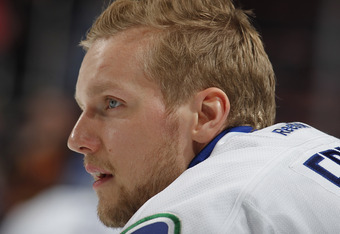 Joel Auerbach/Getty Images
With the departure of veteran defenseman and powerplay point man Christian Ehrhoff from the Vancouver Canucks' blue line via free agency, fans were unsure of who would take the reins.
Alex Edler answered the call with both guns blaring. Not only has the young defender stepped up his defensive game, he has also brought his hard hat in the offensive zone and on the powerplay.
Besides the 18 powerplay points he already has, he has surpassed his point total from last season in just 48 games. With seven goals and 27 assists, there is no way that Edler doesn't have a huge impact in this game.
John Tavares, F, New York Islanders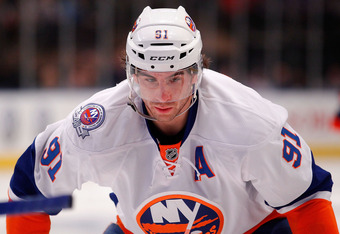 Paul Bereswill/Getty Images
While the Islanders flop around like a fish from the New York harbor, they have one of the best talents in the NHL buried on a mediocre team. They can't keep John Tavares' star from shinning bright at the All-Star Game, though.
On a team that has some promising young pieces but absolutely no leadership or continuity, Tavares is the beacon that the team uses as guidance. Averaging over a point per game, he is by far the most consistent scorer on the team.
As if his 19 goals and 29 assists weren't enough, Tavares is playing in any facet of the game the coaching staff asks him to. It's that work ethic that will have him skating circles around his competition at the All-Star Game and showing the NHL how good he really is.
Check back for more on the National Hockey League as it comes, and check out Bleacher Report's NHL Page to get your fill of all things hockey.