Australian Open 2012 TV Schedule: 6 Performers We Can't Wait to See in Week 2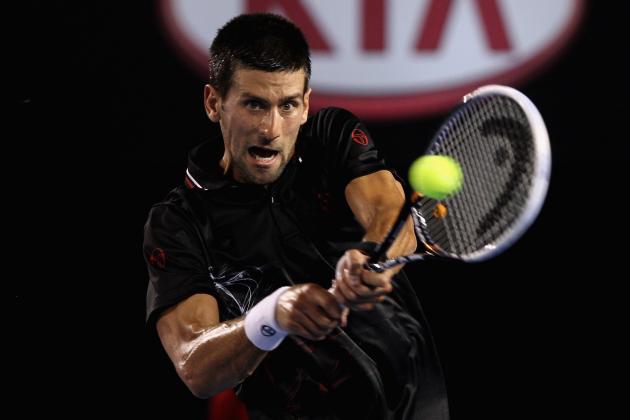 Quinn Rooney/Getty Images

At the 2012 Australian Open week one is in the books, and the second is about to start.
The defending champions are still alive, and the top four seeds at both draws—men and women—are still on a collision course.
The biggest surprises from opening week have to be five-time champion Serena Williams on the women's draw and 2008 finalist Jo-Wilfried Tsonga on the men's side.
Which will be the the first top seed to fall? Will we see all four at the semifinals?
While we would agree that the top seeds are the biggest draws of attention this closing week, there are also some other players I can't wait to see play.
For different reasons, there are some players that you just have to see since they have earned that much with their performances on week one.
Some of the players on the list I have prepared for you were not supposed to be here, but they are. You just have to start asking, how far can they go?
Let's take a look at the players we can't wait to see on week two.
Begin Slideshow

»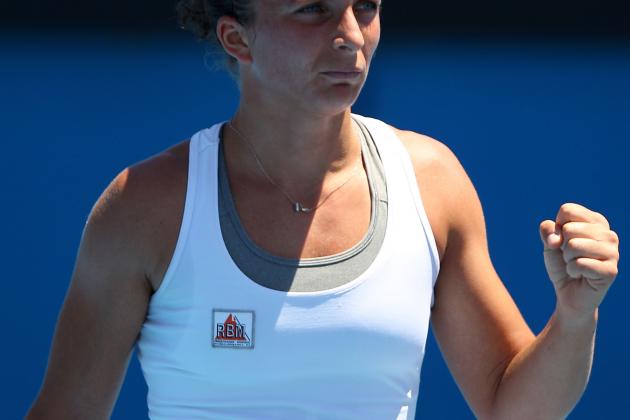 Mark Kolbe/Getty Images
Sara Errani
The 24-year-old Italian, Sara Errani, earned her spot on the quarterfinals after whooping Chinese Jie Zheng 6-2, 6-1.
Her only win over a seeded player so far has been her second-round clobbering of 29th seed Nadia Petrova.
After that she has beaten Sorana Cirstea—who defeated sixth seed Sam Stosur—and Zheng, who took out ninth seed Marion Bartolli.
The 48th-ranked player in the world is up to the quarterfinals of a grand slam for the first time, and playing her best tennis.
Now she will face Wimbledon champ and second seed, Petra Kvitova, for the first time in her career.
So far she has eliminated players she should have beaten. I can't wait to see her play her best against the best.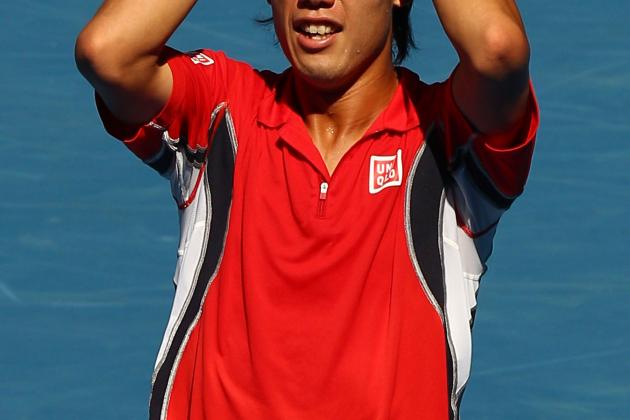 Mark Dadswell/Getty Images
Kei Nishikori
Kei Nishikori has a lot of reasons to be happy and confident.
He just stunned sixth seed Jo-Wilfried Tsonga on the fourth round. Actually, Nishikori defeated Tsonga for the second time in as many tournaments, and is 3-0 against him.
He also became the first Japanese to reach the quarterfinals on the Open era—the first one since 1932.
The ATP's newcomer of the year in 2008 has been playing at a high level since retiring in the first round of the US Open. He has reached two semifinals and one final since.
He will now play fourth seed Andy Murray—who crushed him in the Shanghai semifinals.
Murray is playing at his best right now, and seems like an overwhelming favorite to repeat his win against Nishikori.
But that was said about Novak Djokovic on the semifinals at Basel, and he was handed a bagel in the closing set by Nishikori.
Life is a box of chocolates.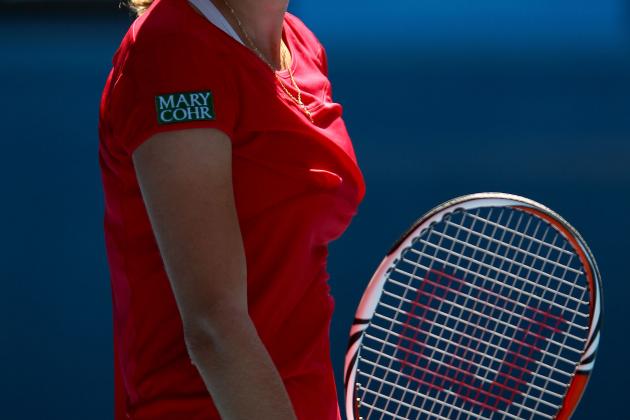 Clive Brunskill/Getty Images
Ekaterina Makarova
The 23-year-old Ekaterina Makarova made the news headlines when she defeated Serena Williams in the fourth round.
Williams could have been slowed by her injured ankle, but she was no match for the 56th ranked player in the world.
Makarova has beaten seventh seed and fellow Russian, Vera Zvonareva, in the third round and Brisbane International winner, Kaia Kanepi, in the second round.
It seems surreal that her toughest match to date was her first-round, three-sets match against the 96th-ranked player in the world, Thailand's Tamarine Tanasugarn.
She will face now another countrywoman in fourth seed Maria Sharapova.
Makarova has earned her spot in the quarterfinals with great play on every win. Sharapova can't take her lightly, or she will be shown the door quickly.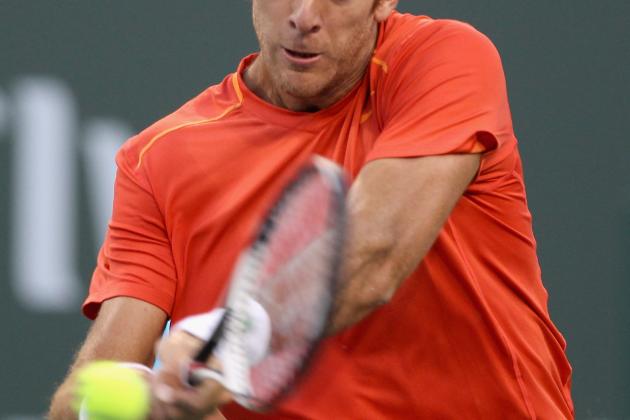 Ezra Shaw/Getty Images
Juan Martin del Potro
Argentinian Juan Martin del Potro is very near to the level of play that took him to win the 2009 US Open.
He won then with a superb performance over grand slam record-holder Roger Federer who, by the way, happens to be his next opponent in the quarterfinals.
During Del Potro's amazing summer starting in 2009, he defeated Federer twice in a row and seemed to be destined to challenge the top players for the best in the world.
His injuries derailed him and he has been slowly getting back to his top form.
Federer is just playing fantastic as usual, and comes from giving a clinic to uprising Bernard Tomic in the fourth round.
Del Potro's forehand alone is worth the price watching him. And if he plays his best, this very well may be the best of the four quarterfinal matches in the men's draw.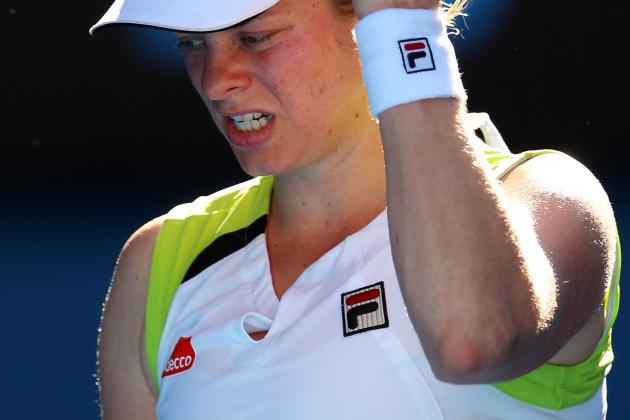 Cameron Spencer/Getty Images
Kim Clijsters
The defending champ is a must see at any match during her quest for back-to-back titles.
She just won her rematch of last year's Australian Open final against Na Li, and is looking at her best right now.
And she needs to be as she faces the top-seeded player, Caroline Wozniacki.
Clijsters has beaten Wozniacki both times they have played, but the last time was in 2010.
Wozniacki has yet to drop a set in the tournament, although the top player she has faced was Jelena Jankovic, who (while she is still good) is not that top player anymore.
Clijsters went to extra sets against Na Li, who was the fifth seed and a tougher match than Jankovic at this moment.
For Wozniacki to prove she can finally win a slam, she must start by beating Clijsters.
But Clijsters is primed for a repeat, and this seems to be the best match of the women's quarterfinals.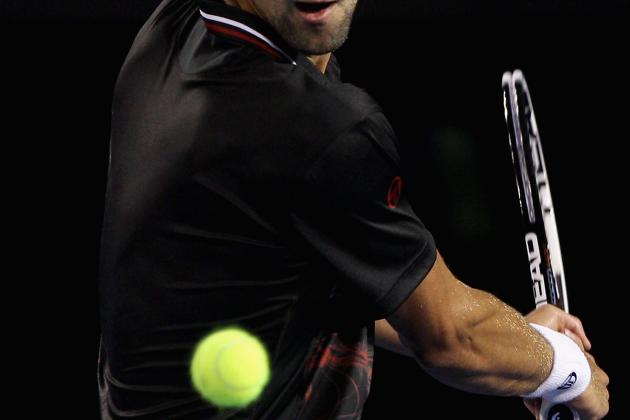 Quinn Rooney/Getty Images
Novak Djokovic
The top player in the world and defending champ is beating the lights out of anyone who interposes him.
After losing only 10 games in the first three rounds, he had to go an extra set against Lleyton Hewitt in the fourth round, but the end result was never in doubt.
Djokovic proved too much for the grinding Hewitt, who seemed poised for another run in front of the home crowd.
Djokovic will now face Spain's David Ferrer, whom he blew out of the court at the finals of The Mubadala World Tennis Championship.
Nole is 7-5 against Ferrer, and should be Djokovic's first true test of the tournament before his potential semifinals match against Andy Murray.
The other four players below him are at their best right now,and as much as Djokovic has dominated so far, we will get a better grasp of where his game is and his chances at a repeat.
Any match he plays from now on, it's a must-see.