Australian Open 2012: Why the Round of 16 Matchups Are Can't Miss Tennis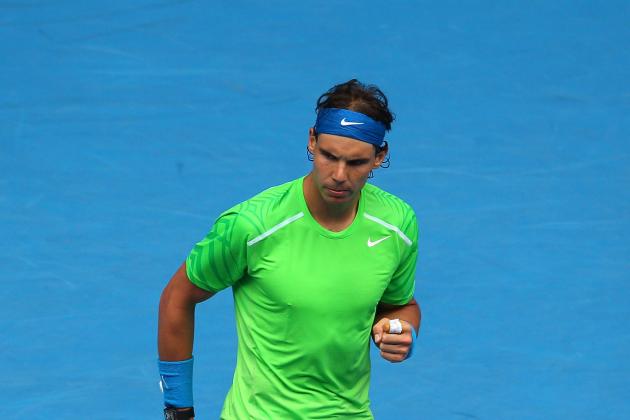 Cameron Spencer/Getty Images

After nearly a week of shocking upsets, thrilling matches, devastating defeats, well-timed breakouts, career resurgences and the top four in action, the 2012 Australian Open closes the book on three rounds of great tennis.
Although week one action was exciting, the beginning of week two, specifically the "Sweet Sixteen", looks to feature some really captivating matches that are sure to be can't miss.
Starting with tonight's match between Rafael Nadal and fellow Spaniard Feliciano Lopez, to what looks to be one of the most exciting matches in the entire Open putting Australian phenom Bernard Tomic against the winningest player in the history of the sport in Roger Federer, the Round of 16 is sure to have its thrills.
Begin Slideshow

»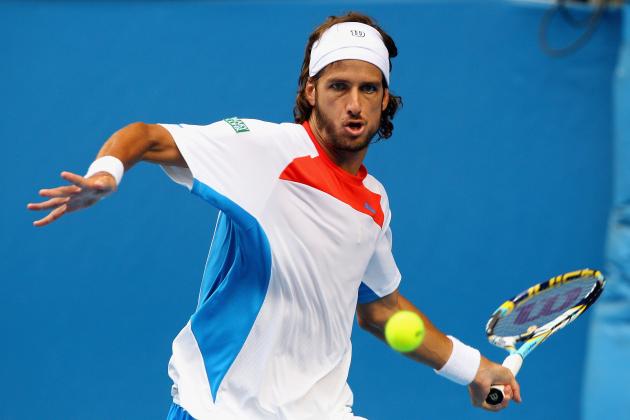 Lucas Dawson/Getty Images

Nadal and Lopez each know a little bit about the other's game. Not only are the two both Spaniards, but they have both been playing Davis Cup for Spain for a few years. Off the court, they are great friends and on the court they have even been doubles partners, but none of that will matter when they come head-to-head in their round of 16 match-up.
How they got there
Lopez needed to beat world no. 16 John Isner of the USA. It was certainly a tough task for Lopez, but the lefty Spaniard battled on. After both men played some great tennis, Lopez eventually pulled out the victory in a fifth set where he was just nothing short of brilliant.
Marathon man Isner also played good tennis, but Lopez was always one step ahead of him and proved to have just a little more left in the tank.
Nadal's trip to the round of 16 was easy but more importantly expected. The world no. 2 easily worked past Tommy Haas and Lukas Lacko and has shown himself to be in top form in this tournament.
Nadal came off of two losses in 2012, but all of that appears left behind as he looks extremely healthy and in a great position to lift the Aussie Open trophy this year.
The match-up
Lopez has been playing really good tennis so far in 2012. Unfortunately for him, Nadal has been playing even better. With his game ultimately proving to be too much, coupled with the fact that he is looking extremely healthy and fit, Nadal should beat his countryman, likely in four sets.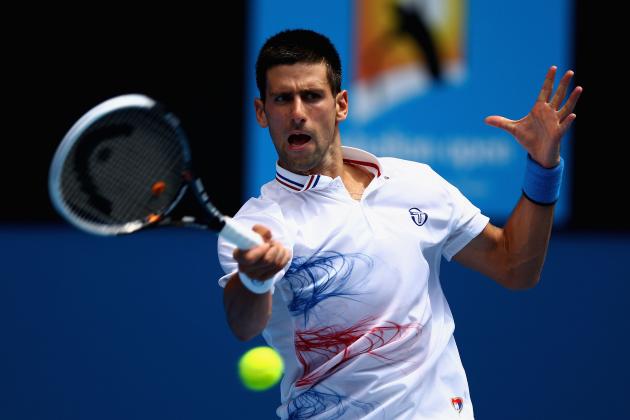 Clive Brunskill/Getty Images

Novak Djokovic, winner of four grand slam titles including the 2011 Australian Open, is the current world no.1. Lleyton Hewitt, winner of two grand slam titles, was once the world no. 1 before his career crashed landing him all the way down to no. 181.
Both men have top ranked experience and possess a top rank game so this match could be a pretty exciting one.
How they got there
Hewitt entered the 2012 Aussie Open as the second highest ranked Australian to the young, up-and-coming Tomic.
His first round match was against no. 83 ranked German player, Cedrik-Marcel Stebe. Hewitt solidly won this match in four sets en route to facing and defeating #15 American, Andy Roddick, who fell during the second set and was forced to retire in the third giving Hewitt a second upset victory.
After beating Roddick, Hewitt faced Canadian youngster, no. 23 Milos Raonic. In a match many expected Hewitt to lose, the Aussie played great tennis and beat the Canadian in four sets.
Djokovic began defense of his 2011 Australian Open Championship with a match against an Italian qualifier. He easily won the match and only lost two games.
His next match was just as easy and gave him a spot in the third round to face Nicolas Mahut. For the defending champion, Mahut served as no problem as Djokovic easily disposed of him, again only losing two games in a 6-0, 6-1, 6-1 victory.
The match-up
Hewitt has been playing great tennis and experiencing a nice run but right now only a handful of players have a shot at beating Djokovic and he isn't one of them
Despite an improved game and better level of play, Novak has just been too good as he has seemingly picked up right where he left off last season.
Djokovic has yet to drop a set and he likely won't drop one against Hewitt, as he will easily win in straight sets.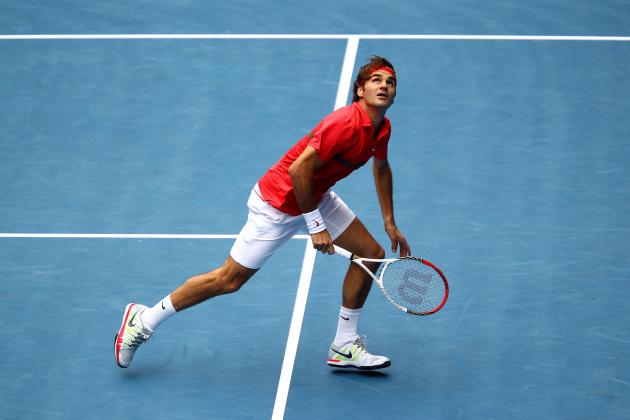 Clive Brunskill/Getty Images

There is a good amount of significance in this match, other than the fact that the winner moves on to the quarterfinals.
Federer, the former world no. 1 and regarded by many as the best to ever play the game, is vying to win his 17th major and prove to the doubting media that his era in tennis is not yet over.
Even if there are still a few more majors to be won by him (and I think there are), Federer is nearing the back-end of his career while his opponent, 19-year-old Tomic, is just cracking the surface on his.
How they got there
Tomic has certainly been part of some thrilling matches in this year's Open. He has easily become the comeback kid.
His Open journey began against no. 22 Fernando Verdasco, where Tomic was down two sets to love. Seeming to channel this energy, Tomic responded by playing great tennis and managed to beat Verdasco in a thrilling five-setter.
Next up was American Sam Querrey, who Tomic beat in four sets.
Another blockbuster match came as Tomic took on no. 13 Alexandr Dogopolov and once again with inspired playing, won the match in five sets.
Federer's road to the round of 16 was much like Nadal's: easy. He beat his first round Russian opponent in straight sets and then was handed a free pass in the second with a walkover. Another dominating victory over Ivo Karlovic finished out Fed's third round as he has yet to drop a set in this year's tournament.
The match-up
Tomic may be the future, but Federer is still the present.
The Fed Express has been playing sensational tennis so far in 2012, and is in a great position to win his 17th major. Tomic is a talent, no doubt. He is perhaps even the next Federer, but he still has to face and beat one of the best players in the world in order to get there.
In what will be one of the best matches to watch of this tournament, we are likely to see five sets, but this time, Tomic just won't be able to pull out another victory as Federer's game is still as good as it has always been.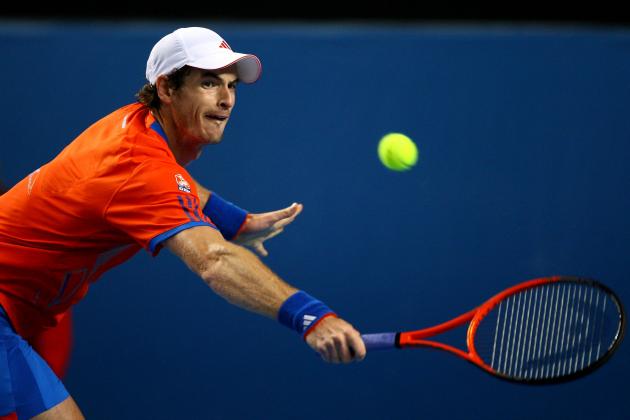 Robert Prezioso/Getty Images

For Andy Murray, the surprise is that as talented as he is, he has yet to win a major.
For 23-year-old Mikhail Kukushkin, the surprise is that as the no. 92 ranked player he has made it all the way into the round of 16.
How they got there
Murray got off to a bit of a slow start this year as he lost the first set to young American, Ryan Harrison. After playing inspired tennis in the first set, Harrison couldn't keep up his momentum as Murray quickly righted the ship to win the next three sets.
As Murray began to find his game, he quickly disposed of his second and third round opponents on his way to making the round of 16.
Kukushkin's road to this round was a lot harder. His first round match-up saw him easily win in straight sets before booking a date to face no. 19 Serbian Victor Troicki. This match was a lot tougher for Kukushkin but he played great tennis and managed to pull out the five-set upset victory.
His next round match was against the swift moving no. 14 Gael Monfils. In somewhat surprising fashion, Kukushkin won the first two sets. Monfils fought back, however, and forced a fifth set, which the Kazakistanian Kukushkin won, putting him in the fourth round of a major championship for the first time in his career.
The match-up
Kukushkin has had a breakout tennis season having beat two top 20 players. He has been playing solid tennis and has been delivering pretty stellar performances.
That said, Murray has been getting better and getting more confident each round in this tournament. Currently, his game is right where it needs to be and it seems certain he will get another chance at beating Djokovic.
Murray will likely get through this round in a four set victory over the upstart and surprising story that is Kukushkin.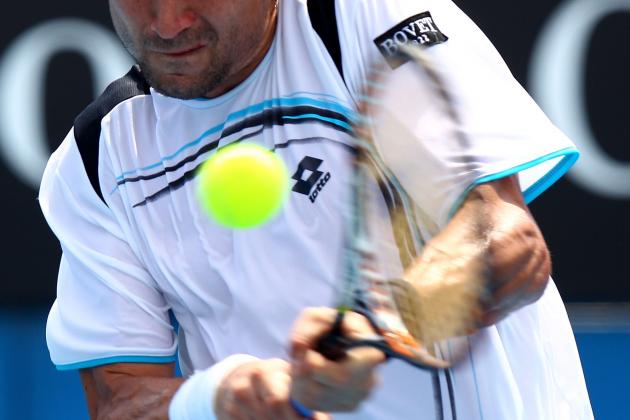 Mark Dadswell/Getty Images

In this corner, world no. 5 David Ferrer of Spain stands in. Ferrer has been playing great tennis in this Australian Open as his powerful game and imposing style of play has proved to be too difficult for his opponents.
In the opposite corner, standing in at 6'1, ranked no. 165 and hailing from France is his opponent Richard Gasquet. A powerful player, Gasquet has brought a level of fitness to this tournament and has proven that he can match up against good players such as Ferrer.
How they got there
Gasquet's first round match against Andreas Seppi went in four sets. He played solid tennis and after losing the second set, won the next two for a first round victory.
Andrey Gulobev retired in the middle of the third round giving Gasquet another win.
A third round match against no. 9 Janko Tipsarevic looked relatively easily for Gasquet as somewhat surprisingly, he beat the Serbian in straight sets.
Ferrer started with a straight set victory against Rui Machado of Portugal before facing Ryan Sweeting in the second round. Sweeting proved to be a bit of a problem for Ferrer as he played great first set tennis.
Sweeting took the first and third set, but Ferrer fought back and forced a fifth in which Ferrer pulled out the win. Sweeting played good tennis, but Ferrer's fitness and talent was too much for the young American.
Getting over the Sweeting hiccup, Ferrer easily beat no. 27 Juan Ignacio Chela in the third round.
The match-up
Gasquet plays quick tennis, and gainst some opponents this could cause trouble. Unfortunately for him, Ferrer also plays quick tennis and can run the court pretty well.
Ferrer also has a better arsenal to go to as far as shot selection. He can change speeds with his serves and forehand and by this and his veteran experience, he could throw Gasquet off of his game.
Ferrer will likely win in four sets.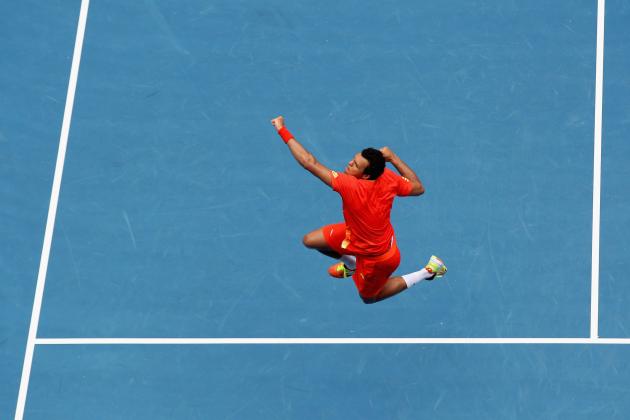 Ryan Pierse/Getty Images

Jo-Wilifried Tsonga has long been a dark horse in the men's field. Each tournament he comes in with a shot at making the semis or even winning. It is a tall task with wins against the top four needed in order to finally get his first championship, but with improved play it isn't out of the possibility.
On the other end of the spectrum is Ken Nishikori whose rise to the top 25 has been great for the improving tennis in Japan. Nishikori is not quite at Tsonga's level but he is ranked nonetheless and could be a future dark horse himself.
How they got there
Nishikori's first match was against France's Stephane Robert, who he beat pretty easily.
His second round match against Matthew Ebden of Australia proved to be a bit more difficult. Ebden took the first two sets and looked like he was going to win the match but Nishikori fought back. He won the next two sets forcing a fifth and then won the fifth easily.
After beating Ebden, Nishikori faced off against and beat no. 39 Julien Bennateau.
Tsonga won his first match against Denis Istomin of Uzbekistan in four sets before moving on to face Brazil's Ricardo Mello in the second. Tsonga easily beat Mello and then also breezed through Frederico Gil in the third round.
The match-up
Once again, Tsonga is playing good tennis and flying under the radar. His match-up against Nishikori should be one that wins easily as his style of play and very strong. His diverse game could give the Japanese a challenge.
Ultimately, Tsonga will likely win in four putting himself on a collision course for a quarterfinal match-up against Andy Murray.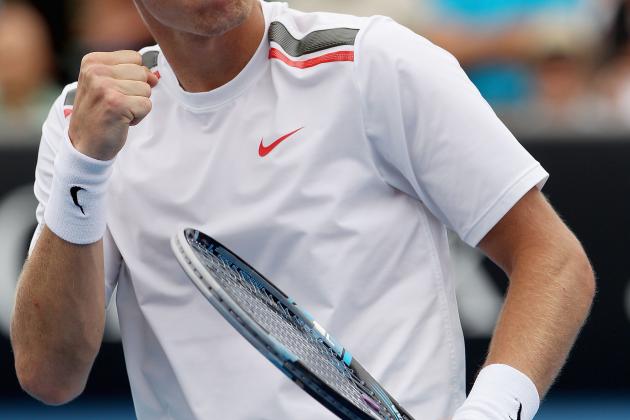 Quinn Rooney/Getty Images

This match will feature two of the better players currently in the men's game to never have won a major.
Tomas Berdych's best result was a QF appearance in last year's Australian Open and Nicholas Almagro's best result came in two QF appearances in the French Open.
How they got there
After two routine matches, Berdych moved on to the third round to face South African no. 30 Kevin Anderson. Facing break points in both sets, Berdych fought them off and forced tiebreaks to win the first and second sets by a score of 7-6. After winning these sets, Berdych closed out and won the match in three, having played very solid tennis and hitting many winners to few errors.
Facing top 100 players, Almagro struggled a bit in his first two match-ups. Although not playing great tennis, Almagro won his first round match-up. Moving on, he faced the Bulgarian, Grigor Dimitrov. Again, Almagro struggled losing the first and third sets. He managed to win the fourth and then as Dimitrov ran out of gas, easily dominate in the fifth with a 6-0 set win. In his third round match-up, Almagro easily beat no. 21 Stanislas Wawrinka as he captured his fourth round berth.
The match-up
Almagro vs. Berdych will likely be a really good match to watch.
With both players in a grind-out style of play and similar mentalities, each will be looking for a win to advance them to the quarterfinals.
Look at break point opportunities to be key as the player that wins will have to convert on the opportunities whatever chance they get.
This match could go five sets, but it is more likely that based on his strong Aussie Open play so far, Berdych wins it in four.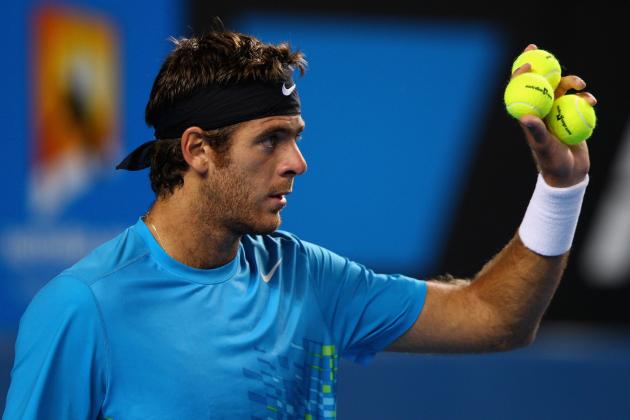 Mark Dadswell/Getty Images

Philipp Kohlschreiber, who currently sits at no. 41 in the ATP world rankings is working his way toward cracking the top 25 and to being considered a contender in future grand slam tournaments.
Del Potro, on the other hand, is already considered a contender as just a few years ago, he actually won a grand slam tournament. Since then, though, his rank has dropped and his competition improved.
How they got there
Kohlschreiber began his Australian Open with a match against no. 25 Juan Monaco of Argentina. Monaco was favored, but in a tough and hard-fought five-set battle, Kohlschreiber emerged victorious.
After beating Monaco, Kohlschreiber had an easy win as his Spanish opponent retired after two sets.
Next up, Kohlschreiber beat Alejandro Falla in three sets and booked his trip to the round of 16.
Del Potro's first round match was against Adrian Mannarino of France. Mannarino managed to win the first set and give Del Potro an early scare. DelPo was able to fight back and win the next three sets, however, with improved tennis.
In his second round and third round matches, DelPo was back in form as he easily beat his unranked opponents in straight sets.
The match-up
Both Kohlschreiber and Del Potro have played good tennis over the last few matches and after struggling in their first match, have improved their play and have gotten into pretty good form.
Both men are also pretty athletic. They bring a good amount of power and finesse to their game as well.
This match could go either way but I see DelPo winning in four sets as his experience and quickness will prove to be a little too much for the improved Kohlschreiber.