Australian Open 2012 Results: 3 Dark-Horse Candidates to Win Tournament
January 20, 2012

Mark Dadswell/Getty Images
Novak Djokovic, Rafael Nadal and Roger Federer are the top three players in men's tennis right now.
They are also the three favorites to win the 2012 Australian Open.
But, everyone loves an underdog story, and there are plenty of potential Cinderellas out there in the Open field.
Let's take a look at three dark-horse candidates that have the talent necessary to defeat the top three players in tennis.
No. 5 David Ferrer
Ferrer beat Nadal in the Australian Open last season, but Nadal was injured during that match.
Still, Nadal was healthy enough to play and Ferrer beat him in straight sets, so clearly he's a talented tennis player.
If he wants to take his talent to the next level and win a Grand Slam event, he'll probably need to get by Andy Murray in the quarterfinals, Djokovic in the semifinals and either Nadal or Federer in the finals.
That's not an easy task, but hard courts are where he excels, so it's not too much of a stretch to say he can make a run in this tournament.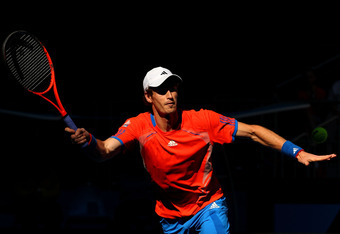 Lucas Dawson/Getty Images
No. 4 Andy Murray
Murray is another solid hard-court player who has been the runner-up in the last two Australian Opens.
If he's going to ever win his first Grand Slam event, he's going to have to do it soon.
Murray has been just below the elite level of tennis players for a couple years now. Winning the Australian Open would vault him into the mix with the three players listed at the top of this article.
He'll have to get past Djokovic and either Federer or Nadal if he's going to win this year though.
The road is tough, but at some point, Murray is going to have to step up to the challenge if he's ever going to be considered elite.
No. 11 Juan Martin Del Potro
Del Potro has been a giant-slayer before. At the 2009 US Open, Del Potro defeated both Federer and Nadal en route to his only Grand Slam title.
If he's going to win the 2012 Australian Open, he'll probably have to upset Federer and Nadal again.
Then, he might have to face No. 1 Novak Djokovic in the finals.
That would be one of the most impressive runs in tennis history, but if anyone has the experience necessary to accomplish such a feat, it's Del Potro.