Matt Garza Contract, Trade Rumors: How Aggressive Filing Will Help Chicago Cubs
January 20, 2012

Jared Wickerham/Getty Images
Matt Garza asked for $12.5 million in arbitration from the Chicago Cubs this week, according to Jon Heyman of CBS Sports. The Cubs reportedly offered $7.95 million, making the gap between the two sides the largest of any pending arbitration case in MLB this season.
That risk factor could pose problems for the Cubs in any effort to trade Garza, according to Buster Olney of ESPN.
That's not true. Garza has overplayed his hand with this filing number, and his loss of leverage is the Cubs' gain.
What is Garza worth?
Matt Garza is arbitration-eligible in 2012, for the third of what will be four times in total prior to his reaching free agency. In 2011, he pitched to a 3.32 ERA in 198 innings. He struck out 23.5 percent of the batters he faced, and walked fewer than a third as many.
His fielding-independent pitching (FIP) was a stellar 3.05, and his translated Run Average (tRA) ranked 10th in MLB at 3.11. Only Edwin Jackson had a higher average fastball velocity in the National League.
That's obviously a vitally valuable package, and if Garza were a free agent, $12.5 million would be an insulting offer as an annual average value. Critically, though, that's not the case. Instead, Garza is two years from free agency, so his salary is determined, not by the market, but by the process that is arbitration.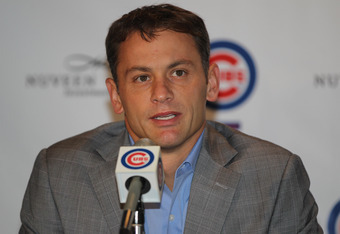 Jonathan Daniel/Getty Images
Garza earned $5.95 million in 2011. That's his platform salary. His platform season was the sturdy 2011 production he posted.
Based on his platform and his performance, Garza was projected by MLB Trade Rumors' excellently accurate arbitration salary projection system to make $8.7 million in 2012.
What is the process?
Outside estimates aside, player agents and teams actually spend weeks poring over comparable cases in order to help determine a player's fair level of compensation. Much of arbitration value is determined by comparison and precedent, so the two sides choose the fair comps that best serve their agenda, then begin swapping numbers.
These are often quiet, private negotiations, informal and non-binding. The numbers exchanged are rarely the same as the ones that land on the desk of the league offices if necessary.
Often, that's as far as the process goes. Arbitration hearings are ugly affairs, because a team must stand up and explain (in front of a player they have chosen to keep, and often value highly) what is wrong with the player in question.
Hearings can permanently sour relations between team and player, so most of the time, the two sides settle long before they even make their official offers.
Failing that, though, as Garza and the Cubs have done this year, the respective parties have only one more choice: Settle around the midpoint between the numbers filed, or go to the hearing.
The hearing is an all-or-nothing proposition. An arbitrator may not choose to compromise. That's one reason the process can be so unpleasant.
In the Cubs' case, walking into the room with Garza for a hearing means $4.55 million on the line. As that $8.7-million estimated salary for Garza in 2012 demonstrates, the Cubs would easily win such a showdown.
How this situation will be resolved
Garza seems to have deliberately endeavored to force the Cubs' hand here. By filing at such an unattainable number, he and agent Nez Balelo have bluffed a bit into the Cubs' play. They believe the team wants to trade Garza, and that the alternate plan for the front office is to sign Garza to a long-term extension.
In either case, by setting the upper bound of the negotiating window so high, they have forced the team's hand: The Cubs have to act fast if that is truly their dilemma. If they want to trade Garza, the player/agent duo hopes, the Cubs will quickly give up a few extra dollars to get cost certainty, then trade Garza (plus cash if necessary) to the highest bidder.
If an extension is in the works, it would be in the Cubs' interest to settle pre-hearing, too, boosting Garza's 2012 salary to roughly $9 million and setting a high platform for a lengthy deal. A long relationship between team and player means avoiding an arbitration hearing, for reasons explained above.
Theo Epstein and Jed Hoyer, though, have a great chance to call Garza's bluff here. If they take him to arbitration, they will win, and his salary will be lower even than was projected.
In so doing, they will also send a message to teams around the league that they are not desperate to deal Garza, thereby opening the door for a better deal either during the season or next winter.
Garza could still get what he wants if he wants out of Chicago, but for the most part, this brinksmanship helps the Cubs as a franchise; it certainly does not hurt them.