Roger Federer Meets Dr. Ivo Karlovic. Bernard Tomic Takes on Alexandr Dolgopolov
January 19, 2012

Paul Gilham/Getty Images
We're on day five of the Australian Open and there are some intriguing matches coming up. 
World No. 3 Roger Federer faces the tallest player on the tour as 6'10 Ivo Karlovic will be standing on the other side of the net looking down on him. 
Federer leads Karlovic 9-1 and the only loss came weeks before he lost his No. 1 ranking in the summer of 2008. Yet, a match against Karlovic is never quite on your racquet and approximately half of the sets they've played, have ended in tiebreaks. 
While the serve is Karlovic' stronghold, the return game isn't. He will have as hard, or probably harder, a time breaking Federer as the other way round. Yet, he did break Jürgen Melzer five times on 10 chances in his first round. 
What can we expect? 
Aces, quick points and big forehand winners. Crisp volleys at the net and passing shots, especially from Federer. Both of them will try and attack the other man's backhand and Federer will make use of his low-skidding slice, making the tall man uncomfortable. 
Federer will also try to get Karlovic on the run as much as possible, but that is easier said than done, when Karlovic is bombing aces and forehands towards him. 
While this is certainly a tough 3rd round opponent, Karlovic is not quite enough to end Federer's quarterfinal streak. 
Prediction: Federer in three or four, including one or two tiebreaks. 
Matthew Stockman/Getty Images
Bernard Tomic versus Alexandr Dolgopolov
This could easily be the most exciting match-up on day five. Two up-and-comers with very unorthodox styles are getting a go at one another. Does it get much better than that? 
The winner gets to play either Federer or Karlovic.
Tomic has, on paper, had the tougher route beating seeded Fernando Verdasco in five, coming back from two sets to love and then beating ever dangerous Sam Querrey in four tough sets. 
However, Dolgopolov also came back from two sets to love in his first match against the, somewhat, lesser-known Greg Jones, who's ranked 198th. 
In the second round, he went another five sets beating 98th ranked Tobias Kamke 8-6 in the fifth. 
Tomic won a lead-up exhibition tournament in Kooyong, beating Mardy Fish, Gael Monfils and Tomas Berdych. Clearly, he's the one with the most upside going into the match. 
The 'Dog' leads their head-to-head 3-0. He also made a run to the Brisbane final beating Radek Stepanek and Gilles Simon on the way, before losing to Andy Murray (who beat Tomic in the semis). 
In that sense, this match is hard to predict. Both players play more trick shots, angles, weird spins and blistering forehands than more or less any other player on tour.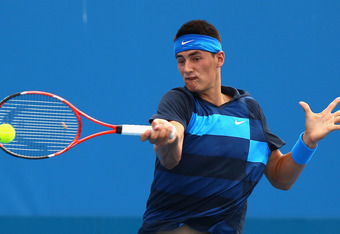 Ryan Pierse/Getty Images
Both have the kind of game that give other opponents headaches as they so rarely face an opponent of that kind. Now, they have to taste a bit of their own medicine. 
Going by head to head, I would have to go with the Dog. But I believe Tomic has far more potential in the long run and he seems to be in the form of his life. Despite their lop-sided head-to-head, I trust Tomic to make it through to a fourth-round clash with, presumably, Roger Federer. 
Last year, he fell to Nadal in the third. Will he meet Djokovic in the quarters next year as he's climbing further up the ladder? 
Anyhow, my prediction: Tomic in four.