Ban the Fifth Quarter in Wisconsin Badger Losses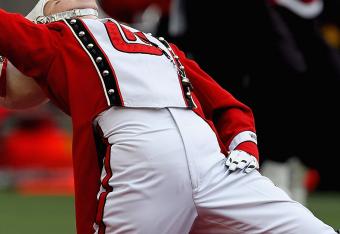 Jonathan Daniel/Getty Images
Full disclosure: I've played saxophone since I was nine years old. I marched in the high school band in my football uniform during halftime of our games. I played in the jazz band at the University of Wisconsin and rowed for the Badgers.
I'm a passionate lover of Wisconsin football.
I've sat through numerous seasons, frustrated by senseless defeats that steered us away from any national championship talks. I've suffered through multiple seasons where post-season play wasn't even a consideration.
And through it all, I've enjoyed many a Fifth Quarter post-game festivities in regular season Camp Randall romps, to Outback Bowls in Tampa and numerous Rose Bowls in Pasadena, to name a few.
But after this year's Rose Bowl defeat to a dazzling Oregon Ducks squad, things were different. As I walked around the inner ring of the Rose Bowl, making my way out of the stadium, I had a feeling about U.W. I had never felt before. Contempt.
Watching scores of Wisconsin fans standing around, drinking up the Fifth Quarter celebrations the band was serving up, was infuriating. And then it hit me. Ban the Fifth Quarter after Badger losses.
The history of the Fifth Quarter is an interesting compendium piece to Wisconsin football's Dark Ages from the 1960s-1980s.
According to Badgerband.com, "It was around 1977 that the Badger Band began to attract the attention of both students and the media with a unique approach to the "post-game show." Then, in 1978, it was announced that the Band would delay playing "You've Said It All" until 10 minutes after the game had ended (to enable the weak-of-heart spectators to exit the upper deck before the "swaying" began), interest in the post-game grew by leaps and bounds. It was about that time that the press began referring to the post-game antics as "the Fifth Quarter."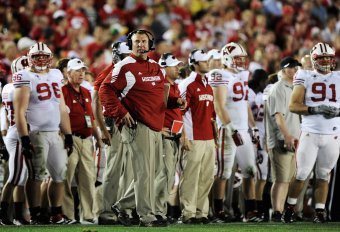 Harry How/Getty Images
Not coincidentally, the Badger football program was in the midst of a half generation of horrid performances. The program boasted an 0-22-1 non-winning streak between the 1967-1969 seasons.
Throughout the 1970s the Badgers went on a dismal tear through the Big Ten and owned a 42-50-5 record. They had just two winning seasons in the entire decade. They were almost as bad in the 1980s as the Fifth Quarter became ingrained into the U.W. football culture.
Badger football fans had little to celebrate in those down seasons and the stadium's attendance, or lack thereof, reflected that sad truth. It was in part, to affix some positive experience to the half-full and deflated Camp Randall crowd that the Fifth Quarter found it's place. The nurturing of the unique post-game celebration was to keep people coming back. The last feeling they had was a positive one, no matter how crappy the team performed.
Barry Alvarez changed all that.
Between 1962-1990 Wisconsin endured six coaches. Alvarez took over in 1990 and went 1-10. The next two years he went 5-6, but the fourth year he went 9-1-1 and shared Wisconsin's first Big Ten title, its first since 1962. From that point on, Wisconsin swam in a culture of success, but the remnant of losing seasons remained in tact.
And now it's time for that remnant to go.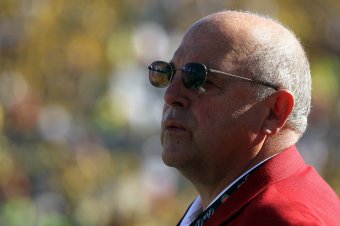 Jeff Gross/Getty Images
Wisconsin doesn't need a distraction from their dreadful play. In fact, the Fifth Quarter is doing a lot more harm than good. Once U.W. reached the critical mass of success, the celebration that keeps the 30,000-40,000 fans around only doses them with a numbing agent that takes away from the jubilation of wins, and disappointment over losses.
It sends complacent Badger followers out into central Wisconsin less hungry. They've feasted on calorie-rich, nutrient-poor football content and are sated but not nourished. And like binging on fried cheese, it only makes you full.
As wonderful as the band is, in this situation, they're Fredo Corleone, getting in the way of total national domination by keeping Badger fans happy enough. It's taken on a life of its own and that's the tail wagging the badger.
According to the U.W. Marching Band's website, "Everywhere the Band goes people are amazed, even stunned, by what they see after a game against Wisconsin. Win or lose, thousands of fans stay after to celebrate with the Band making The Fifth Quarter the Wisconsin Band's most beloved tradition."
With all due respect, the most beloved tradition at a football game should be the team winning. Good is the enemy of great and sometimes you have to kill off Fredo to raise the family to the highest of highs.
If they must play, they should be playing to an empty house. Not because the Wisconsin marching band, isn't good. Quite the contrary. They're fantastic, and full of life. Led by Director of Bands Michael Leckrone, the student musicians play a set of songs that are uplifting, poignant and raucous. If you haven't danced and swayed to "On Wisconsin," "Hey Baby," "Varsity," "The Chicken Dance," "Tequila" or "You've Said It All," you haven't drank fully from the cup of life, but those songs should be anthems to victories, not an underscore to a season.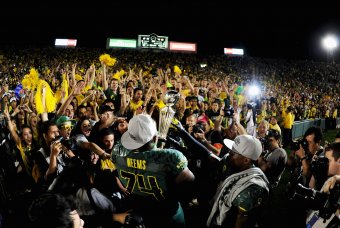 Harry How/Getty Images
The Fifth Quarter should be the phonic confetti after a win, but as it stands now, it's confetti every weekend. It's birthday cake every month and so the birthday becomes less important. It waters down the importance of the win and thus, makes the team, and by proxy the fans, weaker and less demanding.
Sure, Barry and company fill the Badger faithful up on championship t-shirts and warm-weather winter breaks following their team to one bowl or another, but that's not good enough when schools like Ohio State are hiring coaches like Urban Meyer.
A little sting is OK in life. In fact, it can be useful.
Montee Ball, upon feeling responsible for his team's 2011 Rose Bowl loss to TCU, turned his distaste into motivation. He spent the offseason training himself into the best shape of his life and is now a full-fledged NFL-level running back, with an amazing season to prove it.
Withholding the Fifth Quarter in losses is good for the same reason why deep-down inside most people don't want to win the lottery. Because people want to work their way to riches. There's no personal agency in being handed the trappings of success free of charge. But working hard and making your way there makes every meal richer. Every night's sleep complete.
The loss in this year's Rose Bowl stung. It should have stung. The whole season was a disappointment. The Badgers were almost there, inches away from breaking into a whole new world of recruiting and prestige.
If Badger fans don't allow themselves to live in the pain of defeat, they'll never know the farthest reaches of happiness when they actually win a national championship. As Kahlil Gibran once wrote, "And is not the lute that soothes your spirit, the very wood that was hollowed with knives?"
For Badger fans to have lived through half a lifetime of being the bottom dweller, they deserve to know the heights of excellence.
A good step towards that end is banning the Fifth Quarter after a loss.
This article is
What is the duplicate article?
Why is this article offensive?
Where is this article plagiarized from?
Why is this article poorly edited?

Wisconsin Badgers Football: Like this team?