The 10 Funniest ESPN 'It's Not Crazy, It's Sports' Commercials of All Time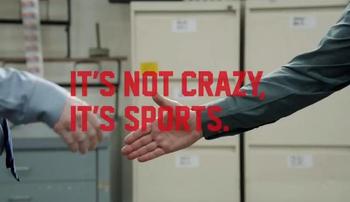 ESPN is the worldwide leader in sports and even their commercials are amazing. The newest set of ads is the "It's Not Crazy It's Sports" set. Maybe you have seen these short films when you are watching SportsCenter or PTI or Monday Night Football.
But these commercials are so perfect in the sense that they hit home with every sports fan ever. I watched all the commercials that were ever made in order to do research. Almost all of them I could relate to.
The power of sports is such a crazy thing. They can make a grown man cry and cheer and laugh and scream.
The world of sports is by far the best place on earth. These commercials capture that feeling of a sports heaven. Also, before we start this definitive list, I just want to say that this was the hardest article to write because all these commercials are equally awesome. Picking the top 10 was a task fit for Tebow.
10. Jumbotron Marriage Proposal
Okay, so how many of you think that the Jumbotron is the best way to propose?
Everyone, that's what I thought. No, it wasn't on a gondola. There were no butterflies or white horses.
There was something better. It was on the big screen at a baseball game. Only apple pie is more American than that. But the best part of the commercial was at the end when the guy screamed "Go Tigers!"
It's not crazy, it's sports.
9. Dancing Coaches
I don't know why but college basketball coaches are the funniest sideline patrollers in all of sports. Maybe it's because they never actually patrol the sideline. For some reason these coaches are always running around the court and screaming.
ESPN capitalized on that and this is the finished product.
Yes, it is okay to watch it five times in a row.
It's not crazy, it's sports.
8. The Terrible Towel
It is one of the most recognizable objects in American sports. It is the symbol of the most rabid fans in a sport full of rabid fans.
Yes, the Terrible Towel is all of these things. But now, it is a world traveler.
Sports have always been a global affair and ESPN succeeded in bringing the NFL to every corner of our world.
Sports, namely the Olympics and the World Cup, do things that no other activity can. Sports can bring the world together as competition brings out the best in people.
Waving a small yellow towel in the middle of a desert isn't crazy. It's sports.
7. 24
In sports, numbers are very important. They show who is the better player and distinguish between athletes. But they also define a player. No. 23 will forever be MJ and No. 24 will always be Jeff Gordon.
This ad shows how different Americans from all over the realm of sports pay their homage to the great racer. In the world of sports, athletes like Gordon are Superman and have legions of fans honoring their number.
It's not crazy, it's sports.
6. The Fanwiches
Sports fans are an odd species.
We show our love in many different ways. One of the ways we do that is by making a sandwich for our favorite athletes. A sandwich is such a high form of respect. Once you have a sandwich named after you, that's when you know you made it.
Which athlete do you think should have a sandwich named after them?
Believe me, fanwich making isn't crazy. It's sports.
5. Philadelphia Eagles
This gets me every time. You know the effect that romantic comedies have on girls? That's exactly what I feel when I watch this commercial.
Your life changes over time. You move, you grow old, you graduate, you get married. But the one thing that never changes is the love for your team. Whether that team is a dynasty or is falling into obscurity, you still love them.
In this ad he is always changing girls, but he stays loyal to his Eagles.
It's not crazy, it's sports.
4. Roll Tide
Two words: Roll Tide.
It's not crazy, it's sports.
3. Shake on It
Betting is a part of sports. Losing is a part of betting. Crazy things are a part of losing. And this spot captures that feeling perfectly.
The craziest things are shown in this commercial, and it gives me a lot of ideas for the next time my team suits up. Sports fans will do anything for a chance to prove their faith in their team. But when that team doesn't keep their part of the deal, this commercial happens.
Eating chest hair isn't crazy, it's sports.
2. Evolution of the Touchdown Dance
Judson Laipply is back at again and this time he is showing us the evolution of the touchdown dance. Featuring such classics like Billy Johnson, Earl Ferrell, Warren Sapp and Joe Horn, this is a must see video for all football fans. It even includes new favorites like The Dougie, Terrell Owens, Chad Ochocinco and The Discount Double-Check.
In recent years the No Fun League has limited celebrations in the end zone, but the touchdown dance will survive.
After all, a ridiculous victory dance isn't crazy, it's sports.
1. Jocks
This is perfect. I have found love.
Thanks for reading! Please share your ideas and opinions in the comment section. After all, leaving a comment on this article isn't crazy, it's sports.
Keep Reading