Rafael Nadal Criticizes Roger Federer; Will Shorter ATP Tour Benefit All?
January 15, 2012

Clive Brunskill/Getty Images
It's the eve of the Australian Open, the first Grand Slam event of the year. Most players would be getting ready to face their biggest hurdles on court, but for the top tier there's still some unfinished business off court.
A storm's a brewing outside the courts, and those involved are not strangers to the game. Rafael Nadal, the second-best player in the world, has expressed his dissonance with third-ranked Roger Federer regarding his personal views on the length of the average tennis season, citing in a pre-tournament news conference that Federer's view has no regard for other players  and he is simply "burning" the others.
Today's game is definitely more physical than it used to be, granted that most players today have adapted to a more baseline-oriented style of play with longer rallies and a heavier burden on the body.
The debate regarding the tight scheduling of the ATP tour has been going on for quite some time but was re-ignited in late 2011 after multiple top-ranked players expressed their disapproval of the current state of the tour.
Novak Djokovic, Andy Murray and Nadal  are in the same boat when it comes to the prospect of a shorter tennis season and a longer offseason. The players are very intent on initiating this plan and have even stated that they would be willing to go on strike if demands are not met.
Federer, currently the chairman of the ATP player council, has said otherwise, however, as he has the firm belief that there is nothing wrong with the current affairs in tennis and that this delicate balance should not be tampered with. Nadal, vice president of the player council, stated during a Spanish press conference that he totally disagrees.
"I disagree with [Federer]," Nadal said. "It is very easy to say, 'I am not going to say anything, everything is positive' and come off as a 'gentleman' and burn the rest. But it is not like that. We each have our opinion and maybe he likes the circuit.  I like it too and I think it's better than most sports, but that does not mean it cannot be better and you can't change things that are bad."
However the basis of Nadal's opinion might come from the fact that he is constantly in major tournament finals and finds it very hard to receive rest in the short lapse between tournaments.
Top-tier players have no problem generating income, as they are frequently offered exhibition matches and receive luxurious prize money. But as the head of ATP player council, Federer said that the voices of lower-ranked players who generally play in the first or second rounds should also be heard. The ATP tour not only consists of top-ranked superstars but also lower-ranked juniors and journeymen who are trying to make ends meat due to unequal amounts of prize money distributed in early stages of tournaments.
Every tennis player on the ATP tour survives on the prize money to make a living and the more they play, the more income they generate. If the tour is drastically shortened, the upper echelon of tennis society might have a seemingly longer career.
What's alarming is that it will affect lower-ranked players significantly because of less tournaments and less spots in the draw. One might say that they might have to work even harder compared to the longer season.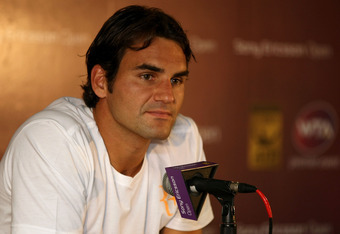 Al Bello/Getty Images
Federer has constantly stated that the bigger picture needs to be put into consideration and has suggested that a more professional approach be used to handle this issue overall.
Federer (German translation): "Demands must be made privately and professionally to the Board of Directors—only once an official request as been turned down do we ponder the public opinion arena and if its turned down are they saying no to hurt us or are there real logistical reasons and will it hurt the game in general. As president I have to consider all the players regardless of rank, there has never been consensus on the length of the season—so if I use words like 'boycott' to the media I'm acting out of personal interest. Jarkko [Nieminen] and Peter [Luczak] have not said anything about the demands of the lower ranked guys and there is the demands doubles players to consider....Speaking up without proper consultation is premature—if the season is shortened it should be done with most guys on board....It's easy for the top 10, we get offered exhibition matches and wild cards to shape our income and season how wish, that's not a luxury afforded to everyone...a lot of livelihoods are at stake."
Being on tour for 13 years, Federer of course understands the woes and worries of the demanding ATP tour but has remained unscathed by injuries due to careful planning and wise management. However, it is very unsightly  to look at the response from supposedly ardent tennis enthusiasts who accuse Federer of being "selfish" and turning a blind eye regarding this issue.
Ignorance and lack of detail are things we need to fix in the tennis community so that we may not be blinded by the exterior and be exposed to what's truly going on in our sport today. Wake up people!
The question that I leave to end this article is that maybe it isn't the ATP that should change for the players. Maybe it's the players' attitudes toward incorporating a healthy plan for their careers that should change.
When it comes to this matter, it is the players who have more mobility and choice. They can decide if they want to grind themselves out or keep playing until they're 30. If Federer can learn how to pace himself to extend his career, why can't everyone else do the same?