Chicago Cubs: Why 2013 Free-Agent Class Lowers Chances for Prince Fielder
December 31, 2011
Jamie Squire/Getty Images
The 2011-12 offseason's free-agent list made roars over the top-end talent sure to make headlines when they signed.
Two of the best first basemen in the game, Albert Pujols and Prince Fielder, were both on the market at the same time.
Jose Reyes and Aramis Ramirez also presented huge upgrade potential in the infield, and both switched teams while staying in the same division.
Carlos Beltran and Grady Sizemore were easily the top outfielders, both signing short-term deals to play in the Midwest.
On the pitching side of things, there were a handful of mighty closers to be had. Jonathan Papelbon, Ryan Madson and Heath Bell were all seeking suitors.
Bell landed in Miami, and Papelbon took huge money to go to the Phillies. Madson is still seeking a home.
The starting pitching upgrades were all good-but-not-great options. C.J. Wilson and Mark Buehrle were the aces of their staffs, but both more in a bona fide sense rather than for their true domination on the mound.
Yu Darvish continues to create a great stir, but there's never really been a true ace to come out of Japan, though Daisuke Matsuzaka and Hideo Nomo did both prove there is quality talent to be had from the Nippon teams.
However, after all the flash of the elite talent, the talent pool thinned quickly. If you couldn't fit the $25 million-a-year commitment for either Pujols or Fielder into the budget, it was on to a long list of plan-B players.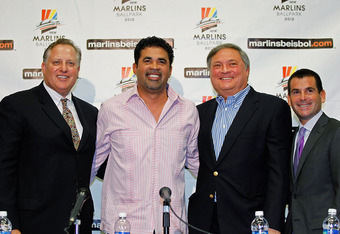 Mike Ehrmann/Getty Images
Carlos Pena, Derrek Lee, Casey Kotchman and Lyle Overbay became mediocre consolation prizes. In the infield, Alex Gonzalez, Rafael Furcal, Yuniesky Betancourt and Jamey Carroll became the next-best options once Reyes went to Miami.
If you couldn't snag Buehrle, Wilson or win the Darvish-posting-fee war, the options became thin as well. What talent was there mostly was snatched up quickly.
Now, teams looking for a free-agent rotation upgrade are down to only a few imperfect options.
Edwin Jackson most likely stands out from the rest due to his age and performance, but Hiroki Kuroda, Joe Saunders, Paul Maholm, Jeff Francis and Aaron Harang also represent mid-rotation arms to be had. Japanese starter Hisashi Iwakuma is also a possibility after his posting after the 2010 season went less than perfect.
What's left is very sparse.
Sure, Prince is still on the board, but agent Scott Boras' demands may be keeping Fielder from signing. The Yankees, Red Sox, Angels and Phillies are all set at first base, and though the Cubs have the budget room to sign Fielder, they currently have an albatross of a contract Theo, Jed and co. are surely trying to trade away in Alfonso Soriano.
Jackson remains on the market and probably makes more sense for the Cubs than Fielder. Madson won't be a Cub, as he simply doesn't fit in any way, shape or form with what the Cubs are trying to do.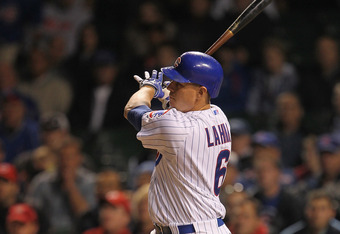 Jonathan Daniel/Getty Images
Many people, both the media and fans, want so badly for Fielder to sign with the Cubs. It seems to make sense, but it just seems so unlikely.
Portly left-handed sluggers have had a tendency to either get in much better shape in their late 20s (as Ryan Howard did) or start to suffer a huge decline in stats (as Mo Vaughn did). While Fielder has shed some weight by going vegan, the point remains that, eventually, his weight will catch up with him.
Sure, signing Fielder seems sexy, but if he starts to decline due to weight issues, will it still be a great deal? When Fielder's got four more years left on his contract and can't even hit his weight, Cub fans would be calling for Epstein and Hoyer's heads—most likely, a lot of the same fans who can't seem to stress enough why they are right about Fielder needing to come to the Cubs.
Few wish to give late-bloomer Bryan LaHair even the slightest of chances to be the first baseman for 2012. Many point to the failure of the seemingly-similar Micah Hoffpauir. Heck, they both have jersey No. 6! However, upon further review, LaHair and Hoffpauir are two separate cases.
Hoffpauir burst onto the MLB scene—and into Cub fans' hearts—when he hit .342 in his call-up during the 2008 campaign. His call-up was following an obscene year in AAA, in which Hoff hit .362 with 25 home runs and 100 RBIs in only 71 games for Iowa.
However, the wheels fell off for Hoff in 2009, as in more extensive duty as a backup first baseman, corner outfielder and top pinch hitter, he only mustered a .239 average. However, the power remained, and his .198 isolated power would make any sabermetrics-minded person drool.
Hoff's struggles got even worse in 2010, as he was no longer able to hit his weight in the majors—a .173 average for the 215 lb. Hoffpauir. The Cubs sent Hoff down to Iowa, where he seemed to have fixed his issues, but just wasn't looking to have much of a future with the Cubs.
Hoff went to the Nippon Ham Fighters in 2011 and only hit .222 as their first baseman. Where he goes now is anyone's guess, though the magic of his 2008 season will surely continue to pay him handsomely as teams around the globe will all hope he can get back to those levels.
These struggles are the reason Cubs fans will not let LaHair prove himself as MLB-worthy and are clamoring for Fielder to send bombs over the fences as a Cub for the next decade.
However, if one looks further at Hoffpauir vs. LaHair, they'll see why the Cubs' new brain trust is validated in trusting LaHair. Keep in mind, these are the men that took David Ortiz from the scrap heap and saw him become one of the best designated hitters in baseball.
Hoffpauir's 2008 was an anomaly. His batting average on balls in play was far too high for someone with the speed (or lack thereof) that Hoff has. Hoffpauir had a only a season-and-a-half of AAA under his belt coming into 2008. LaHair, on the other hand, had four-and-a-half years of AAA coming into 2011.
Hoffpauir had good-but-not-great success at his other minor league stops before 2008. In 2007, Hoff posted a solid, yet not spectacular, slash line of .319/.365/.552. For a 27-year-old first baseman and corner outfielder, it was nothing great.
He then jumped to .362/.393/.752 in 2008. Of concern to anyone is the fact that his batting average jump doesn't quite correspond with the on-base-percentage jump. Hoffpauir simply had a lucky season in 2008.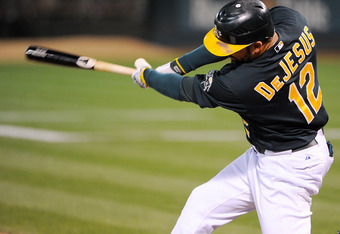 Thearon W. Henderson/Getty Images
LaHair, on the other hand, has shown steady improvement over the last four seasons in AAA, with his numbers slowly rising. The only major jump in his numbers was his home run total, jumping from 12 in 2008 to 26 in 2009. However, he's proven the ability to keep performing at this high a level, hitting 25 homers in 2010 and 38 in 2011.
Yes, it's impossible to expect LaHair to perform in the major leagues the way he did in AAA in 2011. However, he's entering his prime and should be able to give the Cubs solid production until one of their prospect first basemen (most likely Dan Vogelbach or Trevor Gretzky) is ready to take over full-time. LaHair should put up solid numbers for a team with low expectations.
What does all this have to do with Fielder? Simple. It's all about economics, which has taken a front-and-center stage with the new era of front office personnel. Fielder simply does not provide the same upgrade that one of the elite free agents this time next year could.
Fielder will almost assuredly have a better season than LaHair (who may platoon with Jeff Baker), but will the increase in production really be worth over $250 million?
We now turn to the elite talent who may be available after the 2012 season. Of course, any of these players could ink an extension. (And if they already have, I apologize. Please let me know in the comments so I can amend this.)
The Cubs' No. 1 need is quality starting pitching. Zambrano and Dempster both come off the books after 2012, and I can't see either coming back in significant roles. If Dempster wants to take a deep pay cut, I'm sure he'd be welcomed back as a mid-rotation guy. Big Z is most likely done in Chicago.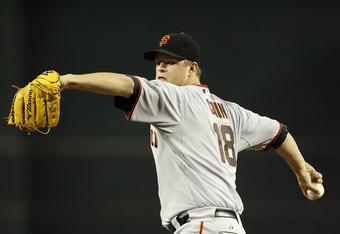 Christian Petersen/Getty Images
And who knows if Matt Garza will be wearing a Cubs jersey in 2012?
The potential to add a front line starter via free agency next winter is huge.
Matt Cain, Zack Grienke, Shaun Marcum and Cole Hamels all will be outright free agents if they don't sign extensions.
Fausto Carmona, Gavin Floyd, Scott Feldman, Dan Haren, Ervin Santana and James Shields, most of whom will likely see said options exercised by their teams, all have options for 2013.
Former NL Cy Young and Triple Crown winner Jake Peavy will almost assuredly be a free agent, as he's struggled with the White Sox and can't possibly be viewed to be worth his $22 million team option.
Any of those guys easily slot into the top of the Cubs' rotation, and with the revamped draft-pick compensation system, it may not cost the Cubs picks to sign.
All the pitchers listed above provide certain quality elements the Cubs would like.
Cain is an ace stuck behind Tim Lincecum, though his numbers should garner him at least $18 million a year.
Grienke and Marcum are both No.2/3 starters, and stealing a part of a division rival's rotation—especially considering how Milwaukee gutted their farm system to acquire them—would be a huge strategic blow.
Hamels would weaken the Phillies and give the Cubs a top-rotation lefty—something they haven't had in what seems like forever.
With all due respect to Ted Lilly, he's a high-end, mid-rotation starter. When the Cubs had Rich Harden, Lilly was delegated to the No.3 starter spot, which is about where he belongs on a true contender.
With the added cash coming off the books in Zambrano and Dempster, the Cubs can afford a huge splash. Perhaps they can grab two top-tier arms to put with whatever starters they have. Even still, they could afford to look into an upgrade in the lineup and in the field.
At catcher, Yadier Molina, Miguel Montero and Russell Martin could all provide an upgrade behind the plate and make Geovany Soto expendable via trade.
In the infield, Howie Kendrick, Erick Aybar, Kelly Johnson and Brandon Phillips will all be looking for new homes and contracts.
In the outfield, Josh Hamilton, Andre Either, Michael Bourn, B.J. Upton, Shane Victorino and Carlos Quentin will all be relatively young and looking for new homes.
The abundance of talent at the positions the Cubs could see as a need will drive down their prices. Keep in mind, there was talk that Pujols could be a $30 million-a-year player back in spring training. However, the free agency of Prince Fielder dragged his price down. The same will happen with the impact players available after the upcoming season.
Finally, we come back to the economics of team-building. The benefit of signing an ace pitcher over Fielder is quite clear. Pitching wins championships, and the Cubs' lack pitching.
Pitching-rich teams such as the Nationals might see Fielder as a solid signing, and in their case, he may be. In the Cubs' case, they need top flight pitching—pitching which will become available in about 10-and-a-half months.
While the Cubs obviously want to be competitive in 2012, it'd be a foolish move to make one big splash now at the cost of a larger, more necessary addition for 2013.