BCS Championship 2012: Jordan Jefferson Holds The Fate of LSU in His Right Arm
December 30, 2011
Kevin C. Cox/Getty Images
The LSU Tigers season looked to be a disaster before it even started.
Their starting quarterback, Jordan Jefferson, was charged with felony second-degree battery on August 19 after a getting into a bar fight.
Considering they had to play a No. 3-ranked Oregon team coming off a national championship in Week 1, the Tigers' outlook was bleak.
After the charges were dropped to a misdemeanor, Jefferson was allowed back on the team after missing the first four games of the season.
Head coach Les Miles slowly worked him back into the lineup, and Jefferson is now back to being No. 1 on the depth chart over Jarrett Lee.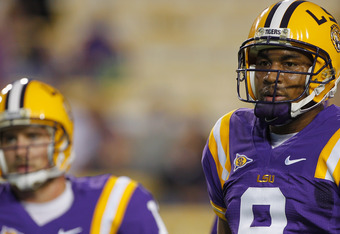 Chris Graythen/Getty Images
Now, he holds the fate of the Tigers national championship in his hands. Well, more specifically, his right arm.
Jefferson has molded from a run-first QB that recorded 14 carries against Tennessee to a pocket passer that attempted 29 passes the day after Thanksgiving against Arkansas.
Jefferson needs to be patient in the pocket and allow his receivers a chance to create separation against an Alabama defense that allows less than a touchdown per game. Their gap discipline will shut down his ability to tuck the ball and run.
The senior can't let another performance like the one he had in the SEC championship surface again. Against a solid, but not spectacular Georgia defense, Jefferson was an abysmal 5-for-13, accumulating a mere 30 yards. The No. 1-ranked defense will eat him alive if he plays like that again.
Both defenses are going to be at their best, and we already know what to expect from 'Bama QB AJ McCarron; the wild card is Jefferson.
This is a good thing for LSU.
Jefferson has been a huge part of the Tigers for three years now. His 31-6 record as a starter speaks for itself. Picking up victory No. 32 will permanently etch his place in the LSU record books.
When Jan. 9 finally rolls around, expect Jefferson to be the big difference in the Tigers 14th and final win in what's been one of the best seasons in the history of the school.