F1 2012: The Plight of Williams
December 29, 2011
Mark Thompson/Getty Images
With the world of F1 closed down for Christmas, it's been a quiet week even by the normal off-season standards.  So we're left to further examine one of the few stories kicking around, as the long-running saga of the second Williams seat continues.
That the once-dominant team look likely to enter 2012 without confirming their driver lineup tells us much about how far they have fallen.
Williams may have lost their prestige but they still have their pride; they want a recognised, talented driver to lead the team back to a more respectable position. 
So one doesn't need a degree in economics to see the problem.  They're holding off confirming their second driver because they simply don't know how much money they're going to need to bring him in.
They'll hold it off as long as possible, trying to secure last-minute sponsorship deals to give themselves greater choice. 
While they'll willingly take one questionably-talented pay driver—Pastor Maldonado—another would be highly undesirable.
They know they can't afford a driver with no backing, so their ideal recruit would be a talented driver who also brings in sponsorship cash.  Three names have been mentioned more than most, so we'll look at that trio.
The first choice appears to be Adrian Sutil.
Sutil has been the front-runner for the drive since it became clear he would not be staying with Force India.  He has talent, can lead a team and would bring in some sponsorship.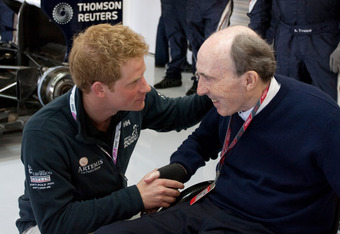 WPA Pool/Getty Images
But all indications are that with the team's current finances, he would not bring in enough.  Sutil is unaffordable without a cash injection from elsewhere.
That means the second choice gets a look.  At the moment, though another driver is possibly more likely (we'll come to him), that would be—on talent—Vitaly Petrov.
A pairing of Petrov and Maldonado would leave the team with no recognised leader.  Vitaly would be expected to take on the role—and despite his improvement during 2011, question marks remain over his ability.
But if his name is being mentioned, it means he packs a good deal of sponsorship.  More than Sutil offers, or he wouldn't get a sniff.
Trouble is, one of his potential sponsors is Lukoil.  Williams already bear the logo of PDVSA, Venezuela's state oil company, courtesy of Maldonado.  The two might not mix well, so his sponsorship pot could be reduced.
Moving further down the pecking order, we come to a third driver who has been mentioned recently, and has even visited Williams.  Probably ahead of Petrov in probability, but behind him in other areas—is Bruno Senna.
If Petrov and Maldonado would be risky, Senna and Maldonado would be crazy.
Bruno has a very strong sponsor behind him, Brazilian communication giant Embratel.  The company is part of Carlos Slim's Latin American empire, and the world's richest man has shown plenty of interest in F1 already.
But the jury remains out on whether Senna has what it takes to stay in F1.  He has some talent, but we haven't seen enough to know for sure.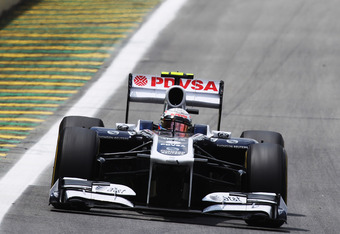 Mark Thompson/Getty Images
He'd be a choice of last resort.
Well, last resort with the exception of 2011 driver Rubens Barrichello.  He brings no pile of sponsor money, and can't be considered a contender for the seat anymore.
It's tough to watch a team with the proud history of Williams struggling so much, but such is the lot of the independent constructor.  If they can bring in a good sponsor in the coming weeks, we'll surely see Sutil in the car next year.
If they can't—and it's looking increasingly desperate—a move down the list will be required.
Names from the late 90s such as Jordan, Tyrrell, Minardi, Arrows, Prost and Benetton are no longer with us, most taken over and unrecognisable today from the teams they once were.
Williams, along with Sauber, survived takeovers and manufacturer influence to stand today as two of the final remnants of the old independent racers. 
It's nice to see them still on the grid, but one has to wonder how much longer Williams can survive going it alone.