Iowa Football: Attrition Is the Key to Recent Hawkeye Mediocrity
January 9, 2012
I recently wrote an article in which I questioned whether Marcus Coker's (and Mika'il McCall's) recent suspensions were a trend that has followed Iowa position coach Lester Erb from his former job coaching receivers to his current job coaching running backs.
While I do think there might be something to this, I also acknowledge that the article and my inferred accusation were unfair. This is not only because I based it strictly on the eye test, but also because I know nothing about what goes on behind closed doors.
With that said, I did a bit of research.
Before going into my findings, I will note a few things.
Firstly, many people—Kirk Ferentz included—have said that it is not the coaches' jobs to hold their players' hands, make sure they get to tests on time and generally police them 24/7.
I agree with this mentality. In the end, a college coach—despite his occasionally obscene pay—is still a teacher. As such, his job is to give the players in question every opportunity for success. After that, it is up to the player.
Therefore, one cannot simply lay the blame at a position coach's feet if a position group experiences severe attrition due to suspensions and transfers. There could be extenuating circumstances.
Furthermore, my fact-finding method was not an exact science. Specifically, does 2008 running backs coach Lester Erb deserve credit for Shonn Greene's success when Carl Jackson coached him through most of his career?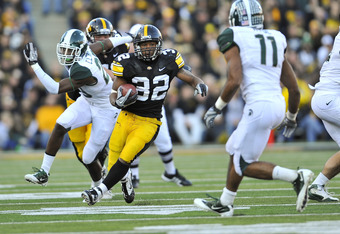 David Purdy/Getty Images
Does wide receiver coach Erik Campbell deserve credit for getting Trey Stross to graduation when Stross worked under Erb for the majority of his career?
Obviously, I cannot answer these questions, and for this reason, I cannot claim that whatever "evidence" I've collected proves a thing.
However, I can state how I collected the evidence.
Firstly, I noted each Iowa position coach and the years during which he was active.
Secondly, I went through every Iowa recruiting class from 2002-2010. I gave the coach in question credit for each player that was retained and brought to graduation, or, in the case of classes that haven't yet graduated, players that are still with the team.
They lost credit for players that transferred or were dismissed.
Players that switched positions—for example, Marvin McNutt came to Iowa as a quarterback, but will leave as a wide receiver—were aligned with the coach of their final position in their last year at Iowa.
Coaches did not lose credit for players whose careers were cut short due to injury. For instance, 2005 recruit Vernon Jackson could not continue to play football due to back issues. Certainly, that is neither the failure of the coach nor the player.
I did not count players that never made it onto campus, such as 2008's David Blackwell. On the other hand, I did count players like Amari Spievey, whose college career was interrupted due to academics, but who came back to Iowa after some time at community college. Also, I didn't factor in walk-ons.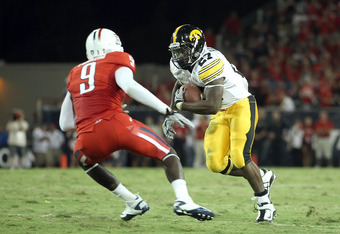 Christian Petersen/Getty Images
Lastly, coaches did not lose credit for players that opted to turn pro with eligibility remaining. This exercise is not about academics, and a player that chooses to go pro early—whether he has earned his degree or not—has made a professional decision, presumably with the blessing and advice of the coaches.
The final number I came up with—for better or worse—was the coaches' retention percentage.
I put them below in their order of success.
Reese Morgan, offensive line coach, 2003-2011: 89.29 percent. 
Norm Parker, inside linebackers (middle and weak-side in Iowa's defense), 2002-2007: 88.89 percent.
Ken O'Keefe, quarterbacks, 2002-2011: 87.50 percent.
Darrell Wilson, outside linebackers, 2002-2007, and all linebackers, 2008-2011: 71.43 percent.
Rick Kaczenski, defensive line, 2007-2011: 69.57 percent.
Phil Parker, defensive backs, 2002-2011: 64.50 percent.
Eric Johnson, tight ends, 2003-2007, 2010-2011, linebackers, 2008-2009: 61.50 percent.
Erik Campbell, wide receivers and tight ends, 2008-2009, wide receivers, 2010-2011: 58.33 percent.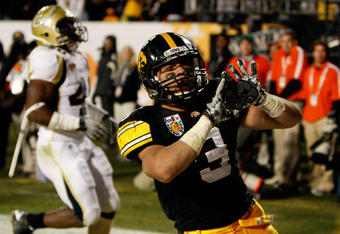 Streeter Lecka/Getty Images
Carl Jackson, running backs, 2002-2007: 57.14 percent.
Ron Aiken, defensive line, 2002-2006: 50 percent.
Lester Erb, wide receivers, 2002-2007, running backs, 2008-2011: 33.33 percent.
I found this exercise to be enlightening for two reasons.
The first reason is that the numbers support my original contention—Lester Erb doesn't appear to be doing a great job of keeping players on campus.
As previously mentioned, Lester Erb's job is not to hold his players' hands and sing them lullabies. Nevertheless, the first thing any teacher learns—and again, officially and essentially, a college coach is a teacher—is that when students act out, it is usually, though not always, because the teacher in question is not clearly laying out his expectations.
Is that 33.33 percent Lester Erb's fault? I don't know, but I do know the bottom has fallen out of Hawkeye position groups three times since 2002, and this brings me to my second bit of enlightenment.
The first of those collapses was the 2002 defensive line group. The Hawks signed four linemen, all of who left the program for one reason or another. Two of 2003's five linemen also left the program, with a third having to leave due to medical issues.
The end result of that collapse was 2005, when the Hawks started two inexperienced sophomore defensive ends—Bryan Mattison and Kenny Iwebema—and two undersized and extremely inexperienced freshman defensive tackles—Mitch King and Matt Kroul.
The second collapse was the receivers circa 2006—a group presided over by Lester Erb.
This was the City Boyz Inc. class. Six receivers were signed, and only one—Paul Chaney Jr.—got his degree and played a full career at Iowa. I did include DJK amongst the five dismissed players, as officially, he finished his career under ignominious circumstances (though Erik Campbell, and not Lester Erb, lost credit for DJK).
The 2006 class was complicated by a 2003 receiver class that went 0-for-4, also under Lester Erb's charge. 
The end result was a 2006-2007 receiving group that set new lows for awfulness.
Finally, the third collapse has been the recent issues with running backs—a group that includes both fullbacks and tailbacks, and, once again, a group presided over by Lester Erb.
Between 2008-2009, Iowa signed 10 players that wound up at running back. However, only three of them—all fullbacks—are still with the team.
The end result of that is where we are now. For three seasons in a row, Iowa has gone into its bowl game with a freshman starting at tailback. Moreover, the Hawks haven't graduated a tailback since Albert Young and Damian Sims in 2007—the last season Carl Jackson was in charge of the running backs.
In closing, it is difficult to measure the success of a college coach.
In pro football it's easy—look at the win-loss column.
On the other hand, there are other elements to consider in college football. There is the ethical element—see Penn State. There is the business element—is the team selling enough tickets and bringing in enough donations? There is the recruiting element.
Finally, there is the educational element—are coaches mentoring these young men—bringing them from the yellow school bus to graduation and adulthood?
In effect, it's impossible for an outsider such as me and my inherently flawed statistics to measure a coach's success.
That said, Kirk Ferentz's coaching position is not as safe as it was a few years ago, and yes, the fact that he is one of the highest paid coaches in the country means that it's not acceptable for him to regularly have sub-par and mediocre seasons.
I write that with the understanding that I want Ferentz to remain the coach at Iowa. That is not in question.
The problem is that he is getting to a point in the post-expansion Big Ten where he might have to make some changes if he is to stay in Iowa City.
And those changes might come with a firing or two.
Ultimately, only he can assess how Lester Erb, or any of his coaches, have done in their jobs.
Nonetheless, the recent defection of Mika'il McCall and the numbers concerning Erb—however unscientifically they were compiled—are damning.