BCS Championship Game: Might Be Right, but Who Really Knows?
December 6, 2011
Kevin C. Cox/Getty Images
Does anyone really know? Seriously, how can anyone say for sure who the second-best team in the country is?
There is no doubt who the best team in college football is (at least I hope not; otherwise, you're an idiot). That distinction belongs to LSU, which plowed through its competition all year long on the strength of a defense that might be one of the best ever.
The Tigers went on the road and won non-conference meetings against Oregon (at a neutral site) and West Virginia and then in the so-called "Game of the Century" against Alabama.
And to boot they blew out Georgia in the second half of the SEC Championship Game.
They deserve to be in the BCS National Championship Game.
But Alabama? I'm not quite so sure.
The Crimson Tide are a good team, yes. They played LSU tougher than anybody all year despite losing in overtime.
But their only impressive win came against sixth-ranked Arkansas. They only had two other wins against teams with winning records (Penn State and Auburn).
And how good is Arkansas really? It got crushed by both LSU and Alabama and had only one good win, and that was against a South Carolina team that had no quarterback.
I know the SEC is supposed to be great and it's very hard to argue that considering they've won, like, the last dozen national championships (give or take).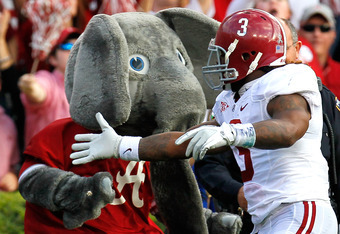 Kevin C. Cox/Getty Images
But aside from the great teams at the top, who is left? A bunch of crap, is the answer.
Aside from LSU, none of these teams plays anybody in their non-conference schedule. They all load up on wins before SEC play and find their way into a bowl game despite only winning two league games (looking at you, Vanderbilt).
Georgia did play Boise State...and lost handily.
The point I'm trying to make is that we think the SEC is still great and that if Alabama can come out with only one loss, then it must be better than all the other one-loss teams.
But how do we know? The Tide played nobody outside of the SEC! (Sorry, Penn State, you haven't counted as a good team for a while now.)
I'd love to say Oklahoma State is really the second-best team in the country. The BCS computers think so. The Cowboys beat seven teams with winning records, including No. 8 Kansas State, No. 12 Baylor, No. 14 Oklahoma and No. 24 Texas.
Their only loss came in double-overtime at Iowa State on the day after a tragedy rocked their campus. This, of course, the BCS computers can't factor in, but they still decided that the Cowboys were better than Alabama.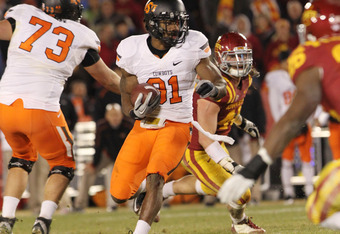 Reese Strickland/Getty Images
The fact is that I have no idea if Oklahoma State is a better football team than Alabama, but what I do know is I already saw Bama and LSU play and I couldn't stand it.
It was great defense, but it was also terrible passes. I haven't seen a high school game that had as many bounced passes, passes sailing out of bounds by 10 yards and blatantly missed blocking assignments. It was terrible.
We all think LSU has the best defense in the country, but it only held two teams to fewer points than it did against Bama. What does that say for the Crimson Tide offense and the amazing Trent Richardson?
Other teams found ways to score on LSU. Why couldn't the supposed-second-best team in the country?
I could go on and on and on, but I'll spare you.
This is why we need a playoff.
That's the only way you can justify having a rematch is if Alabama actually wins something to get it, which it didn't. The Tide sat on their couch and watch the SEC Championship Game and backed into the title game.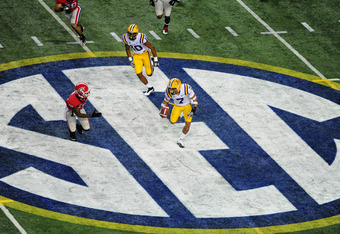 Scott Cunningham/Getty Images
If Alabama and Oklahoma State were to play, it's very possible the Tide would roll (pun sort of intended). But who knows for sure?
In 2006 everybody thought the Big Ten was the cream of the crop and that Ohio State and Michigan were head and shoulders above everyone else. Many said they should play again for the national championship because they were "clearly" the two best teams.
But Michigan didn't get another shot and Florida played for the title, and we all know what happened.
Florida blew out Ohio State and USC trounced Michigan.
What it proved was that you never know for sure who the best teams are until you let it play out. We know now that giving Michigan a rematch that year would have been a mistake.
But we'll never know this year.
Because the BCS is dumb.
And that's my expert analysis.
You can follow Benjamin Flack on Twitter @ClevelandFlack.