Margarito vs. Cotto 2: For Antonio Margarito, Denial Is Admittance
November 26, 2011
Patrick McDermott/Getty Images
In 2008, one of the most anticipated bouts of the year arrived and certainly did not disappoint. 
On July 26, 2008, the stage was set at the MGM Grand Arena in Las Vegas, NV. An undefeated Puerto Rican champion, Miguel Cotto, against one of the most avoided fighters at the time, Mexico's Antonio Margarito; a fight that can be easily described as the tale of two halves. 
From the outset Cotto proved to be the better all-around boxer, using his jab, speed and combination punching to control the distance. Rounds 6 and 7 proved to be the turning point, however, as Margarito's steady walk-down pace and his barrage of punches began to wear on Cotto.
In Round 11 Cotto finally succumbed to Margarito's pressure, taking a knee twice in the round, ultimately resulting in Cotto's uncle/trainer Evangelista Cotto throwing in the towel and the ref stopping the fight. 
An instant classic.
Months later Antonio Margarito would defend his title against "Sugar" Shane Mosley. Prior to the fight Mosley's trainer Nazim Richardson would discover an attempt by Margarito's corner to use an illegal substance in Margarito's hand wraps. The wraps were removed from Margarito's hands and confiscated by the Nevada State Athletic Commission.
After the fight the illegal substance was found to be wraps dipped in sulfur and calcium, which when combined with water/sweat, forms the "plaster of Paris."
The bout ended with Mosley knocking out Margarito in the ninth round. As a result of the illegal substance found prior to the fight, Margarito was suspended from boxing for one year while his former trainer, Javier Capatillo, has been banned from working corners in the U.S.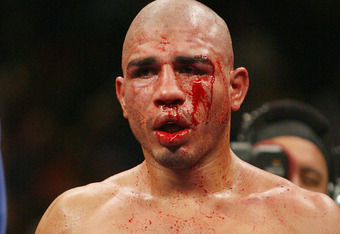 Ethan Miller/Getty Images
As we inch closer to Margarito Vs. Cotto 2, "The Battle," it has become more than obvious Miguel Cotto believes Margarito used illegal hand wraps during they're '08 bout.
On HBO's 24/7, as well as HBO's Face Off with Max Kellerman, Cotto brandishes pictures of Margarito's hand wraps after the fight. Margarito's left hand wrap is missing a chunk, creating a hole through which you can see right under the wrap.
Margarito has continuously professed his innocence in both cases. Margarito, as well as former trainer Capatillo, both claim to have no knowledge of the illegal substance discovered prior to the Mosley bout.
Margarito has stated that Cotto is just making excuses, with Capatillo arguing Cotto is just trying to sell the fight.
This poses a serious question: If both Margarito and his former trainer Capatillo are so sure there were no illegal substances during the first Cotto bout, how could they not know about the substance in the Mosley bout?
Claiming to have no knowledge of the wraps during the Mosley bout, then in the same breathe claiming to have knowledge of the wraps in the Cotto bout, is a profession of guilt.
Having no knowledge of the hand wraps prior to the Mosley fight, Margarito would not have any knowledge of the wraps prior to the Cotto fight, as well as any other fight in which Capatillo was his trainer.
So if Margarito knows for a fact he did not cheat against Cotto, that would suggest he knew the condition of the hand wraps in his next fight against Mosley. If Margarito was truly unaware of the substances, then it stands to reason that "plaster of Paris" was used during his bout with Miguel Cotto, and possibly many (if not all) bouts prior.
On HBO's Face Off, amidst Cotto's accusations, Kellerman asked Margarito an interesting question, to which Margarito side-swiped and never actually answered. Here's how it went:
Kellerman: "Antonio...You have said to me in the past that you didn't feel anything in your wraps in the Mosley fight. If that's true, how would you know you had illegal wraps against Miguel, if you couldn't feel it against Mosley?"

Margarito: "You simply couldn't have used plaster because you would've felt it..."
Margarito then continued to argue with Cotto.
Margaritto has maintained that he noticed no difference in the wraps prior to the Mosley fight, yet he knows he did not use plaster wraps during the Cotto fight.
Aside from contradicting himself, the circumstances of how Mosley's trainer Nazim Richardson discovered the illegal wraps is telling in its self. 
In an interview with Fighthype.com's Percy Crawford, Richardson provided some interesting and alarming details.
After commenting that he saw a block fall out of the wraps, Mosley's trainer said, "It was bricked up gauze that had blood stains on it already and they had a piece of plaster over that..."
Nazim's next comment is critical: "[Y]ou let that shit get hard through the course of a fight and you've got trouble. Shane would have been sitting there like, ' How this motherfucker hitting harder in the 8th round and were both tired?'"
Miguel Cotto, through the course of his career has never been known to fade during the later rounds of a fight, but on July 26th, 2008 that was not the case. Cotto admits that he tired towards the end of the fight, not understanding why; he felt at the time he was not ready. Amidst the controversy Cotto feels he has his answer.
Whether you believe Margarito cheated is now irrelevant. To Cotto it's significant.
As December 3rd approaches, one fighter seeks revenge, the other seeks redemption, and boxing gets another instant classic.