Sir Alex Ferguson: A Look at 25 Years at Manchester United
November 3, 2011
Michael Regan/Getty Images
Sir Alex Ferguson started out at Manchester United 25 years ago, on 6th November 1986. That was a full nine days before current midfielder Nani was even born.
The statistics give you some idea of just how much Sir Alex has done for United. 12 Premier League triumphs, five FA Cups, four League Cups, two Champions Leagues, a Club World Cup and 10 Community Shields amount to an unparalleled haul that brings home just how dominant Manchester United have been for much of the Premier League era.
In today's managerial environment, Fergie probably wouldn't still be in the Old Trafford hot seat.
Fegie's first few seasons at Old Trafford saw very mixed results. He pulled the club up to mid-table respectability after taking over a side languishing close to the foot of the table, and secured a second place finish in 1988, but saw his side's fortunes plummet in the following season; they finished 11th after being widely tipped as title contenders. 
Finishing 11th after finishing second in the preceding season would be cause for dismissal from just about any club in any professional league in the 21st century, let alone Manchester United. As Fabio Capello discovered at Real Madrid, even winning the league isn't always enough for you to keep your job.
This all culminated during the next season, which saw United lose 5-1 away at Manchester City, with a run of shocking results in late 1989 and early 1990. There were widespread calls for Fergie, a manager with a fantastic track record at St Mirren and Aberdeen, to be fired.
The story goes that if Manchester United had not won against Nottingham Forest in the FA Cup, Ferguson would have been fired. We will never know the truth, but Ferguson has stated that his job was never at risk.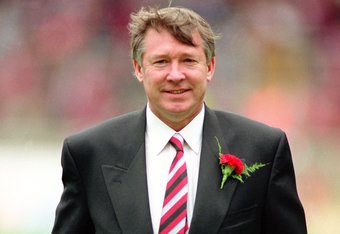 Shaun Botterill/Getty Images
Either way, Fergie kept his job; United went on to win the 1990 FA Cup, but finished 13th in the league, a mere five points above the relegation zone. Still, the FA Cup win allowed them into the Cup Winners' Cup, which they won after beating Barcelona, and finished the next season in a promising sixth position.
Ferguson, already in his sixth season as Manchester United manager, led his side to second position in the 1991-92 competition, but Ferguson was disappointed; they had let a comfortable lead slip and lost out to rivals Leeds United.
The advent of the Premier League marked the start of United's Premier League dominance. A brilliant second half to the season, catalysed by the arrival of Eric Cantona, took the Manchester club to their first league title in 26 years.
Since then, Manchester United and Sir Alex Ferguson have dominated English Football. No other team has managed to challenge for the league title on such a consistent basis.
The point is that it took Ferguson seven seasons to win a league title. In the modern game, it is unlikely that Ferguson would have been given time to prosper, to play the long game.
This raises a question. What if managers today were given that chance? Could Steve Kean, the much-maligned Blackburn manager, turn out to be the man to take Blackburn back to the top of the Premier League. He is certainly handling the pressure well, but it is unlikely that we'll ever know.
The big money of today's top European leagues means that teams cannot afford to put their faith in a manager and wait for the results to come. Instant success is the name of the game, and that is not necessarily a good thing.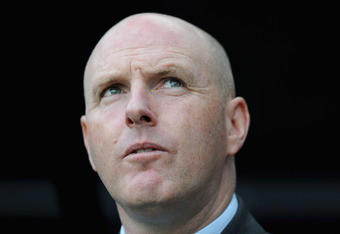 Gareth Copley/Getty Images
Take my club, Portsmouth, who were not prepared to wait, build slowly and improve their financial base. The club traded an FA Cup for relegation and bankruptcy. Was it worth it? No.
Manchester City, the latest challengers to Fergie's dominance of Premier League football, have, as Chelsea did before them, taken the fast route to success. They have huge financial clout, and have quickly risen from mid-table anonymity to Champions League football and global recognition.
They will not go the same way as Portsmouth for a whole host of reasons, but the thirst for success is the same. Chelsea are yet to find managerial stability, and City, while they are heading in the right direction, are yet to do so either.
A solid base is needed, or eventually the tower will topple. Who knows if it will happen to City or Chelsea, but a slow build with a good manager would certainly have saved money.
Things are worse on the continent. The longest serving manager of any Serie A club is Attilio Tesser of Navaro. Haven't heard of him? That's because Navarro have just been promoted, for the second year in a row.
In case you were wondering, Navarro are in 18th, one point behind Inter Milan.
Can all this instability help clubs in the long run? It does not seem likely to me. Manchester United and Arsenal have been the two most successful clubs in the Premier League era, and they have the two longest-serving managers (by the way, is anyone still keen on firing Wenger?).
That does not seem like a coincidence to me. Obviously, top clubs can achieve plenty without managerial stability, but sustained success is certainly easier with it; Frank Rijkaard's five years at Barcelona turned them back into world-beaters after a period of several managers and declining fortunes.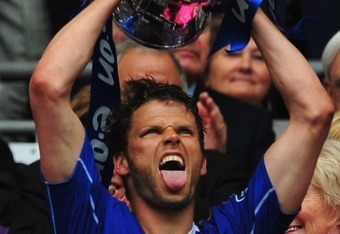 Shaun Botterill/Getty Images
Ferguson has, quite clearly, brought a lot more than managerial stability. He has brought an infectious drive that seems to invigorate every player at the club.
For all the talk of "Fergie Time," it is not simply luck or the referee's favour that sees United score so many goals late in the game. It is down to a commitment to give your all, to never give up (see the 1999 Champions League final).
It is an attitude that is developed through hard work every day on the training field. Take David Beckham and Ryan Giggs. They are 36 and 37, respectively, yet they both still have the drive to compete and succeed that they did when they started out nearly 20 years ago (Beckham still wants to play for England)
That may be partly a natural drive, but it is one that Ferguson taught them paid off. That is what he brought from his first day in charge of United.
Paul McGrath, one of the best defenders around at the time of Ferguson's appointment, quickly fell out of favour due to his drinking habit, and was sold in 1989. McGrath remained a top defender with Aston Villa for several years, but for Ferguson, attitude was everything, and drinking meant that McGrath could not be relied on.
That same commitment is apparent in Ferguson. He has seen countless players come and go, and countless challengers, many of them world-beaters, but has always found a way to replace them or live without them.
The most recent example, Cristiano Ronaldo's departure to Real Madrid was seen as a terrible loss, yet after his move, the club finished second before returning to the top of the table in the following season, without buying a replacement.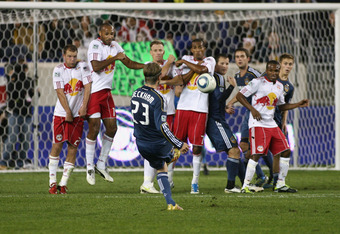 Andy Marlin/Getty Images
Before that, there was the game-changing purchase of Chelsea by Roman Abramovich. After some success for Chelsea, Fergie hit back by winning three consecutive Premier League crowns and a Champions League.
Sir Alex Ferguson is perfectly happy to think long-term. He can find young players in the same way Arsene Wenger does, and mix them with proven world class players to make top teams. Combinations like Scholes and Cantona, Rooney and van Nistelrooy and Vidic and Jones have helped the younger players develop, in training and in matches, while also keeping the established first-team players honest.
Alan Hansen's famous statement that "You can't win anything with kids" had already been proven to not apply to Ferguson when Hansen said it. He won the 1977 Scottish First Division with a squad younger than anything Arsene Wenger fields today.
A mixture of youth, experience and mind games won the league in the 1995-96 season (when Hansen made his claim), and it is a formula he still uses.
To keep regenerating your team, as Ferguson has, requires a great deal of effort and determination. To never rest on the success a side has already achieved, and to always be improving must be an exhausting experience. To do it for 25 years is a superhuman effort. To still be doing it aged 69, with a pacemaker, in a sport where you cannot slow down, is miraculous.
As hard as it is to imagine, one day Sir Alex Ferguson will not be manager of Manchester United. Probably the definition of a tough act to follow, it will take a manager of immense self-belief, will power and ability to be able to withstand the weight of expectation and apply his own style to a club that has been molded to Ferguson's design.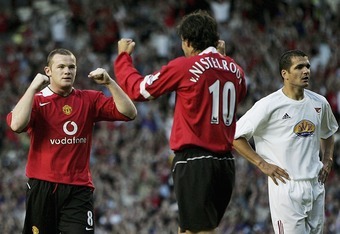 Clive Brunskill/Getty Images
It is not an impossible task, but it is vital that the club involve Ferguson in the selection process. Be it in two years, five years or 10, Ferguson knows the club better than anyone else, and is in the best position possible to find a manager who will suit the club, the staff and the current squad.
It will not be an easy transition, and a balance must be found between having a successor ready for when Ferguson departs and not having the next man chosen too early. The last thing anyone wants is to have it feel as if Ferguson is hanging on, just keeping things afloat until the next man takes over.
Picking the successor and the time to depart will be the final services Ferguson does for Manchester United as manager. It is the only area he has no practice in. Will he be able to handle the situation? Obviously we cannot know for sure, but he has dealt with everything football has thrown at him in 37 years of football management, so why shouldn't he handle finding a successor with skill?
So, here's to Sir Alex Ferguson, a manager of incredible ability, determination, passion and commitment. For all the claims of bullying officials, biased refs and intimidation, there is no denying that beneath it all sits an ingenious footballing brain that can break rivals' spirits on the pitch and in the press room.
A master of just about every aspect of football management, whether you like it or not, the Scotsman is making it harder for anyone to better him with each passing day, and he shows no signs of stopping.