Denver Broncos: What We Learned About Tim Tebow After Victory
October 24, 2011
Scott Cunningham/Getty Images
Tim Tebow played terrible for the entire game until the last five minutes of the fourth quarter.
He looked shaky in the pocket, running around into defensive ends to get sacked. He overthrew a few open receivers including Eric Decker which would have gone for a touchdown. He even missed several open receivers throughout the game not from accuracy issues, but simply from not reading the coverage correctly.
Despite all of those flaws and 55 minutes of terrible offensive football, Tebow showed everyone why he's the starting quarterback for the Broncos at the moment, and why he gives Denver fans hope for the future.
Tebow managed to lead the Broncos from a 15 point deficit in just four minutes to tie the score at 15-15 and lead the Broncos to victory in OT with a Matt Prater 53 yard field goal.
You guys either watched the game or have read enough articles to know the entire story of the game, so the question is what did we learn about Tim Tebow in his performance against the Miami Dolphins? What did we learn about this future's franchise with Tebow in their plans?
Let's get this out of the way. Tebow has a lot to work on. This wasn't unexpected. However, these are things that should be improved upon. I'm not talking about his throwing mechanics where he has a weird arm delivery. Things like that are very hard to change when you've been doing it a certain way for the first 23 years of your life.
One of the things Tebow should be able to improve upon with more starts under his belt is pocket awareness. The Broncos offensive line is terrible. Nobody is arguing otherwise. They weren't lighting the world on fire with Kyle Orton under center, and even with one of the most mobile quarterbacks in the NFL who is an absolute bull to take down at 240 pounds, they gave up seven sacks.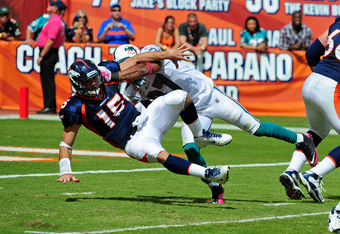 Scott Cunningham/Getty Images
However, it is not only an indicator of the offensive line, but Tebow himself.
When the pocket would collapse, or when Tebow felt like the pocket was collapsing, he'd frequently run outside of the pocket and straight into a defensive end on the left or right side of the hashmarks, whether it would be into Jason Taylor or Cameron Wake.
Another attribute that needs to be improved upon is stepping up in the pocket. I'm not saying Tebow needs to be Tom Brady or Dan Marino and stand like a statue in the pocket while 300 pounders are falling within inches of breaking his leg.
However, there are gonna be times where he cannot run the football because there simply is no space and he's going to need to step up in the pocket a few times a game to deliver well-thrown passes. He had the opportunity to do this several times yesterday, but did not look comfortable in stepping up in the pocket and straight up taking a shot in the guy. That will take a little bit of time to develop.
An attribute that could not be expected out of Tim considering it was his fourth start was the ability to make presnap reads. Tebow has not been bad at this any time he has seen significant action at quarterback. This game was a different story and it revealed that Tebow does have a ways to go when it comes to reading blitzes. It is the quarterback's job to to read blitzers and tell his offensive line how to adjust in order to block those oncoming blitzers.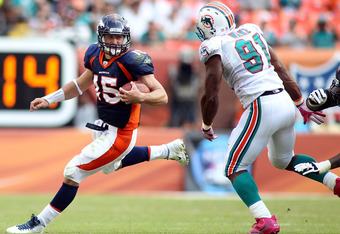 Marc Serota/Getty Images
Again, you can't really blame Tebow for the presnap reads considering how inexperienced he is, but it's something that he needs and should pick up on as his NFL career progresses.
Now that the pocket awareness is out of the way, Tebow needs to work on several things, but one of them sticks out like a sore thumb. The accuracy needs to be improved as he was 13 of 27, but it's the ability to find open receivers when they are there.
There were numerous occasions where Tebow simply threw the ball out of bounds when there were open receivers on the field.
There was one point in the fourth quarter on the drive to make it 15-7 on first down past the 50 yard line where Tebow had an open receiver standing on the left side of the field with no defensive players in his area within the next five to ten yards and Tebow throws the ball........out of bounds.
Did I mention that he threw the ball while looking directly towards the left side of the field?
These are clear areas that Tebow needs to improve on and should as he gains more experience. Now that I got the negatives out of the way, let me get to the positives.
Tebow is a winner. He has all of the intangibles that you'd want in your quarterback. He can win games despite playing as bad as you can possibly play through 55 minutes of a football game.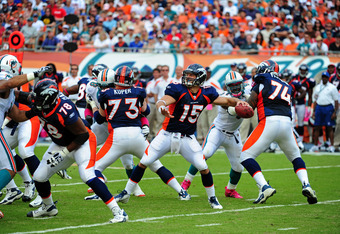 Scott Cunningham/Getty Images
Here is the thing about Tebow that will continue making the Broncos competitive, but make all other fans groan and make the media continually criticize his performances: he is never going to be your classic prototype quarterback.
"Football analysts" continually cite his weaknesses. They talk about his lack of accuracy. They talk about his lack of throwing mechanics.
Both of those assessments are true.
However, Tebow overcompensates for the lack of accuracy and mechanics with his versatility, leadership and ability to improvise.
The NFL has never seen a quarterback succeed that is like Tim Tebow. The NFL has never seen a quarterback that is like Tim Tebow, period.
This is one of the reasons why you will continually have fans and the media downplay Tebow's victories. There will be so much to criticize and dissect. I wrote in my preview of this game that Tebow wouldn't make it look pretty, but he'd pull out the victory. That is what Tebow does. He wins.
You'll always have people saying "he won't be able to last by playing that kind of football." What supports that argument?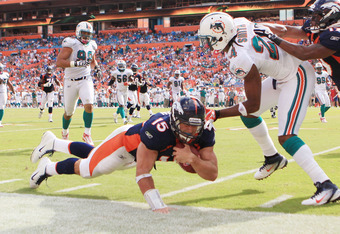 Marc Serota/Getty Images
In all five games he has seen significant action in at quarterback, the Broncos have been competitive in every game. He has already led two fourth quarter comebacks in four career starts. He has led a 17 point second half comeback in his second career start vs. the Texans and he just recently completed a 15 point comeback against the Miami Dolphins with only four minutes remaining.
But you'll always have people that will never embrace Tebow's style of play because it's not what is expected out of your starting quarterback.
Your starting quarterback is supposed to have a rocket arm like Peyton Manning. Your starting quarterback is supposed to have uncanny accuracy such as Aaron Rodgers or Tom Brady. Your quarterback is supposed to have pocket awareness the likes of Dan Marino.
Tebow doesn't have either of those things and that's why people don't know how to properly analyze Tebow.
Tebow is never going to complete 65 percent of his passes in a season. He may get better in the pocket awareness department, but he'll always have the mentality to either scramble for easy yardage or scramble outside of the pocket to prolong the play.
Tebow is a new kind of breed. I saw a statistic that stated out of his 65 rushing yards, 53 were after contact. That is better than pretty much every running back you can think of. That is an absolute bulldozer mentality. No quarterback this season has those kind of rushing statistics through seven weeks of the season when it pertains to yards after contact.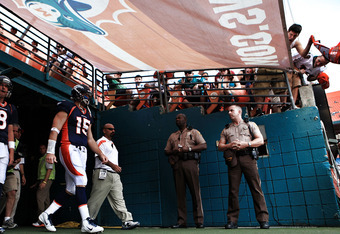 Marc Serota/Getty Images
And that is the beautiful thing about Tim Tebow. Tebow will continue to prove his detractors wrong and they will continue to find ways to downplay his performance because he plays an unorthodox style. Because he plays like no other quarterback has played before in the NFL. We've seen Mike Vick and Randall Cunningham play. Both were extraordinary runners who relied moreso upon speed than brute strength to gain their rushing yards.
Tebow is built like a fullback and gains his yards by simply running over people. The NFL has never seen a quarterback that can do that on a game to game basis.
You will continue seeing articles such as this on ESPN, where they list win probabilities and the defense to downplay Tebow's performance.
I may be mistaken, but if the Broncos were down 15-0 with five minutes remaining and Tebow leads the comeback to tie and eventually win the game for the Broncos, wouldn't that make the victory even more impressive if they only had a one percent chance to win at that point?
As far as DJ Williams' play on Matt Moore, there is no doubt that is what directly lead to the Broncos winning the game. The defense deserves a hell of a lot of credit for keeping this team in the game through 55 minutes of offensively-inept football.
However, Tebow is the quarterback who spearheaded the charge and threw two touchdowns in the last three minutes of the game to tie the game 15-15. You're honestly going to bring up one play DJ Williams made and ignore the dozen others that Tebow made in the last few minutes of the game despite the atrocious blocking of his offensive line?
What did we learn about Tebow after yesterday's game?
He has a lot to improve upon. But although he has a lot to improve upon, the Broncos are never out of any game with Tebow starting. That is what a real quarterback does. He doesn't need to throw laser passes, he simply needs to win games. That is what Tebow does, because Tebow is a true quarterback.