Denard Robinson Injury: Injury-Prone QB or Just Bad Luck?
October 15, 2011
Leon Halip/Getty Images
Denard Robinson is one of the most electric and exciting players in the nation. He's also been hampered with off-and-on injuries. Is he an injury-prone quarterback, or has he just had bad luck?
Look back at the stats and it's pretty hard to see from them alone where Robinson was ever even injured. He played in 12 games in 2009, saw action in all 13 games of the 2010 season and has been the starter of every game so far this season.
His numbers in each of those seasons range from good to downright impressive.
However, he's been nagged by injuries almost from the word go. Today, he suffered an upper body injury during the showdown with Michigan State. That's on top of injuries he'd already sustained to both hands.
Last year, he was injured in the game against Illinois and struggled at various times with ailments largely due to taking multiple hits.
That's the biggest key to Robinson's injury status—both past and present.
Michigan's Offense Leaves Him Vulnerable
I would never dream of suggesting that Brady Hoke should change his offensive scheme. It has worked, is working and will likely continue to work into the future.
This year's version of the offense isn't far removed from what Rich Rodriguez employed while he was at Ann Arbor. That offense finished 2010 as the third best in the conference in terms of scoring. No, this year's offense isn't a real spread offense, but it is still designed to get Robinson room to run, option or pass.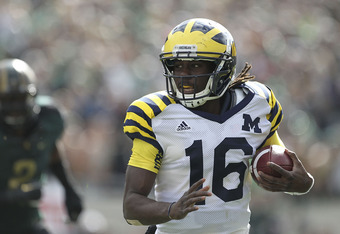 Leon Halip/Getty Images
The problem is, however, that it also puts Robinson in a position to take a lot of hits.
If you watch teams like Penn State or Iowa, you will see their quarterbacks rarely running forward of the line of scrimmage, and when they do, they tend to slide rather than take a hit. They're largely pocket quarterbacks—with the exception of Rob Bolden.
Those offenses are designed with quarterback safety in mind. They don't want their signal-callers getting hit any more than necessary, and certainly not while moving forward and making the impact that much greater.
Denard Robinson can't realistically slide every time he moves forward to avoid injury. That's not how the Wolverine offense works. He makes moves, he dashes past people and he tries to shed the hits. If he doesn't do those things, he doesn't get the kind of production we're used to seeing from him.
Running backs do it all the time, but Robinson isn't a true running back. He's not built like a running back. He doesn't have that extra 20 to 30 pounds of sheer muscle to help absorb (and often level) blows.
He's built more like a receiver, but he sees more carries than the average receiver ever sees catches. He's taking more moving shots than the average receiver will per game.
It's going to happen.
This is the Big Ten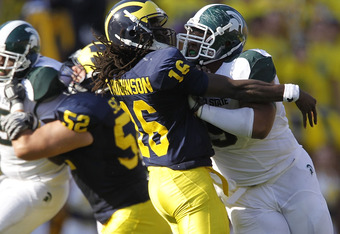 Leon Halip/Getty Images
Before anyone gets their knickers in a twist, I recognize that other conferences play decent defense. I also recognize that this isn't the best defensively that the Big Ten has been in recent years.
Still, there is one hallmark of Big Ten defense that hasn't changed—heavy hits.
Whether we're talking about Michigan State or Ohio State, Wisconsin or Iowa, Penn State or Illinois, Big Ten teams hit hard. It's part of the identity of this league. Coaches in this conference don't like arm tackles and they don't put up with weak dives at the legs.
They want to hear pads popping. They want to feel the concussion from the sidelines. They want full-body assaults that leave bruises for weeks.
Against weaker, out-of-conference opponents, Robinson can largely get by without taking too many major shots. He can bob and weave, slipping out of arm grabs and leaving lesser athletes in his dust. Against Big Ten opponents, however, that's not so easily accomplished.
He will get hit—a lot. When he does, there's a much bigger chance that most of those hits will be bone-jarring shots that are felt from Happy Valley to Lincoln and everywhere in between.
Robinson isn't necessarily injury prone. He's also not necessarily unlucky.
He's a smallish quarterback, putting himself in harm's way more often than not, and taking on some of the hardest hitters in the nation. Injuries aren't unlikely.
He's just been a victim of circumstance.