Week 6 NFL Lines: Raider Inspiration, Harbaugh Nation and Miami's Draft Strategy
October 12, 2011
Streeter Lecka/Getty Images
While the Indianapolis Colts would love to be two games over .500 right now (or, would they?), I tend to have higher expectations for myself.  I can't feel too badly about my performance, however, as Week 5 in the NFL proved to be, well, unpredictable.
If I learned one thing from Sunday's games, it's that emotion and pride still play a role in this sport, as evidenced by the inspired Oakland Raiders.  If I learned two things, however, it would be to never bet against a Harbaugh.  These guys are bred to coach football.  I don't know how many more of them are out there, but I can think of a few teams that need one.
Even with the Buccaneers, Giants and Eagles imploding in my face, not all went wrong in Week 5.  The Panthers continue to be an ATS machine, the Raiders got the points but also won the game and I ended up on the right side of a lateral touchdown debacle in Jacksonville.  That play surely broke the hearts (and wallets) of gamblers everywhere.
But now it's Wednesday, the past is behind us, and Week 6 welcomes in a plethora of new challenges.  High point lines are the theme for this week, as six teams are favored by at least one touchdown.  Will the Jets finally throw the ball downfield against the lowly Dolphins?  Will Jay Cutler survive another week?  Will Joe Montana take off his Alex Smith mask and reveal to the world that, at 55 years old, he's still got it?
Find out these answers and more as I predict your Week 6 NFL lines (via Sportsbook.ag).
Green Bay Packers (-14.5) over St. Louis Rams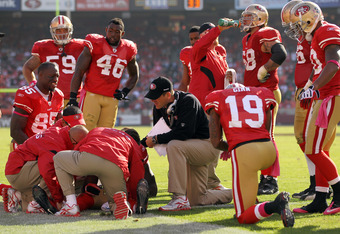 Ezra Shaw/Getty Images
 Like I said, Week 6 in the NFL features some high lines.  This line may very well have been higher if the Rams weren't coming off their bye week.  I could honestly see this line getting up to 17 by Friday.  The Rams are awful, and I didn't hear of anything happening during the bye week to make me feel like that has changed.  It's a high line, sure, but I'm taking the Champs and not mentioning the Rams again.
Jacksonville Jaguars (+12.5) over Pittsburgh Steelers
 I'm sure many unhappy gamblers will be searching for vengeance against the lowly Jags after a meaningless Cincinnati touchdown came as a result of a desperate, last-second lateral contest.  Had they read my picks, however, they'd be sleeping on the other side of that pillow. 
I don't trust Pittsburgh.  They've looked like five different teams in five different weeks, and I just can't see them serving up back-to-back blowouts.  Similarly, Jacksonville usually plays the Steelers close, and while they may be significantly worse than in years past, they can run the ball and their defense is okay, right?  Convincing argument, I know.
Washington Redskins (+1) over Philadelphia Eagles
It's a pick 'em!  For the first week this season, Philadelphia is not favored to win their game (sort of).  Also for the first time this year, I'm not going to say this is the week the dream team wakes up.  Until further notice, the Philadelphia Eagles are, quite simply, not very good.  Their biggest weakness—stopping the run—plays right into Washington's biggest (and only) offensive strength: running the football.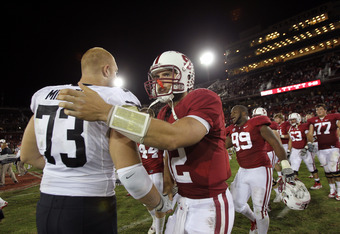 Ezra Shaw/Getty Images
Quite frankly, I expect the Redskins' defense to knock Michael Vick out of this game before halftime.  Despite that blind confidence, I will be staying away from this game as it violates my No. 1 rule of sports betting: don't bet on teams that you root for.  Emotion always overrides logic.  Hail!
San Francisco 49ers (+5) over Detroit Lions
 I was very close to completely disregarding my own advice in the introduction of this article and betting against a Harbaugh, but I didn't.  I still think Detroit will win, but I'll admit it, the 49ers are good. Matt Forte had a good game against Detroit on Monday night, showing that the Lions are somewhat susceptible to the run, and run the Niners do. 
On the other hand, I could also see the Suh Army harassing Alex Smith and reverting him back to the secondhand quarterback we all know he is, but for now, the safe bet is to take the points.
Carolina Panthers (+4.5) over Atlanta Falcons
 Cam Newton can't buy his team a win, but this kid must be taking the points on the Panthers every week, because he sure doesn't quit on games.  The Panthers have won against the spread every week except for the Arizona game in Week 1 (the spread was 6.5; they lost by a touchdown).  If the Falcons weren't so desperate for a victory themselves, I might pick Carolina to win.
Speaking of Atlanta, is Matt Ryan overrated?  His stats are pretty good, and he had a phenomenal 2010 but I never have faith in him.  While his glory days at Boston College might have earned him the nickname "Matty Ice," his big game performances in the NFL so far have been anything but clutch.  Even last year when they went 13-3, I knew they would lose in the playoffs.  There's just something about them, something that doesn't show up on paper, that isn't right.
Indianapolis Colts (+7) over Cincinnati Bengals
 The Colts have to win sometime, don't they?  No, actually, and I for one don't think it's going to happen this week.  That said, their passing game looks like it's coming together, and I think they'll at least be able to keep it close.  Plus, I just don't see the Bengals blowing anyone out. 
On a side note, if Indy gets Andrew Luck I'll cry myself to sleep every night for years.  As a true admirer of Luck, and the only person on earth who dislikes Peyton Manning, this is a worst-possible scenario.  The only two things I can hope for are A) the Miami Dolphins are smart enough to give up on their season, or B) Indianapolis decides to be faithful to their star, not rush Peyton into retirement (yea, right, loyalty in the NFL?) and trades the first overall pick to my Washington Redskins.  A fella' can dream, can't he?
Buffalo Bills (+3) over New York Giants
 Currently, the Buffalo Bills are the Rodney Dangerfield of the NFL.  They get no respect.  The Giants lost to the pathetic Seahawks and get rewarded by being three-point favorites against a 4-1 team.  I guess that's why I don't make the lines. 
The Giants run defense is better than the Eagles, so Fred Jackson shouldn't have another field day.  Even so, their defensive backfield is worse, and their offense doesn't have nearly the number of weapons Philly's does.  The Giants seem to follow up their bad weeks with good ones, so maybe Sportsbook is depending on that, but there's no way I'm betting against a three-point dog that's only lost once this season.
Baltimore Ravens (-7.5) over Houston Texans
 A better bet would be picking which Texans' star will get hurt next.  In related news, the Ravens feature one of the NFL's meanest defenses and have had two weeks to prepare for a Houston team with no Andre Johnson or Mario Williams.  Also, again, the Harbaugh thing. 
Oakland Raiders (-5.5) over Cleveland Browns
 Just win, baby.  Al Davis' infamous words elucidate the type of game Oakland played on Sunday.  Jason Campbell completed less than half of his passes.  Darren McFadden rushed for just 51 yards and averaged a measly 3.2 yards per carry.  But what did they do? They just won, baby.
Meanwhile, it may not be 1976, but plenty of bombs are going off in Cleveland.  Their target: Peyton Hillis.  Everybody's favorite cover boy has taken quite a bit of heat lately, from teammates, fans and the media, for missing a game against the Miami Dolphins due to strep throat.  The big deal, however, is that Hillis was apparently deterred from playing because of his agent's advice.  I'm sure there's no way the agent was considering Peyton's expiring contract when he gave said advice.  At least Hillis came up with a new and creative way to let the Madden curse impinge on his season.
Dallas Cowboys (+7) over New England Patriots
 Yes, I'm taking my arch nemesis and the points, and yes, my scowl is hideous.  Hear me out.  I still think Dallas will lose, however, it is common fact that New England can't stop anyone through the air.  Also, Dallas is coming off of a bye and has a healthy Tony Romo and Miles Austin.  Unless the Cowboys hired Brian Schottenheimer as their offensive coordinator in the dead of night, they should be able to put up some points on the Pats.
Unfortunately for Jason Garrett and company, New England can score too.  I'm thinking something like 38-35 Patriots.  I might tease this bet with the over as well, which is 55.
New Orleans Saints (-4.5) over Tampa Bay Buccaneers
 The Bucs are done.  With Josh Freeman and LeGarrette Blount both possibly hobbled, this team is in trouble.  The Saints haven't lost since their Week 1 matchup with Green Bay and will probably be angry that the Panthers even managed to beat the spread against them.  Last week was the prefect time to bet against New Orleans.  I'm not stupid enough to do it twice in a row.
Chicago Bears (-3) over Minnesota Vikings
Where did Chicago get their offensive line?  Granted, the run-blocking has been solid the past two weeks, and Matt Forte has found the open lanes.  So, do they put different guys in on passing downs?  Over the past few days the media has been all over the Jay Cutler bandwagon, kissing his feet, calling his performance in a loss at Detroit "heroic."
I don't see why his performance is even news; it's been like this for the past two seasons.  I couldn't believe how much flak Cutler caught when he couldn't play in the second half of the NFC championship last year.  A guy who led his team to an NFC North crown, as well as to the NFC Championship game with a line that is pedestrian at best, deserves better.  Cutler was sacked nine times in a 2010 game against the Giants.  He's been sacked 18 times already this year and wound up on his back way more than that.  He was sacked 52 times last year.  Meanwhile, Mike Martz continues to call five-wide spread sets like a parent who refuses to admit his kid's on drugs.
Anyway, despite bashing them unmercifully for the last two paragraphs, I'll take the Bears to cover.
New York Jets (-7) over Miami Dolphins
Another team in turmoil, rumors from East Rutherford are that several receivers, including Plaxico Burress and Santonio Holmes, have ratted out Brian Schottenheimer for his lackluster play-calling.  You'd think after serving some time, Plax would've learned a thing or two about snitching, but instead it's all he's done since he got out.  He called out Tom Coughlin, he called out Eli and now he's calling out Schottenheimer.  Meanwhile Derrick Mason, another of the receivers accused of personally complaining to Rex Ryan about the play calls, has already been traded.
Rex is smart, however, and he'll have a little more to do with the offensive game plan this week.  Expect the Jets to air it out, and expect the Dolphins to do little to stop it.  New York needs a statement game, and they have a coach who likes to make a statement.  Besides, doesn't Miami have anything better to do, like plan their draft strategy?