Denver Broncos: In Classic Kyle Orton Fashion, the QB Proves His Critics Right
September 13, 2011
Doug Pensinger/Getty Images
This article is part of TheFanManifesto
Enough already.
I tried to stick up for Kyle Orton.  I tried to pretend as if his glaring inconsistencies last year were merely because of an inept running game and a hemorrhaging defense. 
However, after tonight's performance, I am done. 
After dragging the Denver Broncos faithful through the biggest drama to hit the town since The Real World, Orton had the opportunity to come out and prove his worth.  He proved what he is worth all right, but I am not allowed to put that in print. 
Yes, he could have silenced the Tim Tebow flock.  He could have come out and led the Broncos to touchdowns in the vaunted red zone.  He had this very opportunity in the first quarter against the Oakland Raiders on Monday Night Football. 
Nope.  Field Goal.  "Same old Orton," as his critics say. 
Even then, I assiduously conned myself into believing next time would be different.  I told myself, "There is simply no way that all of these people (outside of the imbecile that is Trent Dilfer) can be right about Orton." 
I was wrong.
Dead wrong. 
What was at stake
Clearly, Orton had to have known what was at stake tonight.  This is the only nationally televised game Denver will have this year.  Well, I guess you can count the Jets game in November, but do we really want to see what those guys do to Orton?  As I recall, it did not work out too well for him last season. 
Orton could have put the controversy, the drama that has permeated the airwaves like a foul stench, to rest.  All he had to do was play like he is capable of playing.  However, I finally have acknowledged the fact that we have seen how he is capable of playing. 
Again, I cannot put it in print.  However, it too carries with it a foul stench. 
Yet, what did he do? 
The normal pedestrian red-zone production (or lack thereof) and the inevitable tease at the end when the Raiders secondary was so deep I think it was at the concession stands.  By this time, the chants for his drama counterpart—Tim Tebow—were already becoming noxious to Orton's psyche.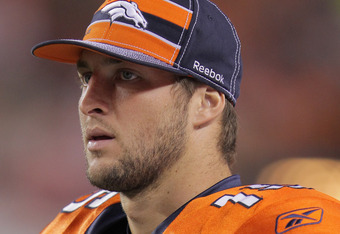 Doug Pensinger/Getty Images
The proverbial straw
What did me in was a play that I still cannot believe happened.  If I did not witness it with my own eyes I would have honestly thought someone was making it up. Yet it was real.  All too real.  Orton had done it again. 
Trailing 16-13 in the fourth quarter, Denver finally began to gain some momentum.  The Broncos had landed in Raider territory after the 71st personal foul penalty of the game (hyperbole—no need to give me the official stat).  As the Bronco faithful are awaiting the moment—the moment in which Orton slays the dragon that is the Tebow flock—Orton rolls out to his right and, in an effort to trick even himself, drops...the...ball.
The presence of an overly threatening pass rush was not there.  Orton saw himself slaying the flock, giving the one finger salute to both Tebow and his fans, and he could not seal the deal. 
He fumbled. 
He gave the ball and the victory—both personal and professional—to the Raiders and the critics.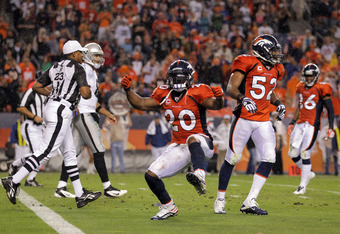 Doug Pensinger/Getty Images
It was at this point that I realized that Orton is who I always thought he was.  He is the same guy that I was adamantly against trading Jay Cutler for.  He is the same "brings his lunch pail to work kinda guy" that I detested two years ago—and now his critics find him even more abhorrent.   
The repercussions
I am not interested in entertaining viewpoints that may suggest that it "was not Orton who allowed McFadden to rush for more than 150 yards" or "it was not Orton's fault that his receivers dropped passes," or even "he still does not have a running game."   
Save it.
The Raiders do not have a quarterback and they still managed to win tonight. 
The fact is this: If Orton is able to lead his team down for a touchdown that would have taken the lead in a sloppy, penalty-filled joke of a professional football game—like any starting QB is expected to do—here is a plausible scenario of what happens next. 
The defense, which played admirably when you consider that last year it hemorrhaged yards and points much like an ER patient hemorrhages blood, would have come out fired up and determined to make a stop.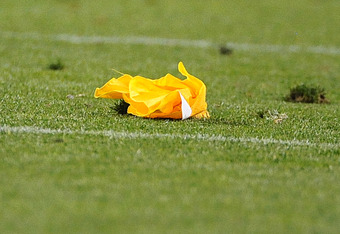 Garrett Ellwood/Getty Images
The crowd, after running back to their seats after some of them got a little wet (what will happen when it snows?), would have been equally as fired up and would have made it as difficult as possible for the visiting team. 
Three and out on the Raiders next possession?  Maybe.  
Of course, this is all based solely on conjecture because that is not what happened. 
Kyle Orton, in classic Kyle Orton fashion, managed to outdo himself tonight. 
The defense went back out onto the field dejected. 
The crowd just wanted Tebow. 
The Raiders took advantage of the misfortune that is Kyle Orton and quickly put the dagger to the jugular.  Touchdown.  23-13.  Game over. 
Last-minute heroics?
Yeah right.  The only heroics Orton would perform on this night was to get to his car before being castigated and possibly sacrificed by the members of the flock.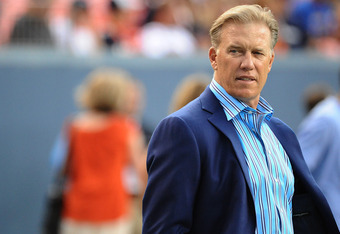 Garrett Ellwood/Getty Images
There are some who may point to his last minute touchdown drive. 
Again. Save it. 
This is the same all-too-familiar scenario we witnessed consistently last season.  A situation, which goes as follows: Orton is fantastic—and I mean really fantastic—when the Broncos are trailing by more than seven points.  His QB rating last year was 110.8.
However, when trailing by seven or fewer points his stats plummet to the tune of a QB rating that hovers around the 58.5 area while throwing six of his nine picks in that scenario. Check it out here.
No.  Last-minute heroics were not on the menu.  Orton did just enough so that he could walk away clean and the uneducated viewer would blame the defense for not being able to get the Raiders off the field in the final four minutes. 
Not anymore. 
The defense could get the Raiders off the field for what?  So that Orton could build us up to just tear us down like he did most of last season and has done all of this preseason?  
I, for one, am done.  I am through with Kyle Orton. 
Unfortunately, I do not think the front office is—or ever will be.  
On Monday night, Kyle Orton had the opportunity to silence his many critics.  Instead, he ended up proving them just how right they are.  
Daniel is also a contributor to TheFanManifesto. Check out his manifesto's at TheFanManifesto.com.