Chicago Bulls' Derrick Rose Creating a Legacy for Those Who Missed out on MJ
September 8, 2011
Mike Ehrmann/Getty Images
Derrick Rose will never replace Michael Jordan in the city of Chicago. That is final.
I don't care if Rose even wins seven championships; he will never top Jordan. That being said, he could still do something big in Chicago.
The 2010-11 MVP—the youngest to ever capture the award—will still make a significant impact on older fans, but more so among the youth.
This is a new generation, and Michael Jordan has not sported the black, red and white since '98. If you are a Bulls fan, you know Jordan. His shoes are the most coveted, his number is basically untouchable and he is the definition of greatness. The thing is, many of these younger fans never actually saw Jordan play. Sad thing is, they will never truly get to experience those glory days.
Sure, there are videos on YouTube and you can see highlights all over the place, but it is just different from experiencing it in real life. Rose has the opportunity to give fans who missed out on this another shot at seeing greatness in Chicago.
In just three years, Rose has become the face of the Chicago Bulls and is becoming better and better every year. Sounds a little like the man who wore 23.
It took Jordan four years to get the Bulls to the Eastern Conference finals, Rose did so in three years, while also finishing the season with the league's best record. At this pace, Rose is poised for big things. His numbers only go up every year, finishing 2010-11 with 25 points per game and 7.7 assists. Rose has already proven that he can lead a team, and perhaps he will prove he can lead the NBA.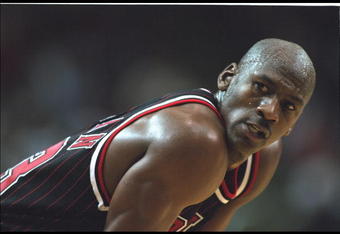 Jonathan Daniel/Getty Images
The thing that Jordan, Pippen and their superb supporting casts did with their two three-peats are legendary in Chicago, but Rose could put his own stamp on the franchise.
Rose has become a true superstar in Chicago. The Chicago-born player is a positive role model, especially with the humble attitude and his cool demeanor he always displays. People forget, but Jordan was a huge trash-talker. Not to take anything away from MJ, but that is one place in which Rose has his number.
So, not only is Derrick a great player, he is also an incredibly positive role model for how a person should approach the game of basketball. That is always a great thing for an athlete to have. Besides for his play, this is going to be one thing that people will remember Rose for when he goes down in history.
Rose put in an incredible amount of work during the the 2010 offseason, and he showed what hard work could do when the Chicago Bulls captured a 62-20 record. Also, he became the first Bulls All-Star starter since Jordan.
Rose has the potential to fill the gap—the one between Bulls fans who saw Jordan and those who just know the story. Not only will he fill that gap, but he will create a new category of his own with the person he is. If Rose can capture championships in Chicago, he will give those fans a story they can tell their kids, rather than just telling them about a player they never actually saw play.
Rose will never have the shoes, the following or the impact that Jordan had on the basketball world, but he certainly can have an impact on what Chicago sports represent. Perhaps, he will put himself in place to take a notch into NBA history with players like Jordan, Kobe Bryant and others who have taken this image of greatness.
I vaguely remember Jordan, as I was only nine years old the year he retired. I saw Jordan play when he played with the Wizards, but I just know it was not the same. Watching Rose play is special, and I can tell it is the closest I am going to get to what I missed out.
If Rose continues on the path he is on, he will never fully bring back the glory days of Jordan, but he could begin the long-awaited post-Jordan dynasty.