Chad Greenway: LB's Lucrative New Contract Will Cost Vikings' Adrian Peterson
September 5, 2011
Jonathan Daniel/Getty Images
The Minnesota Vikings gave Chad Greenway more than just a (love) boatload of money on Monday.
They gave him the future of their franchise.
Or, if you're not into the whole brevity thing, their ability to keep Adrian Peterson around for the foreseeable future.
According to Jeremy Fowler of The St. Paul Pioneer Press, Vikings GM Rick Spielman felt Greenway was the best way for the team's green to go, giving the 28-year-old linebacker a five-year deal worth $41 million, with $20 million in guaranteed money.
Not bad for a guy who has never been to the Pro Bowl or selected to an All-Pro Team and missed his entire rookie season with a torn ACL in 2006.
Granted, Greenway is still an excellent linebacker and the unquestioned leader of Leslie Frazier's defense. Greenway has paced the Vikes in tackles in each of the last three seasons, including a career-best 144 takedowns in 2010.
As far as 'backers go, Greenway is about as versatile as they come. He can rush the passer (5.5 sacks in 2008), plug gaps in the ground game (14 stuffs in 2011) and even step out to cover from time to time (three interceptions, six passes defended in 2009).
With regard to his formerly bum knee, Greenway, who was taken out of Iowa with the 17th pick in the 2006 NFL draft, hasn't missed a game since he got back to playing football full time in 2007.
From an immediate financial standpoint, this move actually does make quite a bit of sense. Had Minny not given Greenway a new deal, they would have owed him $10.1 million just for this season by virtue of the franchise tag they slapped him with in March, thereby precluding him from restricted free agency.
Greenway had also made it clear that he wanted to stay with the Vikings, as a native South Dakotan having spent his entire life in the icy American North.
So, really, the Vikings were smart to keep Greenway, but what does his new deal mean for Adrian Peterson?
Minny's front office is currently hard at work trying to hammer out a new deal with "All Day," though, it will likely take them longer than that after watching the Tennessee Titans fatten Chris Johnson's wallet with a four-year deal worth $53 million, $30 of which is guaranteed.
Peterson's people will likely be seeking a contract worth well more than what Johnson is getting. Peterson had been the highest-paid running back in the NFL, with a salary of $10.2 million for 2011—prior to CJ's upgrade.
As far as ball carrier's go, AD and CJ are the best in the business, though, Peterson's size (6'1", 217 pounds) and strength bode better for his durability over the long haul. However, you can pretty much pencil either one in for 300 carries, 1,300 yards and at least 10 touchdowns in a given season. That being the case, you can bet the four-time Pro Bowler and All-Pro will want to one-up his closest competitor with an even bigger deal when all is said and done.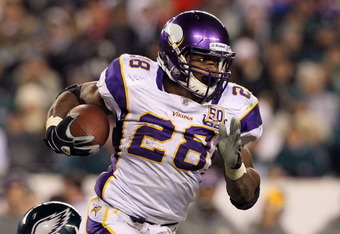 Jim McIsaac/Getty Images
But while Greenway's new terms would seem to push the Vikings out of Peterson's tax bracket, it may actually make keeping their feature back more feasible financially. Assuming Greenway's annual base salary is significantly less than the $10.1 million he would have earned as a franchise player, Minnesota should have enough room under the cap to keep Peterson on board for a similar extended period of time.
Clearly, Peterson will want much more than what Greenway got and will get much more, both as a matter of Peterson's greater importance to the team's success and his performance relative to the best players at his position in the NFL.
However, it remains to be seen what the effect of allocating up to 20 percent of their cap room on two players will have on the Vikings' ability to compete for Super Bowls in the future. For now, though, extending Greenway and attempting to do the same with Peterson is good business, if not exorbitantly expensive.