Hawaii Football: Bryant Moniz Outruns Buffaloes and Defense Suffocates Them
September 4, 2011
Honolulu, HI—It wasn't pretty at times, but when the game was over Hawaii had won 34-17 on the strength of another Bryant Moniz masterpiece and a swarming defense that limited Colorado to just 240 total yards.
Boom. Win number one; 12 to go.
Heading into both team's season opener, Colorado expected the Warrior's offense to come through the air but last night at Aloha Stadium when Moniz couldn't find a passing rhythm and the Buffaloes remained steadfast on shutting it down, the situation created someone that we had never seen before.
"Mobile Mo."
On Hawaii's second possession, having completed just one of four pass attempts so far, the quarterback dubbed "Mighty Mo" surveyed the Colorado defense and then tucked the ball down for a 22-yard scamper. Then, after throwing another incomplete pass, did it again. This time Moniz didn't stop until he gained 34 yards and had drawn a 15-yard personal foul. It seemed like the Colorado defensive player who hit him late was trying to deliver a message on behalf of his team, "Stop running on us. This is not what we expected."
Moniz didn't care. Two possessions later with Hawaii leading 3-0 and the ball at his own 43-yard line "Mobile Mo" took the shotgun snap, faked a hand-off to running back Joey Iosefa, and dashed up the middle of the field. Fifty-seven yards later the only thing left to be determined was who would cross the goal line first, Moniz or Hawaii wide receiver Allen Sampson.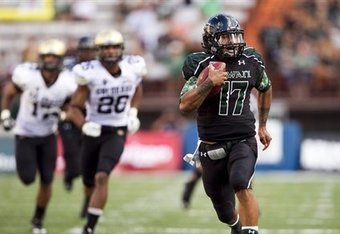 There wasn't a Buffalo in sight.
"I guess they weren't" expecting it Moniz said after the game. "It's something that I never really do, I hardly run, especially that much. I was pretty gassed, my legs were very heavy, I ended up getting an IV to kinda get hydrated... In the offseason I wanted to get stronger, put on a little bit of weight and get faster as well. We did a lot of running in the off-season, on my own and with our strength coaches just working and getting better as a team."
With the "newness" of the offense and its "inexperience," as offensive coordinator Nick Rolovich tells it—Moniz and wide receiver Royce Pollard are the unit's only returning starters—Hawaii was prepared to use Moniz more as a running threat than they had in the past if the situation called for it.
"We talked in the off-season about it," Rolovich said after the game. "(And since) he's our leader on offense... we put it on him. (Tonight) he did it with his legs; he's a complete football player... We're on his back on offense, and he's carrying us. And like I say, he doesn't care how we do it he just wants to win. He wants to win for this state, it means something to him being Hawaiian and being proud of it, and bringing some eyes over here to the islands, that's what he's about."
On defense, Hawaii was about stopping the Buffaloes on the ground. At last week's press conference, Colorado coach Jon Embree said that they were going to try to "run the ball down their throat."
Hawaii defensive coordinator Dave Aranda said after the game that his players took Embree's comment personally.
"I think it was pretty widely known that they were going to come and establish the run on us," Aranda said. "And I think our guys got a lot of pride and kind of took that personally, and that's one thing, to have the emotion into it. But another thing, (in order) to stop the run, you have to have all eleven guys do their job. And I felt we were able to get that more often than not tonight."
The Warriors defense held Colorado to just 17 net rushing yards on the night and in the fourth quarter when the Buffaloes had to throw the ball because they were trailing, Aranda's defense pinned back their ears and went after quarterback Tyler Hansen with a fury.
"Up front we (play) two-gap so much," said Aranda, describing a defensive philosophy that requires his linemen to play with more discipline and less aggressiveness. "(That) when we do have an opportunity to rush the passer, they get really fired up for it because they're generally right in front of a guy trying to push that guy's weight, (so) they're pushing 300-pound guys the whole game. So once we get up on (a team late in the game) and they can be on an edge and pass rush, that's what they want to do so they were able to do it."
In the fourth quarter alone, Hawaii sacked Colorado quarterback Tyler Hansen five times. (Seven in total.)
Their defensive line "made some plays and they got after me a little bit so give 'em credit," Hansen said after the game. "They played their butts off and their (defensive) ends especially got up the field and created some problems for us... I mean we knew those two guys inside were great players, and are gonna be great players, but they had some fast ends that are gonna cause some problems with all the guys in the WAC. And they got some back-ups that can play, they're going to be a real good defense the rest of the year with those guys."
Offensively and defensively, Hawaii made plays when they needed to.
"We made enough plays to win the game," Rolovich said, "and the defense made plays, and the special teams made plays. You talk about out (all) three teams playing together pretty good today."
But the star had to be Moniz. On the ground, he rushed for 121 yards and three scores, both career bests. And after starting the game 1-7 through the air Moniz finished the game strong, completing 19 of his last 26 attempts for 178 total yards and a touchdown.
"I'd rather throw for the 500 and five touchdowns, no doubt," Moniz said when asked if he preferred to have a big game rushing or passing. "But it's just one of those things you got to make plays, and lucky enough I was able to do it with my feet today and walk away healthy. That's the biggest thing, being able to play every week. So I want to walk out of every week healthy, with a "W," and get ready for the next team."
Does this mean that we will not be seeing any more "Mobile Mo"?
Time will tell, there are 12 more games to find out.