NBA Lockout: CBA Changes NBA Must Make During Lockout
July 31, 2011
The NBA has something the NHL, MLB or even the NFL lack.
Facial recognition of nearly all of its stars, even on a casual fan level.
Ask an NBA fan who watches a couple games a month to pick out Derrick Rose (league MVP and point guard of the Chicago Bulls) from four random NBA player pictures, one of which being his, and I'm fairly confident the scales would be very largely tipped toward whichever picture is actually his. 
As for other leagues, it's not quite the same result. 
Perhaps it's the fact that NBA players do not wear helmets, or drive in cars, etc.
Or, perhaps, it's just more entertaining to watch real people do exciting things on the basketball court.
The NBA benefits from it overstocked shelves of NBA stars, because fans constantly are seeking the "next" guy. Every city has a fan favorite. Would that person be a fan favorite if not readily accessible and human-like to the casual fan?
The NFL is touted as a big boy game, where hard hits and feats of athleticism unrivaled abound. However great that might be, unless we catch Mark Sanchez of the Jets sneaking a concessions hot dog, we rarely see their face, their emotions. It's a feeling of disconnect.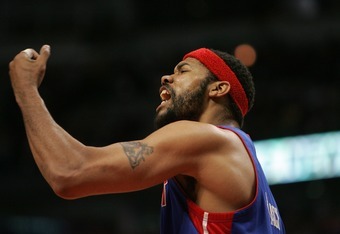 Jonathan Daniel/Getty Images
In the NBA, you see the player's body language, or even their facial expressions while reacting to a momentum-swinging moment in the game, or a call they felt was unjust.
It's almost primal, how emotions nearly bridge the gap, if for just a second, between the Joe Schmoe construction worker and Kobe Bryant, give or take a few millions. We feel and feed off of the emotions of the players and the moment.
We love players like Rasheed Wallace, the all-time leader in technical fouls, because when he is handed one like a piece of daily mail, he reacts colorfully almost every single time. Lets be honest, has an NBA player ever agreed being called for a foul?
The most emotion we get out of penalties or flags called on MLB players or NFL players is a dismissive hand brushed toward a penalizing official, manager Ozzie Guillen of the White Sox might yell at an umpire, we might be so lucky as to be graced by the standard "oh man, I cant believe they called me for holding!" hands-on-your-hips pose all the linemen do in the NFL.
We love when the 24-second shot clock comes off and Kobe Bryant is dribbling the ball to wind down the clock for the last shot, as the clock shows his classic "You see me dribbling? Watch me make this three" face, with his eyes focused, and he's almost putting his opponent in a zone/trance. The showmanship in the NBA, on a fan level, is second to none.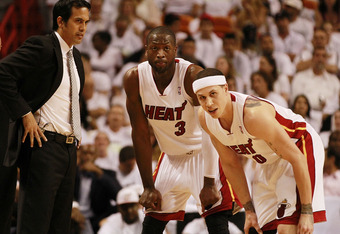 Marc Serota/Getty Images
We love the drama of the Heat coaching staff trying to hold its team together as it begins to fall from a 10 point lead down to two in a matter of moments, as they call timeouts and make substitutions looking for a fresh body to make a stop on defense.
Fans love the NBA, because it feels like every moment is an action of consequence.
A player gets a steal and tosses it to a teammate who takes a poor three pointer. The player who stole the ball looks to the other player with a "what the heck" face, and there's a feeling of being a fly on the wall there, when you see a teammate's frustration with one another.
You can't see that at in the NFL huddle, or especially while keeping pace with hockey. We get moments like Dwayne Wade calling out LeBron James in the middle of a playoff game, challenging him as no teammate before. We see his sunken shoulders and demeanor change for the remainder of the game as he licks his wounds.
All of this fan momentum and connection to the game, though, will soon be turned on its head, and the NBA will stop during its best peak since the Jordan years.
The games will start to be played again until December at the earliest, or so analysts predict, and the season may well have been lost with the deadline for a new CBA having come and gone and the owners electing to lockout the league. Offices internationally have been shut down by the NBA, and teams are cutting payroll of non-player employees.
These are just the first signs of blood in the water concerning the NBA's lockout.
The changes that may come (or, should come) will be at a cost. Imagine taking your existence, like your home, work place, all you've saved in the bank, and then hitting the reset button on all of it.
That's what happened to the NHL a few years ago, as the league needed major adjustment and financial restructuring. The league literally went away for a while. And, like an actor playing fourth lead on a television show, you can ill-afford to go away from the limelight in a country which is consumed by what is fresh, popular, and now when you're not on the level of the NFL in popularity.
Taking a step back and renewing one's self isn't a good thing for brand strengthening purposes.
To the NHL's credit, though, they have turned around quite nicely, and this past NHL Playoffs was one of the most exciting and interesting of the last 10 years.
Can the NBA afford to do the same, and fall away for a year, or two, or three?
The answer is probably yes, but, as with anything else, the longer you take to do something, the better the product needs to be when it finally does return.
The NHL made the necessary changes to make the league more financially sound, and the league is better for it, tenfold. For the NBA, there will be some cutbacks, though. And not the standard "oh we're rolling the hard cap back down a few million" type of cutbacks.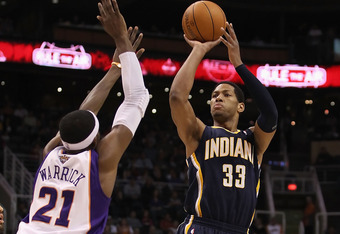 Christian Petersen/Getty Images
Imagine more of a machete like cutback. Teams might be contracted, contract provisions could be enacted to void bad deals, owners may lose some of their power over their own team, to a degree even.
Some are calling for contraction, and I am one of those people.
It's like pruning a nicely kept yard. If your bushes get too big, you cut them back down to size, don't you?
The league doesn't need 30 teams. Not at all. The league could conceivably contract 4 or 5 teams and be perfectly fine, if not better off, on even just a competitiveness level.
Sure, contraction removes hundreds of league jobs. That's business, though. As fans, we tend to think of teams with a sense of permanence, that they'll always be a part of our city.
Talk to Baltimore Colts fans, or the more recent, Seattle Sonics fans.
Those fan bases lost a team to relocation, not contraction, but the fan bases were absolutely crushed to lose their teams to another city.
Now, those fans had/have a choice to either follow the team elsewhere and root for the Indianapolis Colts or the new Oklahoma City Thunder, or not be a fan of the franchise any longer. Imagine those fan bases having no choice, and instead of their team leaving the city, they just stop playing all together.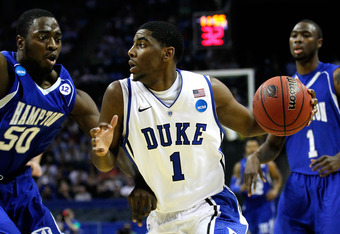 Kevin C. Cox/Getty Images
With contraction, however, it's not all doom and gloom.
In all likelihood, with contraction would come a super free agency or a third round of the draft (or perhaps a supplemental separate draft) to pool the now free agent players back into the league. This would rejuvenate the league after the lockout, exciting the remaining fan bases who now have potential superstars added fresh to their team. 
Maybe Brandon Jennings goes to the Knicks, or Danny Granger ends up on the Lakers.
There are 100's of ways that a contraction draft/secondary free agency could shakeup the league.
Unfortunately, contraction isn't the only thing on the table with the NBA lockout.
Teams are supposedly losing money left and right (while the numbers have been disputed, owners originally claimed the league lost more than $300 million last year) and fans are staying home more often, as it's easy to change the channel to the game in HD and eat your own food for free than to pay for parking, food and a ticket, which is probably for a not-so-good seat anyway.
This is where the NBA can recover best and come back stronger than ever. 
Lower ticket prices make better season ticket packages available and cut the season by about 15-20 games. Given time, fans will come back.
Here are a few other changes I'd suggest be on the table during CBA discussions: cap lengths of contracts at no more than four years per contract for players with at least two years experience, and rookie deals max at two years.
This should encourage NCAA stars to stick with their teams possibly long enough to polish up their game, knowing they aren't leaving 10-plus million in cash on the table to come back for one more year of school, but instead they are helping their own long term future in the NBA by becoming better players, and no longer have the temptation to jump ship as soon as they can for the NBA.
Doing this, the league avoids huge first overall pick burnouts who eat up cap space and cripple teams, and it also ensures the active big money players who have commanded that salary, are getting it.
If it take a season, or even two, for the NBA to get its house in order, I'm all for it. If nothing else, the players who would have graduated or left early for the 2012 draft will be able to return to school and finish their degree or work on their game more at the collegiate level before making a jump to the pros.
Without a doubt, attendance would initially be hurt by a lengthy lockout and missed season when the NBA finally resumed, and clips of people saying "I'll never go to another ____s game again! Millionaires against billionaires!"
To a point, however, if a fan is willing to stop being a fan over a labor or league dispute leading to a lengthy lockout, how much of a fan were they in the first place?
Now, I'm not talking about fairweather fans, who come and go. They'll be back. They'll always be back once things are good again. 
A lockout and league restructuring and realignment will only bring in fans, those of whom have left because the quality of play has dropped significantly, or because of other reasons may come back to find the game they once loved as refreshing again, and renewed. 
A lockout isn't what the fans want. Usually things don't have to get this bad. But sometimes your parents get divorced. Sometimes your best friend moves away. Or maybe your favorite team does. We draw our lines in sand, instead of building walls between ourselves and ideals because they're fluid.
We want to forgive. We want to be entertained. We want basketball to be there for us to care about from fall to spring. Sports is a metaphor for our personal existence. Without it, we lose a point of reference.
You don't realize what it's like to put your own coming to work ill in perspective until you hear someone remark "That was a real impressive presentation man! You were like a flu riddled Michael Jordan out there!" until we no longer have that point of reference to draw from anymore. We're nearing change in the NBA, for better or worse, and with change often come times of challenge and perseverance.
How often though, does a person reach the light at the end of the proverbial tunnel and say "it wasn't worth it after all"?