MLB Trade Rumors: Who Will Blink First over Ubaldo Jimenez Deal?
July 29, 2011
Christian Petersen/Getty Images
I'm sure plenty of you have seen the old stare-down in the Western movies.
The music plays in the background. The wind is blowing. The town is all watching outside. Two cowboys are staring each other down with their hands on their pistols.
One is going to draw first.
This is kind of what we have with the New York Yankees and Colorado Rockies.
Instead of two cowboys, we have Yankees GM Brian Cashman and Rockies GM Dan O'Dowd.
But they do have the whole baseball world watching this situation.
We know the Yankees are very interested in Rockies ace Ubaldo Jimenez.
The Rockies know this and are scouting some of the Yankees best prospects, such as Jesus Montero and Dellin Betances.
The problem for the Yankees is that they don't want to include all of their best prospects in a deal for Jimenez, such as Montero, Betances, Manny Banuelos and Ivan Nova, and maybe even more.
But, as reported from Jon Heyman of WFAN and Sports Illustrated, the Rockies organization had a big internal meeting to discuss trading him, and a lot of the baseball executives feel that Colorado may want to deal him.
Joel Sherman of the New York Post tweeted that the Rockies' scouts were in Trenton on Thursday night to scout Betances' latest start.
How did Betances do in that start? Badly. He allowed seven hits, five runs, walked one and struck out three in five innings against Richmond and took the loss.
That was actually the third bad start in a row that Betances had for Trenton, so you have to wonder how Colorado is feeling and what their scouts actually saw with Betances.
Did the bad starts scare them off? Or do they see the potential in him?
The reason why the Yankees are scouting him mainly is because the Yankees have firmly said no to dealing Manny Banuelos in any deal, a move I am firmly behind.
Banuelos can not be traded unless it was for Felix Hernandez of Seattle or Clayton Kershaw of Los Angeles.
Unless they were in a deal, Banuelos stays put. Period.
Now, we all know Jesus Montero will 99 percent likely be involved in any sort of deal for Jimenez. The Rockies see him as a future first baseman, which would make sense considering Todd Helton is near the end of his career, as is his backup, Jason Giambi.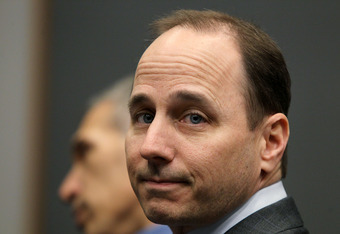 Jim McIsaac/Getty Images
I'm perfectly fine with dealing Montero, because I feel the future catcher of the Yankees is Gary Sanchez.
But it becomes the other players that are involved in the deal that makes this interesting, which is why we have the staredown with Cashman and O'Dowd.
The Yankees have been rumored to be interested in Oakland's Rich Harden, Seattle's Erik Bedard and Los Angeles' Hiroki Kuroda, but honestly, they are all terrible options.
And while some have said Jimenez may be no better than a No. 2 or 3 pitcher on the Yankees, Jimenez is a way better option than Bedard, Harden and Kuroda all put together, that's for sure.
In Sherman's latest story, he could see the Yankees offering Montero, Hector Noesi and Corban Joseph and see if the Rockies will really honor the stance of not dealing Jimenez unless they get blown away with an offer, or if they'll feel a sense of pressure and deal him to New York.
If the Yankees can get Jimenez and not have to give up Banuelos or Betances, that would be a win-win for the Yankees.
If they have to give up Betances, so be it. If it were Banuelos, I'd be saying no all the way and pass. But Betances, I might be able to live with trading.
In his latest story today, Ken Rosenthal from FOX Sports urged the Yankees to make a deal ASAP because their rotation needed it.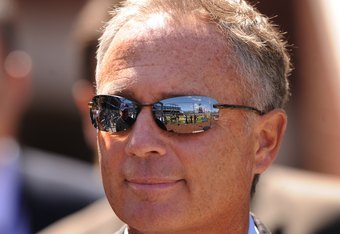 Steve Dykes/Getty Images
Even Rosenthal agreed that Jimenez would be a better option for the rotation than everything else after CC Sabathia.
And that's the problem.
Andy Pettitte isn't here anymore. His retirement really did hurt the rotation, but that was his choice.
A.J. Burnett and Phil Hughes are both unreliable at this point.
Bartolo Colon and Freddy Garcia have been reliable, but how long does that hold up? Does it hold up into October? That's the big question going into the second half.
Which is why we're back to the Cashman-O'Dowd stare-off.
Do the Yankees cave in and give the Rockies the package they want for Jimenez, essentially overpaying with prospects for him?
Or do the Rockies panic and trade him to the Yankees because they felt the need to move him?
Two days are left.
The staredown continues.
Who blinks first? Cashman or O'Dowd?