Philadelphia 76ers: Can Evan Turner Be a Franchise Cornerstone?
July 13, 2011
Drew Hallowell/Getty Images
Why all the fuss surrounding Evan Turner, Philadelphia's highly acclaimed NBA rookie from last season? Keep reading. By the end of this article you'll probably find out what's up, and have your own opinion.
When you discover what the hubbub is about—in my view—then you'll probably either want to fuss, or find points of agreement with me. 
In any case, join the hullabaloo and weigh in. This is America—home of the First Amendment guaranteeing the right to freedom of speech and the press…for now.
A Chicago native, Turner became a free-wheeling second overall draft pick in 2010. He left the Ohio State University after his junior season and added his name to the seemingly infinite list of ballers to make it to the NBA from the Chicago area.
Turner didn't get as much playing time as some other fantastic rookies did in the past, such as Allen Iverson, but don't believe the negative hype. I believe Turner will positively be a special player. Of course, I'm not alone in this assessment—far from it.
While serving as the heart and soul of the Buckeyes, he left almost no stones unturned by earning just about every honor imaginable. But can he be a cornerstone in Philly? Once he gets his conditioning under control, I believe he can. 
All the fuss is partly due to the obvious and enormous talent Turner possesses. The fact Andre Iguodala was being mentioned in trade rumors before the lockout gripped pro basketball in America probably added to the clamor. As quoted in the link above by NBC Sports, now Iguodala claims he isn't expecting to be traded.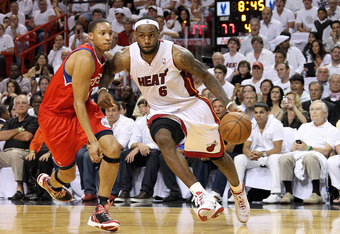 Mike Ehrmann/Getty Images
I suspect most of the racket is due to the debate over whether or not Turner can ever live up to the hype. He had a solid but seemingly pedestrian (to some fans) rookie season. It should have been his senior year in college. But, to whom much is given, much is expected, and Turner is no different in this regard.
He attended the same high school (Westchester St. Joseph) as Isiah Lord Thomas III, who is regarded as a Chicago basketball legend. In 1996, Thomas ("Zeke) was named one of the 50 Greatest Players in NBA History.   
What most people don't understand, I believe, is like Thomas, Turner could be a stellar NBA point guard. Evan was in the same Chicago area high school class with reigning MVP Derrick Rose and Demetri McCamey, both of whom overshadowed him at one point.
In 2007, all three high schoolers were named to the AP Illinois All-State Boys Basketball Team.  The vaunted Simeon Career Academy, however, led by Rose, defeated St. Joseph in the Illinois Class AA super sectional four years ago.   
In college, though, Turner grew rockets and took off. He was off the rockers, while Rose was rolling in the NBA. 
After three NCAA seasons, Turner had become one of the best players—statistically—ever to compete in the Big Ten. His list of NCAA accomplishments is absolutely incredible—too lengthy to list in this particular piece. 
He finished his junior season as the 2010 Naismith Player of the Year. He also won the John Wooden, Oscar Robertson, Fox Sports, NABC, TSN and AP Player of the Year honors—to name a few. By many people, Wooden and Robertson are considered basketball royalty.
Turner's game is often compared to Brandon Roy's, and I agree to a certain extent. Roy is able to extend the defense more consistently with his three-point shot than Turner can at this point. But, Turner is taller, longer, much stronger and a better defender.
As a coach, would you want a defensive rebounding one man fast breaker at your point guard-shooting guard-small forward spot? I thought you would. No problem. Not many wing players in the NBA can rebound better than Turner.
How about teardrops off the dribble? You got it. Bouncing off body contact for left-handed scoop layups? Check. Ankle-twisting crossover dribbles leading to pull up jumpers? All right. How about face-to-face, back-to-back blocked shots in the lane against taller opponents? Yep.
Sound too good to be true? It isn't. Turner has proven he can do these things on a consistent basis. I'm not saying he's the next Michael Jordan, yet the 22-year-old Turner is extremely tough and possesses very strong hands.
To me, Evan's game fits more in the mode of Anfernee "Penny" Hardaway's. Remember him? He had an alter ego named "Little Penny." Hardaway was the third overall pick by the Golden State Warriors in 1993, but never played for them.
He was most effective from 1993 through '99 with the Orlando Magic and Shaquille O'Neal.  Injuries derailed Hardaway's playing career. Two factors capable of derailing Turner's is either an injury, or a lockout lasting a very, very long time. A penny for your thoughts.
I believe the 76ers agree with my assessment of Turner's game. They just drafted a true scoring center (Nicola Vucevic) and could possibly envision a Hardaway-Shaq scenario in Philadelphia. 
Let's face it, in some cases NCAA players are professionals in disguise. That's the environment they're surrounded by, except for going to class and getting paid millions. 
They travel, play on national television a lot and get a mass amount of exposure. I'm not saying Evan Turner took inappropriate benefits at the Ohio State University. I am saying, though, that the Buckeyes are a franchise—any way you slice it.
Turner is known for slicing through defenses like Kemba "Slice" Walker. Like Kimbo Slice once did to opposing street fighters, Evan also often punches bigger rebounders in the mouth (figure of speech) for boards.
After seeing him come back from a horrific injury to his back at the OSU, I believe Turner will have your back, Philadelphia—if he's given the chance.
For all of you doubting Thomases, please remember: The stone the builders refused will be the head cornerstone. I'm paraphrasing from the Bible. 
Turner is not a god. But he will help spread the good news for Philadelphia and could be a Sixers cornerstone for years to come. That's the gospel according to Saint Lake. Now, let the building for a championship begin.