New York Mets: Not-So-Great Expectations & the Relief of Rooting for a .500 Team
July 6, 2011
Al Bello/Getty Images
I recently turned 38 years old. Not old by most standards but certainly not young.
With all these years under my belt, a small bit of wisdom has crept to the top of my psyche through all the sports statistics and Simpsons' quotes. I've learned that in life, most of the time you get what you put into it, you reap what you sow, etc.
I'm fairly content with my life, but I'm sure there's more out there for me if I work for it. I've also learned that life isn't always fair and with apologies to John Lennon and the Beatles, the love you take is not necessarily always equal to the love you make.
A revelation has come to me with the abruptness of a bullet through the forehead. True happiness does not come from possessions, money or status. Happiness comes from results relative to expectations.
It took me 38 years to arrive at this conclusion, which came from the oddest of sources…the New York Mets.
I've been a Mets fan since I was old enough to spell l-o-s-e-r-s. The Mets even celebrated the year of my birth in 1973 by losing the World Series, just to make me aware of what my life had in store.
They did happen to win the World Series in 1986, but they were supposed to win.
In fact, the Mets were supposed to win quite a bit from the mid '80s to the early '90s but managed to only make the playoffs twice, despite having an insanely high payroll and young guns like Darryl Strawberry, who seemed to actually launch baseballs into orbit and fireballer Dwight Gooden, who could make even the most seasoned veteran look like a Little Leaguer at the plate.
The legend of the Mets' colossal failures have been documented ad nauseam, so I will only add that the reason the Mets have been considered such great failures is that the expectations for them was to win and win big.
Just looking at wins and losses, the Mets were quite successful. If they were expected to be just a mediocre ball club in a small market, say Tampa Bay, then the Mets could be looked at as an accomplished team that had a great run, sort of the way the Tampa Bay Rays can be looked at right now.
The Rays aren't expected to be able to compete in a division with cash-cow juggernauts like the New York Yankees and Boston Red Sox, yet the Rays have won two of the last three division crowns against those clubs.
The Rays made it to the World Series, only to lose to the Philadelphia Phillies, yet no one looks at this as a failure. It's quite the opposite. The Rays are looked at as a success story.
Small payroll, small market and terrible attendance are the foundations for failure yet this team exceeds the expectations of itself. This is what inspirational stories are made of.
This brings me to today. The Mets last won a division championship in 2006. They lost in Game 7 of the National League Championship Series, but the future looked bright.
They had a great core of young talent mixed with a few veterans to guide them and the future looked bright. They spent the next few years choking up late-season leads in the standings to the hated Phillies, which ended up being the straw that broke the camel's back for me.
I could no longer look at my team of underachievers with the gleam I once had for them. I needed to face reality that the Mets just weren't as good as I thought they were. Going into this year's baseball season, there were virtually no expectations of this team.
They were ravaged by injuries and I was going to be happy just rooting against the Phillies and not worrying about wins and losses. For the first time in my life I accepted going into the season that the Mets were going to stink.
But something funny happened on the way to the halfway point of this year's baseball season. The Mets actually have a winning record of 44 wins against 42 losses.
During any normal circumstances, having a payroll as large as the Mets and only being two games above .500 would not be the cause of celebration, but this team is not supposed to be winning at all.
Their best players are making regular visits to the injured list, yet a scrappy bunch of no-names have this team competing in a division where the Phillies are world beaters. For the first time in a long time, I was having fun as a Mets fan.
I have no expectations of the team making the playoffs or even continuing to win. I realized that for the first time in my life, the Mets were playing above expectations and not underachieving.
And that's when it dawned on me. It doesn't matter if they win or lose. It only matters that they performed above what was expected of them. It translates to almost every aspect of life.
We love the story of the underdog. Don't get me wrong, people love dominance, but even then, they love to see their titans fall, just so they can get back up.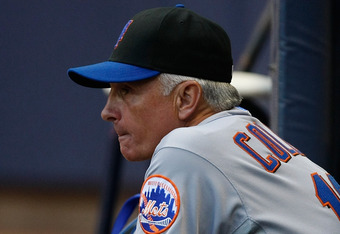 Scott Boehm/Getty Images
Take a guy like Tiger Woods. Since he arrived on the scene as just a little boy on the Tonight Show with Johnny Carson, the world knew he was going to do amazing things on the golf course.
He lived up to every expectation, and we were amazed at his dominance, but after a while, it was just assumed he would win, which lost him a little of the gleam in his eyes.
His marital infidelity problems combined with his physical problems have turned him into a question mark of whether he can be a dominant golf figure ever again.
We are sadistic in that way. We love to build people up, just to watch them fall. But because of our nature, we crave the comeback story. We need to know that a person can fall from great heights only to pick himself back up again when it looked like the odds were totally against it.
I can't tell you how many times I've seen a YouTube video of a kid with Down Syndrome scoring a touchdown in a football game.
A team will be playing its last game of the season, and there will be a kid with this handicap who's been to every practice and worked harder than anyone could have ever expected of him standing on the sideline in a uniform.
At the end of the game, when the contest has been decided, the coaches will agree to get the kid in the game. The quarterback will hand off the ball to the young man, and his teammates will form a blockade for him on the way to the end zone with the opposing players diving and missing tackles out of pure goodness, just to allow this young man the thrill of his life.
I've seen many touchdowns in my life, but none make me feel as good as watching one of these videos. You don't expect a kid with Down syndrome to even be near a football field, let alone score a touchdown. It warms our hearts.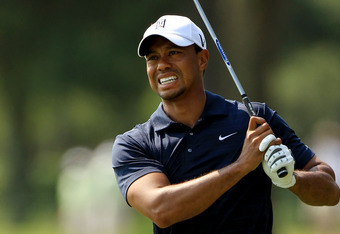 Streeter Lecka/Getty Images
Of course the Mets are not a child with Down Syndrome. It is a club of millionaires who have been known as underachievers. But every once in a while, even a perennial loser can surprise you.
It seems to make all the losing worth it….almost.
I've heard that life can be defined as a series of depressing moments, speckled with moments of joy. Sometimes the longer we go without the joy, the more we appreciate it when it happens. If there's one guarantee in life, it's that there will be some misery.
Death, sickness and heartbreak affect us all, yet we willingly put ourselves in positions to be either hurt or feel pain, just so we can have those moments where the expectation of misery is superseded by something extraordinary.
Something as trivial as a sports team isn't really notable as far as joys in life, whether they be romantic, monetary or any other gauge a person uses to measure success. But what is important is that they happen.
Hopefully they happen a little more for you than they do for the Mets.